15 Amazing Things to do in Page, Arizona
Planning to visit Page Arizona? There are so many Page AZ attractions and things to do in Page Arizona you won't want to miss this northeastern Arizona city.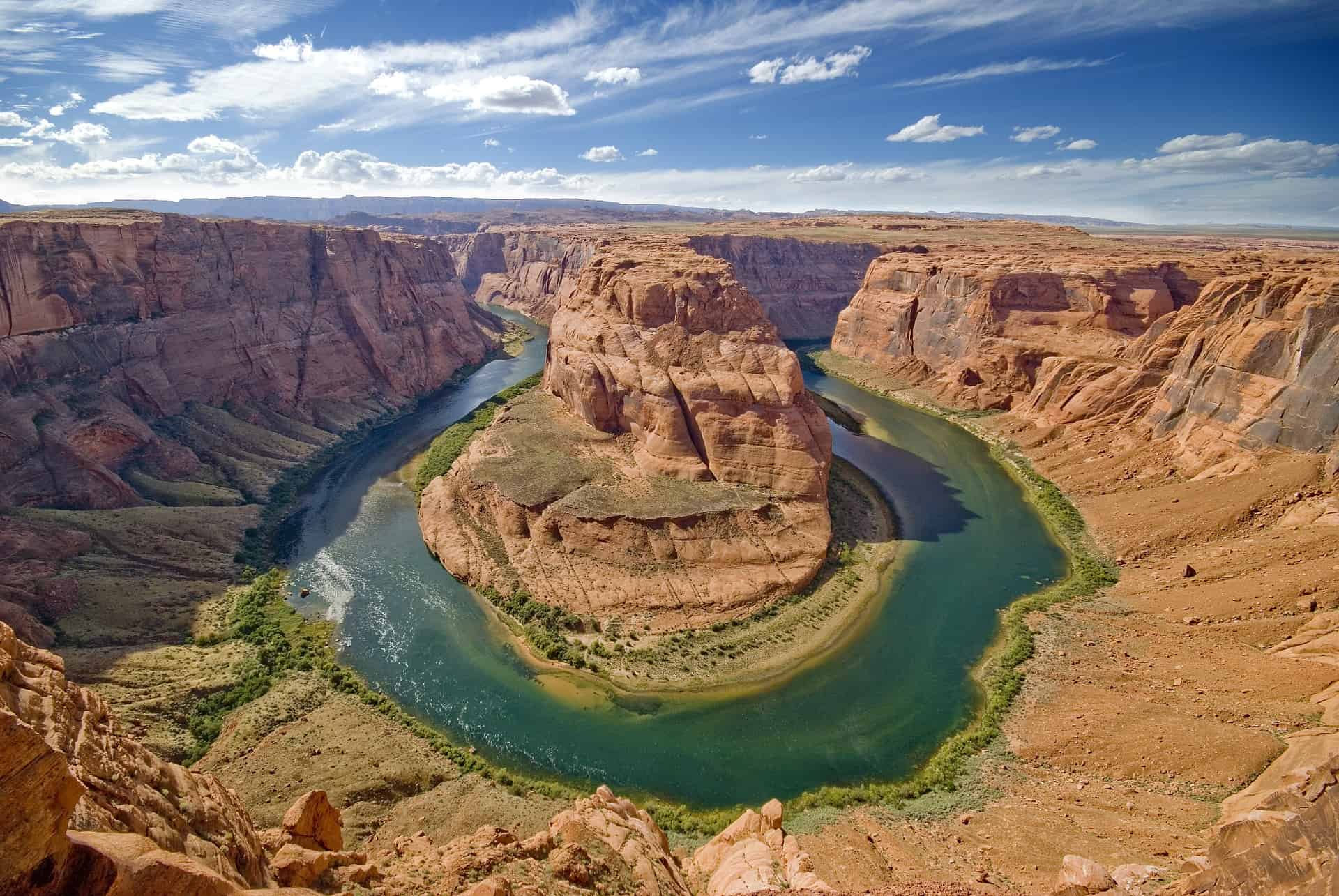 Visiting Page this summer I realized that this city has a lot to offer especially if you are looking for the natural beauty of Arizona. These are the best things to do in Page AZ – you cannot miss these cool things to do!
What to do in Page, AZ Attractions
Horseshoe Bend
If you are looking to marvel at something completely natural, then it doesn't get better than Horseshoe Bend. As you might have guessed, its name comes from its unusual shape- similar to a horseshoe.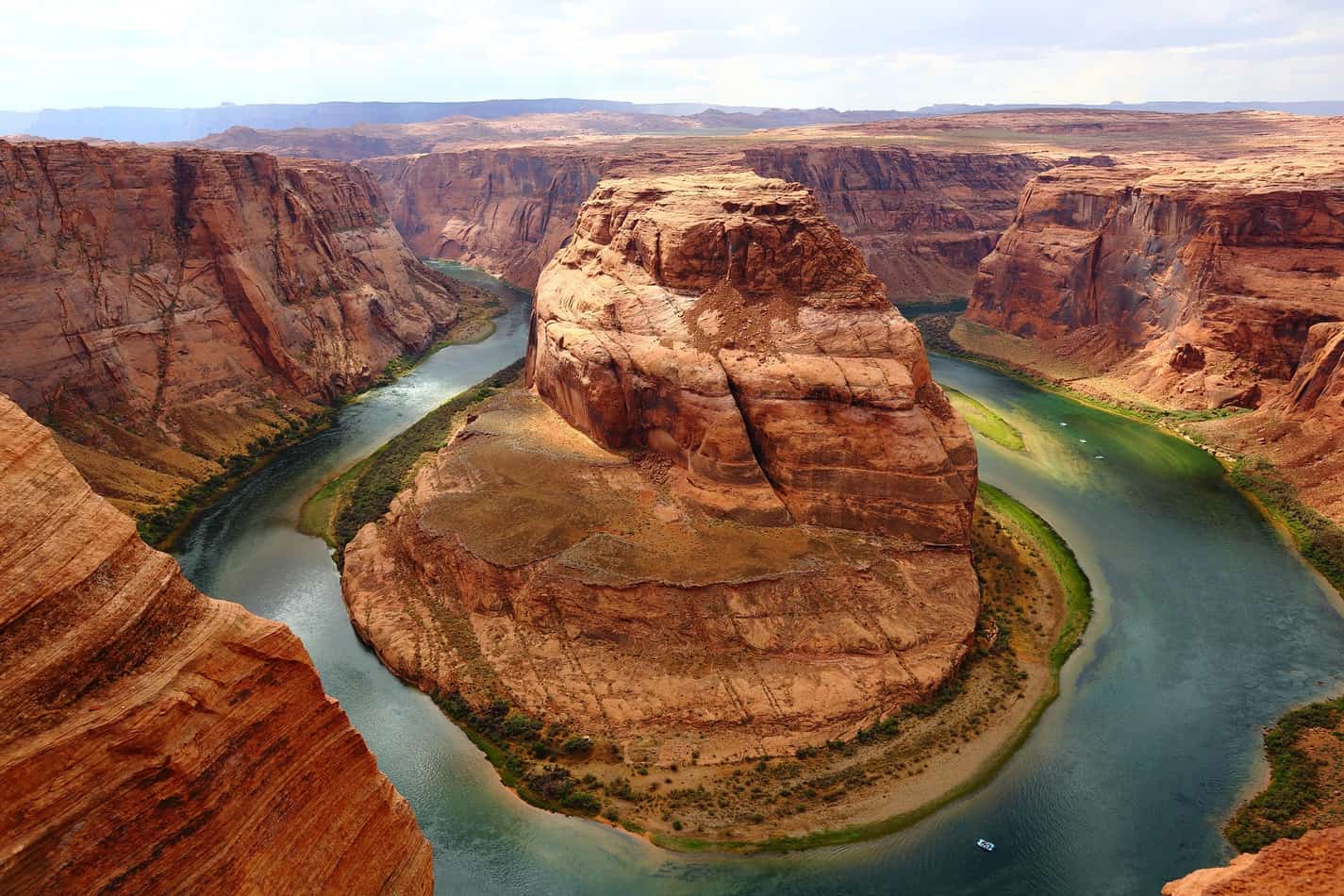 It is just ¾ mile away from US Route 89, but you will have to hike to get there.
While the distance might be short, but the trail does have some steep areas and deep sand, so be prepared to face some challenges. But once you reach there, the view will be worth it.
The rock walls of Horseshoe Bend contain different minerals including platinum, garnet, and hematite. Since it is 4,200 feet above sea level and the Colorado River is 3,200 feet above sea level, you will get to see it in a breathtaking view.
Upper Antelope Canyon
Antelope Canyon is one of the best things to do near Page AZ. Antelope Canyon has been divided into two scenic slot canyons sections: Upper Antelope Canyon and Lower Antelope Canyon.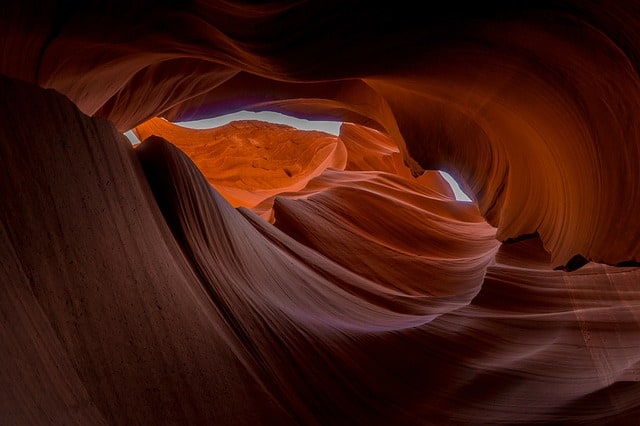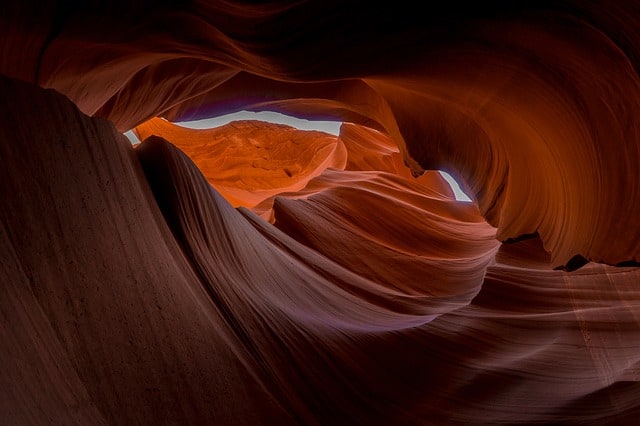 The Upper Antelope Canyon is famous for two reasons.
First of all, since its entrance and entire length are at the ground level, it required no climbing. Second, beams coming directly from the sunlight are more visible in the Upper as opposed to in Lower.
If you would also like to witness the Upper in all its glory, then it is recommended that you visit it during the summer months. The higher the sun is in the sky, the better you can see the beams coming from the sunlight.
You can read my article on Upper vs Lower Antelope Canyon. There are pros and cons of visiting each so it is good to read that article and figure out which one is best for you.
Lower Antelope Canyon
As we have already mentioned, the Lower Antelope Canyon works a bit differently than the Upper Antelope Canyon.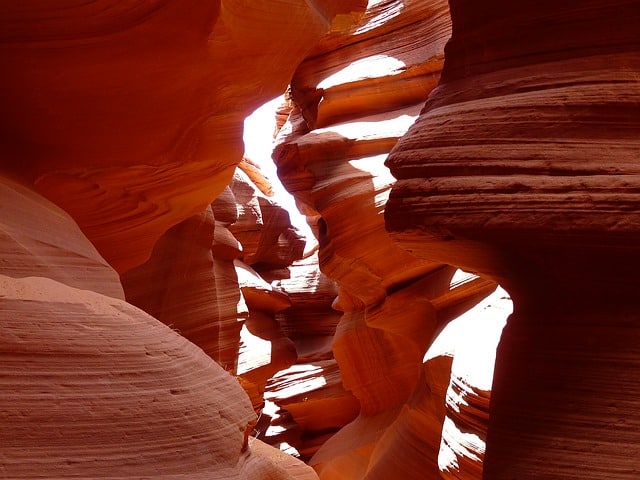 You will have to walk almost a quarter-mile from the parking lot to the staircase that goes down into the canyon. You will have to use a ladder or a staircase to descend into the canyon. It should not be a problem for a normal person. Thousands of people do it every week. Once you reach the floor of the canyons, your tour begins.
As compared to the Upper Antelope Canyon, it would be easier to take photos in the Lower as it will be most likely less crowded than the Upper.
You can read more about Antelope Canyon in my post about Upper or Lower Antelope Canyon – Which is Best?
Rainbow Bridge National Monument
Situated on the edge of Lake Powell, Rainbow Bridge National Monument is the largest naturally occurring bridge in the world with the height being 88 meters and the width being 83 meters.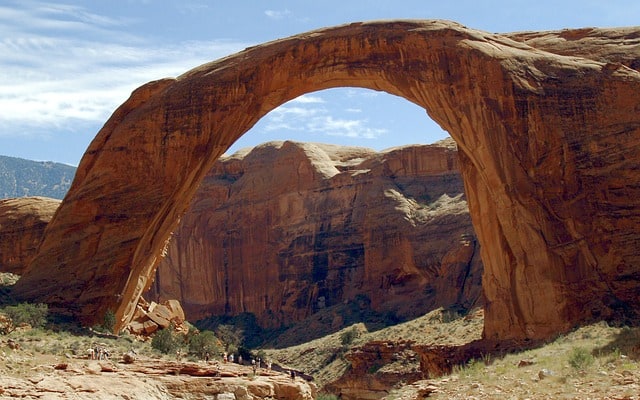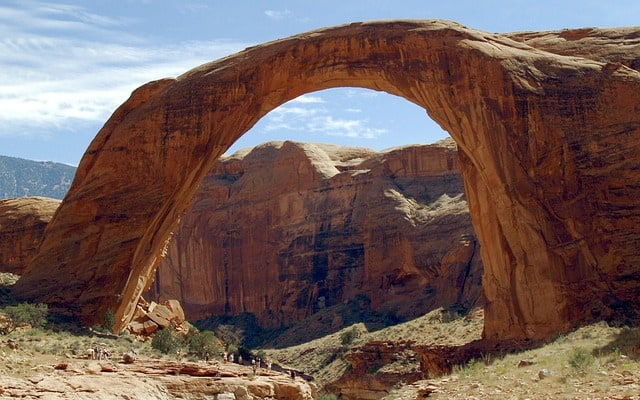 This bridge also holds special importance to the people of Navajo culture as they believe it is responsible for giving soul to the life of the desert by creating clouds, rain, and rainbows.
The best thing about this bridge is that it doesn't have an entrance fee.
The recommended times to visit and hike this bridge are April, May, starting of June, September, and October. The average temperature recorded here is 100 degrees Fahrenheit or 37.7 degree Celsius.
Vermilion Cliffs National Park
Also known as Vermilion Cliffs National Monument, this wonderland consisting of colorful slick rock is three times larger than Las Vegas.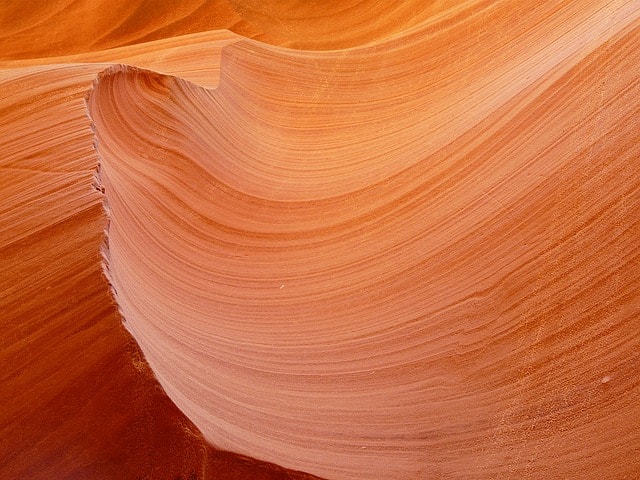 This is the perfect spot for people who prefer solitude. As opposed to crowded trails, this place has unspoiled wilderness. As opposed to campgrounds filled with people, this place has silence with a serene view of the stars. It does not have any visitor centers nor any developed campsites.
The famous areas to explore the monument include Coyote Buttes, White Pocket, and Buckskin Gulch. Coyote Buttes are home to the famous The Wave. The Wave became immensely popular among tourists when Microsoft released a picture of it when they released Windows 7.
Glen Canyon National Recreation Area
Home to North America's largest manmade lake, Lake Powell, Glen Canyon is a vast canyon in the deep red rocky count. Since the place is filled with red slick rocs, often people call this place Mars.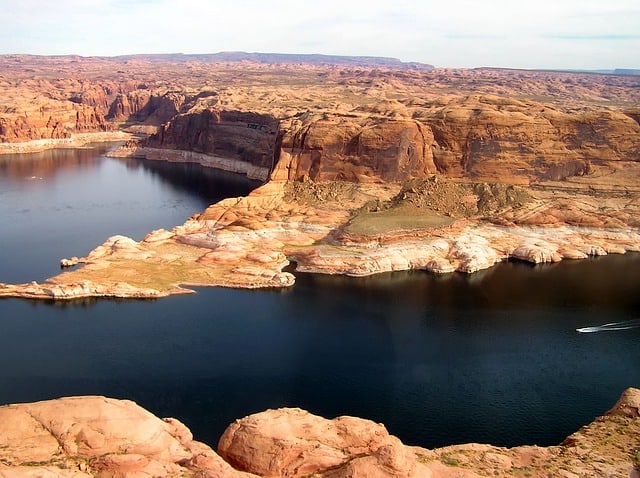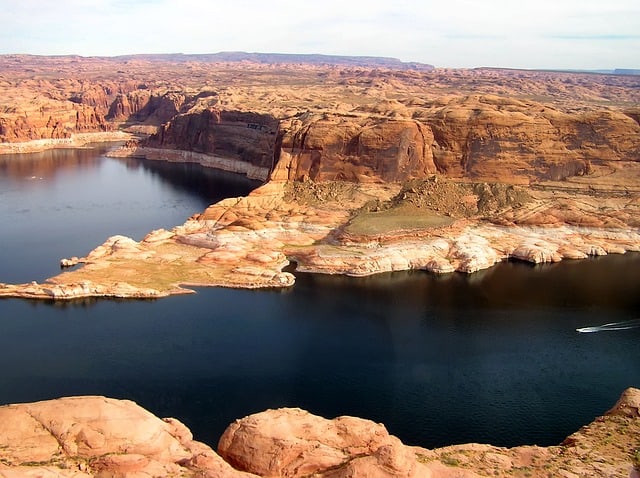 With spreading over 1.2 million acres, the opportunities here are endless for both, land-based and water-based recreation. This is the perfect sport for a lot of different activities, including boating, hiking, and swimming.
The weather in the summer gets extremely hot, sometimes exceeding 110 F degrees. And since it only consists of rocks, there is hardly any shade here. If you want to visit Glen Canyon, then do it in the September-November period as the weather is nice and mild during this season.
Lake Powell
If you are looking for things to do in Page, then you might want to visit Lake Powell, especially if you love lakes. Crystal blue water surrounded by red slick rocks surely makes for an interesting sight.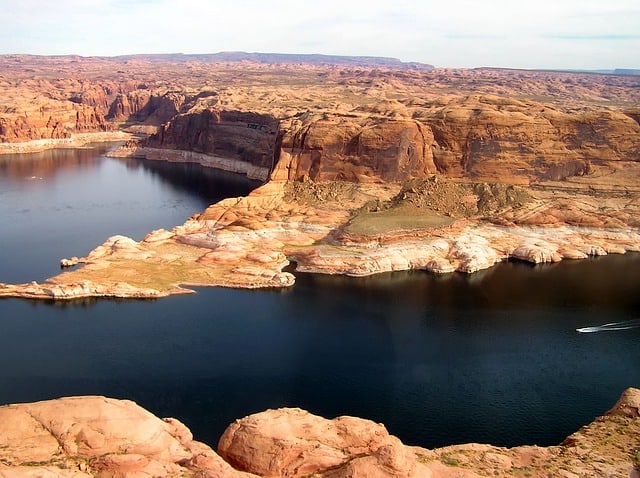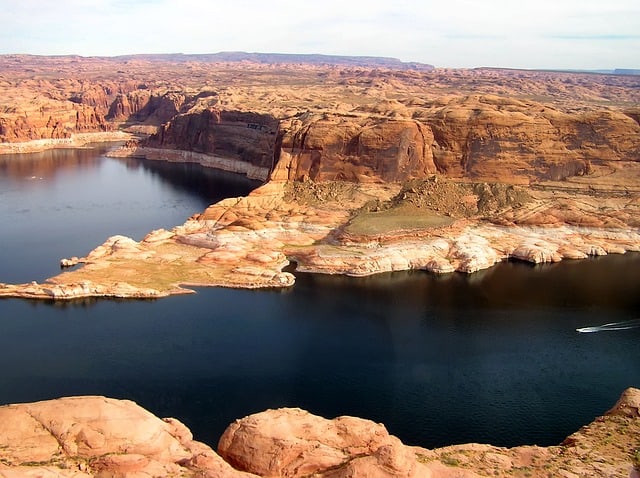 It is the largest manmade lake of North America and the second-largest manmade lake of America. It stretches almost 190 miles starting from Page, Arizona to Hite, Utah. It is the ultimate place of adventure for people looking for all kinds of activities- be it water-based or land-based.
Whether you want to do something relaxing, such as kayaking or canoeing, or want to do something a bit more thrilling, such as riding houseboats or jet skis.
Water Holes Canyon
While the Antelope Canyons might be more popular than Water Hole Canyons, it also has all the things which make it a place that you must visit.
It has everything Antelope Canyons have including stunning beams of light, multicolored sandstones, and gorgeous rock formations. But one thing it does not have is the crowds of Antelope Canyons.
Water Holes Canyons is located just south of Page, Arizona. It is divided into three sections: Upper, Middle, and Lower.
The Upper section is easy for hiking with a little bit of a climb and is very photogenic. The Middle section is often the location for people who want to learn canyoneering. And finally, to reach the Lower section, you would have to bring a 300ft rappel. It is the perfect spot for swimming.
You can check out my post on the Best Swimming Holes in Arizona
Canyon X
At this point, you should get used to the idea that there are several slot canyons around Page, but only a few of them are popular among crowds.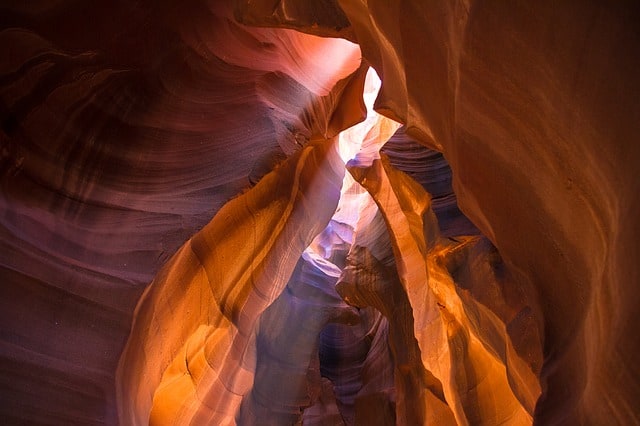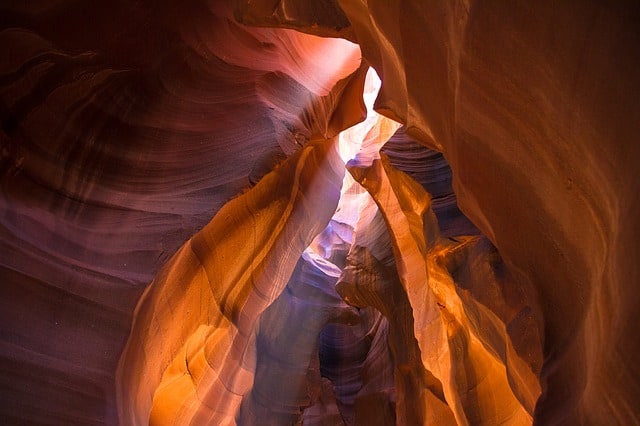 Just like Antelope Canyons, Canyon X also has the same soaring walls and windy labyrinth paths, but like Water Holes Canyon, it is less crowded.
If you choose to visit this place in the summer, make sure to wear sunscreen and drink a lot of fluids before, during, and after your tour.
Water is also available at the entrance of the canyon. If you have ever dreamed of having a canyon all to yourself so you can photograph it appropriately, it doesn't get better than Canyon X.
Glen Canyon Dam
This place is a little different than the other places on the list. First of all, it is a dam. This means that it is a federally owned facility. Hence, you will have to pass through some security measures.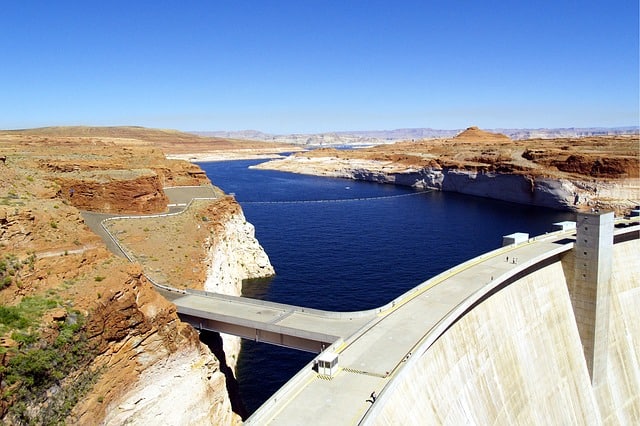 You will need to pass through a metal detector, and you will see armed guards throughout the facility. It took eight years to build this dam.
It was created to utilize the power of Colorado River so water and power could be provided to millions of people living in the west. It is because of the stored water in the dam that it has been able to provide water to the millions of people living throughout the west during the dry seasons.
Lees Ferry
If you are tired of all the climbing and hiking and want to do different things to do in Page, then Lees Ferry is the perfect spot for that.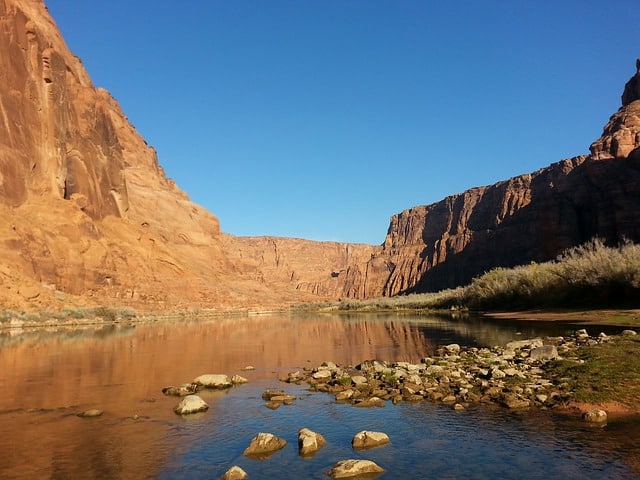 It is a historical town situated down the river from Glen Canyon Dam. It is the only place along the Colorado River and between Glen Canyon Dam and Lake Mead where access to the river is available.
The perfect thing to do here would be fishing and going on picnics. Afternoon picnics are especially famous with the sun setting in the gorgeous cliffs, making it a stunning view.
Where to stay in Page, Arizona
Page makes for a great weekend escape. Fresh air, beautiful scenery and being in nature does a world of good for the soul.
I recommend staying in one of these places and even treating yourself with a cabin with a spa pool to relax at night.
There are lots of fantastic Airbnbs in Page. There are many beautiful places to stay near the park and this allows you to spend most of your time experiencing the park instead of driving to the park.
I stayed at the Holiday Inn Express. This is one of the best Page Hotels and it has amazing amenities and is close to everything. Plus its reasonably priced.
If you are taking a road trip remember to reserve a car in advance using Discover Cars .
Conclusion – What to do in Page AZ
I hope you do make it to Page if you are visiting Arizona. It is the best city to visit Horseshoe Bend, Antelope Canyon, Lake Powell, and so much more! You could easily spend a few days here to see all of the Page AZ attractions!
Have you visited Page before? What's your favorite thing to do in Page? Let me know in the comments.
Sharing is Caring! Pin this article to save for later.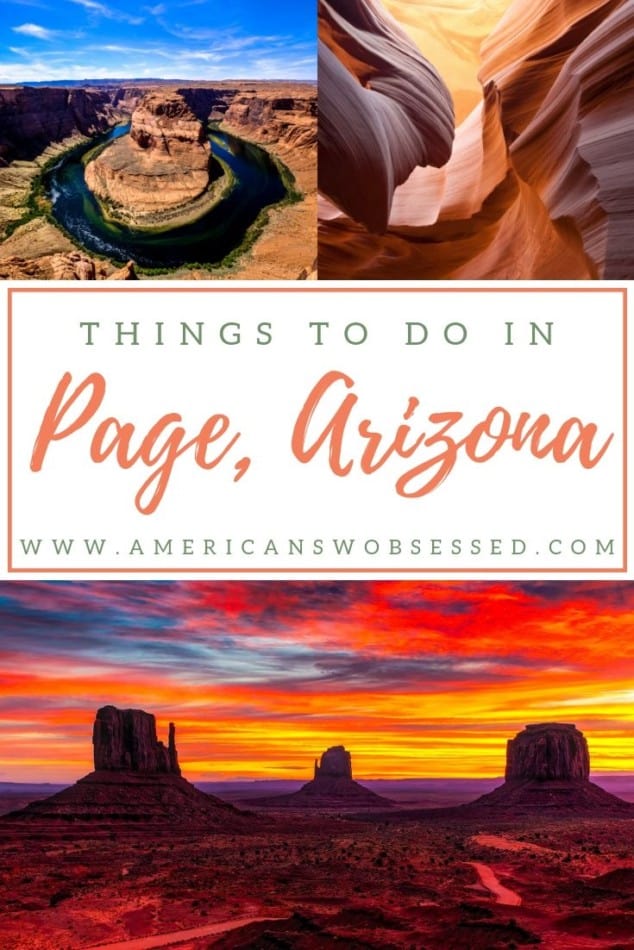 Continue Reading more on my website:
Hikes in Arizona with Waterfalls
13 Ancient Indian Ruins in Arizona
50+ Bucketlist Places in the Southwest
Recent Posts