50+ Safe Travel Quotes
Looking for the right thing to say to your friends who are going traveling?  Or want to write a sentiment on a card?
I've put together a list of the best safe travels quotes all in one place.  Feel free to copy and paste them or Pin any of the images.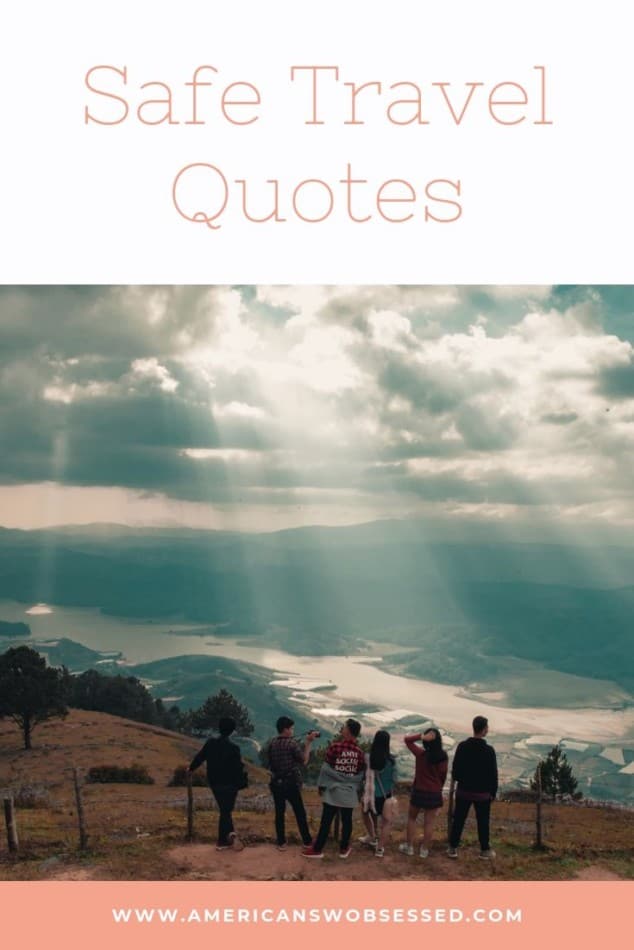 Quotes on Safe Travels and good luck journey quotes
1. "If you think adventure is dangerous, try routine, it's lethal" – Paulo Coelho
2.  Bon Voyage and get there safe!
3.  Safe Travels!
4.  Enjoy the journey!
5.  Keep calm and have a safe trip.
6.  Wherever you go, go with all your heart.
7. "Adventure is worthwhile." – Aesop
8.  When I heard that you were going on this journey, I was elated! It sounds like it is going to be magnificent! I hope that you are unscathed, and that everything goes the way that you planned!
9.  Safe journey, dear friend! Have a blast and be well!
10.  Your friendship is appreciated, and your safety is important to me! May no harm come to you, as you go out and return back to your place!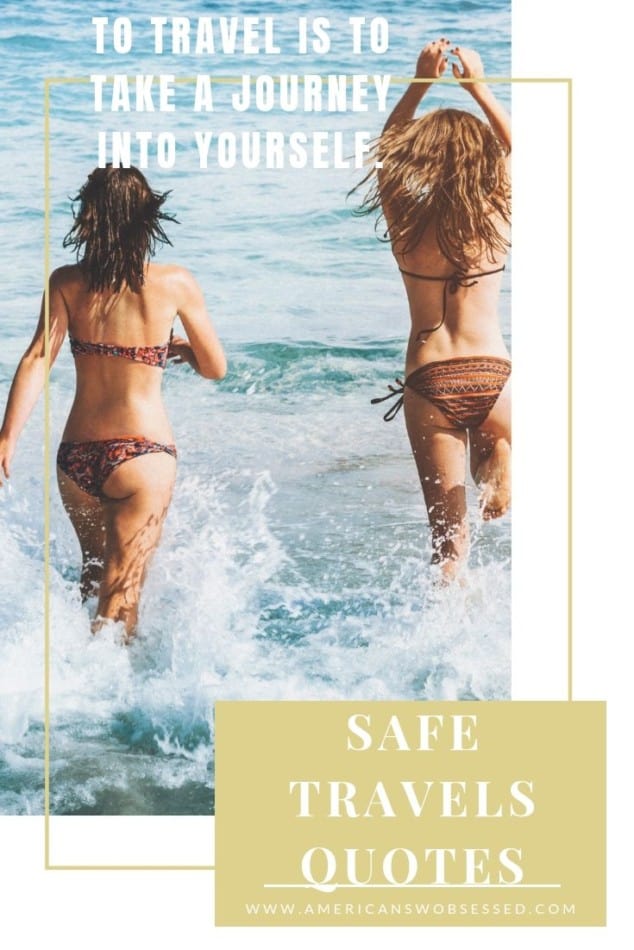 11. "Twenty years from now you will be more disappointed by the things you didn't do than by the ones you did do. So throw off the bowlines, sail away from the safe harbor. Catch the trade winds in your sails. Explore. Dream. Discover." – Mark Twain
12. "Everything you want is on the other side of fear." – Jack Canfield
13. "I wandered everywhere, through cities and countries wide. And everywhere I went, the world was on my side." – Roman Payne
14.  Wishing a dear friend, a safe journey!
15.  "No place is ever as bad as they tell you it's going to be." – Chuck Thompson
16. "The world is waiting for you. Good Luck. Travel Safe. Go!" – Phil Keoghan
17. "Wherever you go, go with all your heart." – Confucius
18. "Man cannot discover new oceans unless he has the courage to lose sight of the shore." – Andre Gide
19.  Wishing a wonderful friend, a memorable voyage! May your route there be unimpeded! May only good things happen, in your travels!
20.  Friend, may your exploration be incredible! May it happen, without any concern for you safety! May you come back in the same way, and happy that you decided to go on this journey!
21.  Life isn't meant to be lived caged within walls and mindsets. The only way to break free from the shackles of monotony is to travel. Bon voyage.
22. "What you have to decide… is how you want your life to be. If you're forever was ending tomorrow, would this be how you'd want to have spent it? Listen, the truth is, nothing is guaranteed. You know that more than anybody. So don't be afraid. Be alive."- Sarah Dessen
23. "Fill your life with experiences, not things. Have stories to tell, not stuff to show" – Unknown
24. "And the purpose of life, after all, is to live it, to taste experience to the utmost, to reach out eagerly and without fear for newer and richer experience." – Eleanor Roosevelt
25. "Beautiful girl, take care of yourself. No-one else knows what your soul needs." – Aston G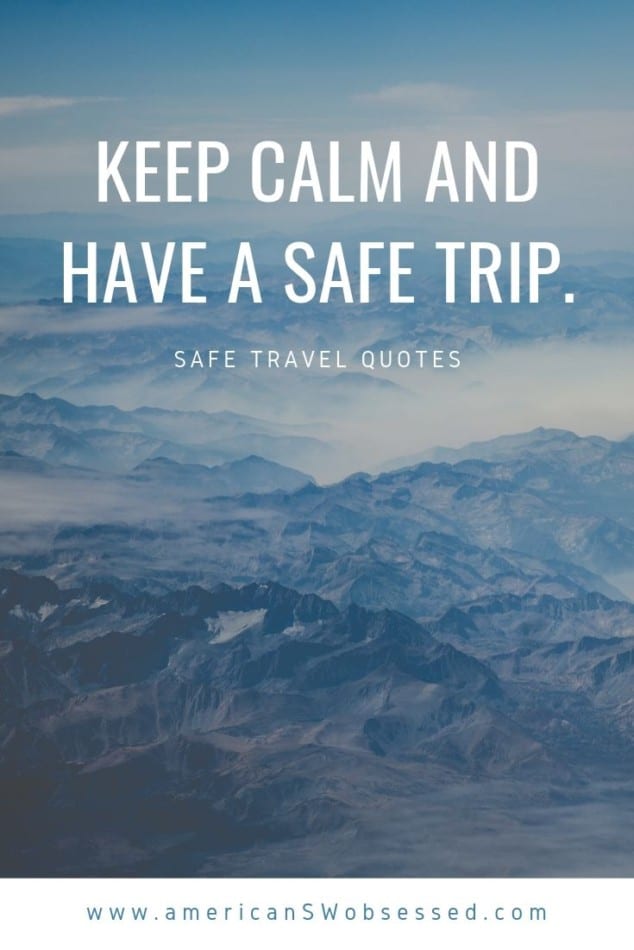 26. "Run from what's comfortable. Forget safety. Live where you fear to live. Destroy your reputation. Be notorious. I have tried prudent planning long enough. From now on I'll be mad." – Rumi
27.  "For my part, I travel not to go anywhere, but to go. I travel for travel's sake. The great affair is to move." – Robert Louis Stevenson
28.  "A ship in harbor is safe, but that is not what ships are built for" – John A. Shedd
29. "Once the travel bug bites there is no known antidote, and I know that I shall be happily infected until the end of my life" – Michael Palin
30. "The farther you go, however, the harder it is to return. The world has many edges, and it's easy to fall off." – Anderson Cooper
31. "The more you weigh the harder you are to kidnap. Stay safe. Eat cake." – Unknown
32. "Great things never came from comfort zones." – Anonymous
33.  May your journey be eye opening! May you have new and profound experiences, and may you arrive and depart, in a safe manner!
34.  My friend, as you go out on your journey, may you be safe! May your plane get you to your destination and back home, without any problems!
36. "If you reject the food, ignore the customs, fear the religion, and avoid the people, you might better stay home." – James A. Michener
37. "A ship in a harbour is safe, but that is not what ships are built for." – John A. Shedd
38.   Friend, may your voyage go well! May you see many interesting sights, and get back to your place of residence in a peaceful manner!
39.  Since I can not go on this journey with you, friend, I wanted to send you a message. I wanted you to know that I hope that you have a good time! I also wanted to wish you a pleasant journey, there and back! Be safe!
40.  "To travel is to discover that everyone is wrong about other countries." – Aldous Huxley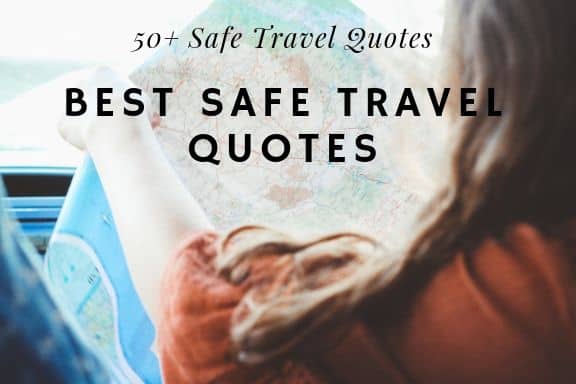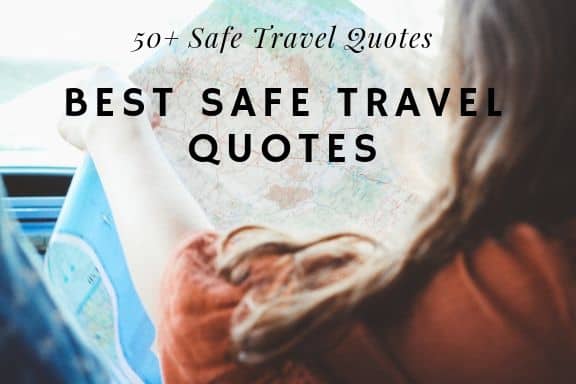 41.  "The journey not the arrival matters." –T.S. Eliot
42.  Traveling is less about selfies, more about memories. Have a safe trip.
43.  To travel is to take a journey into yourself.
44.  "Life was meant for good friends and great adventures." – Unknown
45.  "Fear is only temporary. Regrets last forever."
46.   "To Travel is to Live." – Hans Christian Andersen
47.  "Adventure is worthwhile." – Aesop 
48.  "It's a big world out there, it would be a shame not to experience it."
49.  "Life is short and the world is wide." – Simon Raven 
50.   "Oh darling, let's be adventurers."
Conclusion: Safe Travels Quotes
I hope you have enjoyed this list of safe travels quotes.  I've been collecting quotes on my travels around the world and I love to share them with people.  Feel free to share them and you continue reading more quotes on the posts below.
Sharing is Caring!  Pin this to save for later.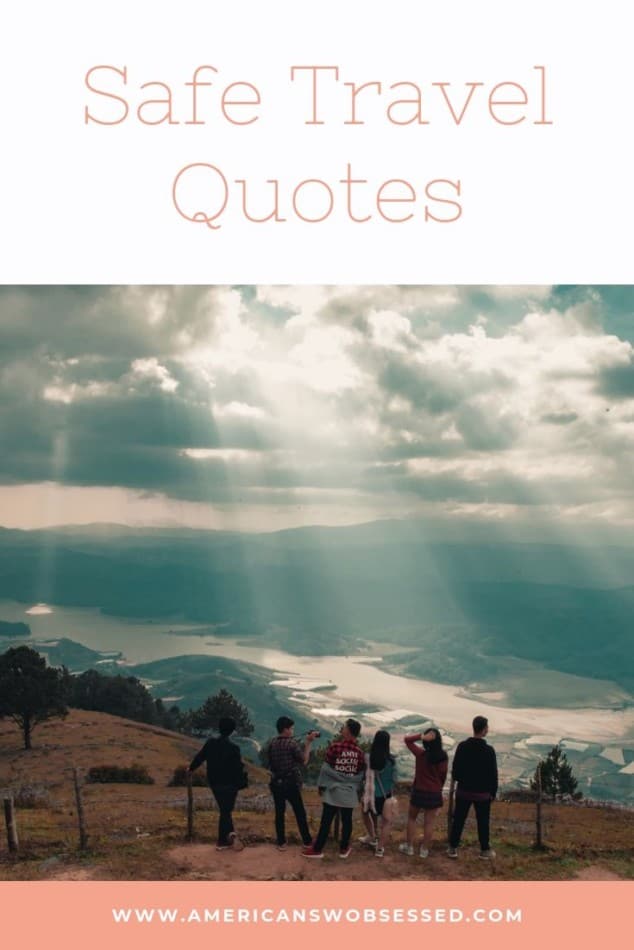 Continue Reading more on my site:
Recent Posts