How to Visit Mesa Arch at Sunrise -Best Hike in Canyonlands National Park, Utah
Are you planning to visit Mesa Arch at Sunrise in the Canyonlands National Park? Mesa Arch is the most popular hike and site in Canyonlands and well worth waking up early to see the Mesa Arch Sunrise. Its actually a very easy hike to Mesa Arch and well worth a visit.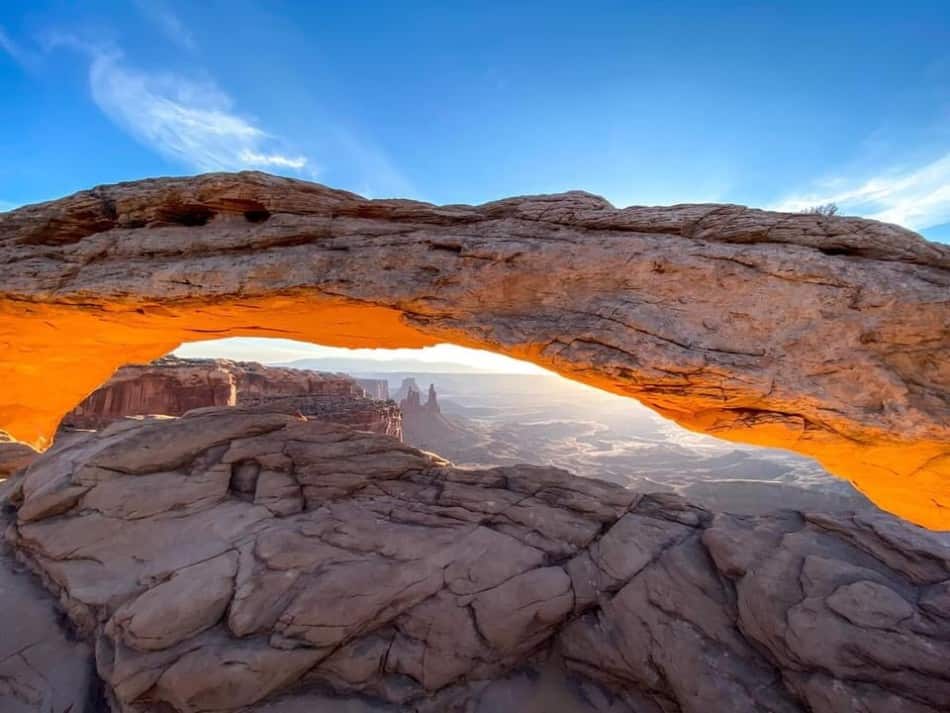 This guide to Mesa Arch Canyonlands covers everything you need to know from how to visit Mesa Arch, when is the best time to go, visiting Mesa Arch at Sunrise, and hiking the Mesa Arch Trail.
If you are researching Canyonlands National Park then you will know that Mesa Arch is the most iconic place in the park. It is an easy enough hike that is mostly flat but there are a few rocky places along the way.
Visiting Mesa Arch at sunrise is a lovely experience if you are a morning person but well worth the early wake up time! Mesa Arch is one of the best hikes in Canyonlands National Park.
If you are staying in Moab, you will need to leave 60-90 minues before sunrise as it is a 45-60 minute drive and then a 10 minute walk. Plus you'll want to set up your photography gear as well.
I've put together everything you need to know about visiting Canyonlands for a Mesa Arch Sunrise.
Just be ready for the crowds! This is the number one thing to do at Canyonlands whether it is for sunrise, a morning or afternoon visit.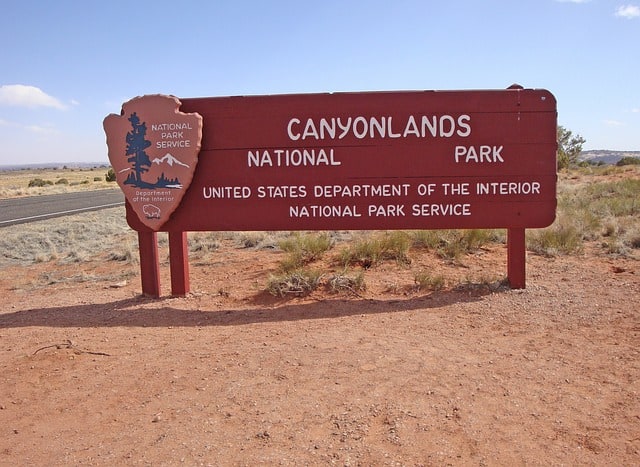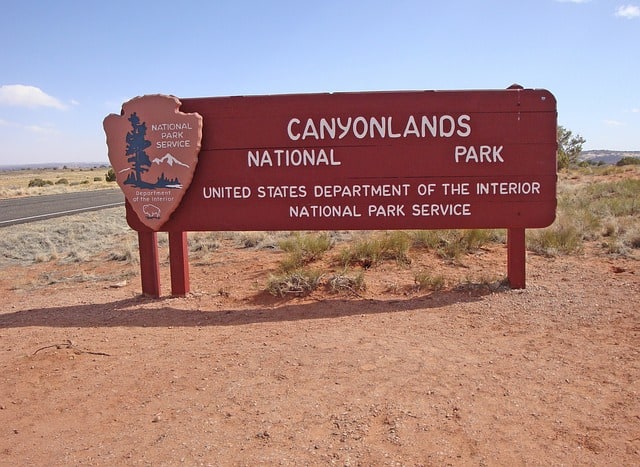 Tips for Hiking to Mesa Arch – Mesa Arch Trail
Canyonlands National Park is perfect for outdoor enthusiasts. There is a hike for everyone on this list and for different fitness levels. Also, note that it is dry and hot (in the summer) and make sure you know what you are getting into before you start. Here are a few tips for Canyonlands hiking:
Bring a reusable water bottle and lots of water! Remember you are in the sun and you will need to drink lots of water. I love my LifeStraw Filtered Water Bottle. I can refill this bottle anywhere and it comes with a carabiner to connect it to my daypack.
Check the Weather – days over 100 degrees are very common. There also is not much shade in Canyonlands National Park. Make sure to check.
Hiking boots or sandals that will protect your feet! I love good shoes. I need all the support and help I can get. I actually love these sandals for hiking and have a whole post on Merrell vs Keen shoes for hiking. I also love these hiking boots which I used for Hiking in the Grand Canyon.
Bring hiking poles for balance and to protect your knees. I know many experienced hikers (and even amateur ones) think that hiking poles are for old people who lose their balance. Actually, hiking poles can help when going down steep inclines or when scrambling over rocks. They are great to hike with even for the most experienced hiker.
Wear a sunhat. I feel like this whole post is about how high you are in the mountains and how much closer you are to the sun but it is so true. At elevation, you are closer to the sun and more likely to burn. Wear sun protection such as a sun hat and sunscreen.
Be aware of the wildlife. This is the Southwest and you will need to watch out for snakes and other wildlife. Please stay away from wildlife and do not feed them.
Start Early – If you want to avoid the traffic and the heat you will need to start your hike early. That way it will be nice and cool and the smog will not affect you either.
Leave no trace. If you are new to the concept of Leave No Trace it is all about preserving the environment to ensure it is in the same or better condition when you leave it. This means that you should stick to the trails and carry out everything that you carried in. This is a great explanation of the Leave No Trace principles!
Water shoes are great for water hikes– If you don't have a pair, I highly suggest it as they are affordable. I have an article on the pros and cons of several pairs of water shoes.
Bring Bug Spray and a snack: Be sure to bring everything you need including a snack like a protein bar plus BUG SPRAY.
How to get to the Mesa Arch trail
Mesa Arch is located in Canyonlands National Park which can be reached as you drive U.S. Highway 101 north of Moab for ten miles. You then turn left on Utah highway 313 for the 22-mile-drive to the Islands in the Sky entrance of Canyonlands National Park.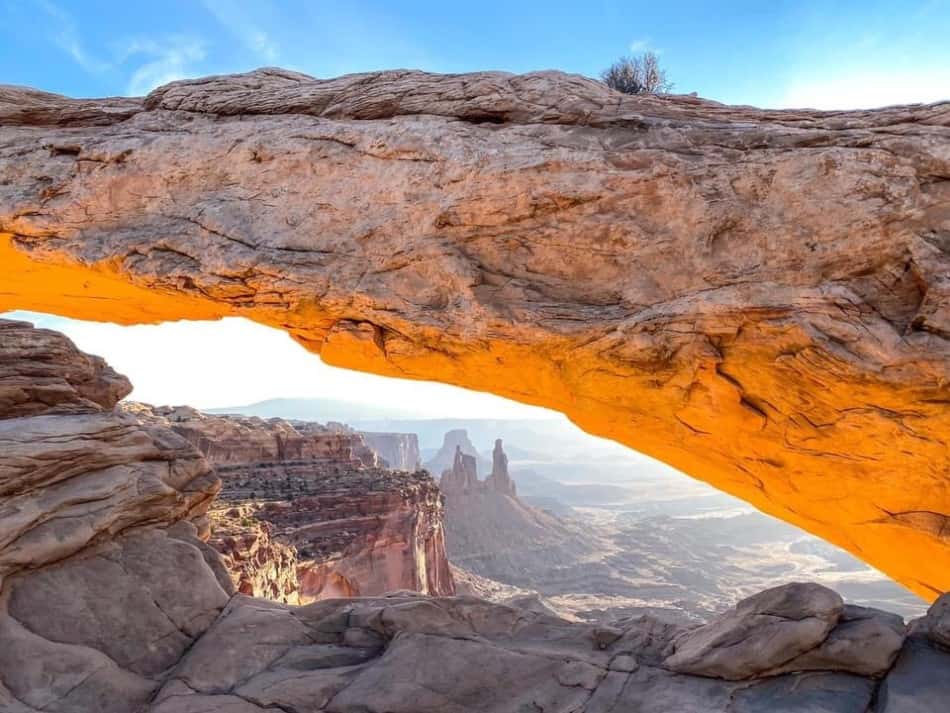 Mesa Arch is a 45 minute drive from Moab. That last 22 miles into Canyonlands is quite a boring drive but once you get there it is well worth it.
Don't worry if the park is not open yet you can still continue into the park and they will confirm your pass or ticket when you leave.
Once you park at the Mesa Arch parking lot it is a 10 minute walk to the Arch. If you are arriving before sunrise it will be dark and the path is rocky and uneven so make sure to bring a flashlight.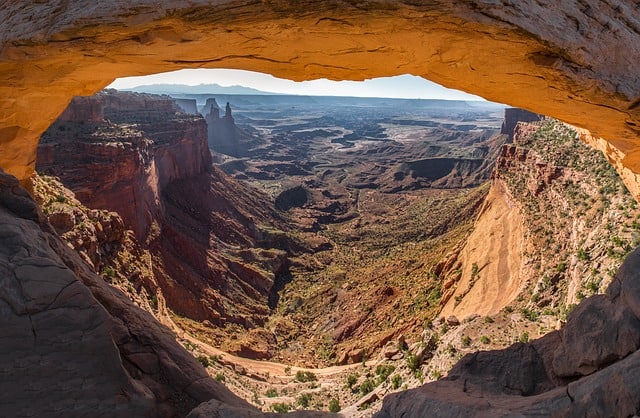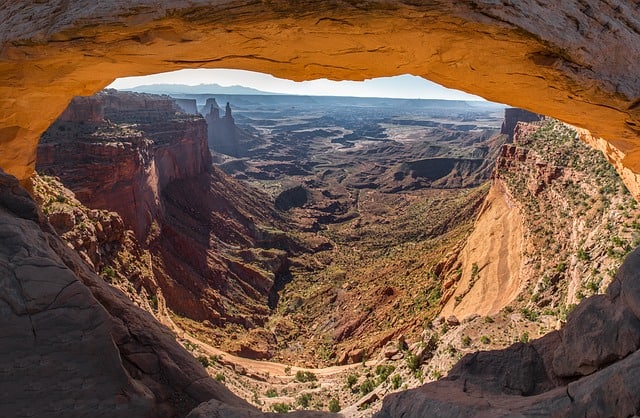 Tips for photographing the Mesa Arch Sunrise
Arrive Early. You won't be alone photographing sunrise at Mesa Arch.
You'll want to set up well before sunrise to be ready for when sunrise begins.
Bring a flashlight. That means you will be doing the hike in the dark so bring a flashlight or headlamp. If you want to use the flashlight on your smart phone just be careful of your battery if it is a cold morning as it will drain the batter quickly.
Its a short, easy hike. The hike is half a mile long round trip. The Mesa Arch Trail is unpaved and mainly consists of large rocks. The hike to the Arch is easy enough and you will find your way to the Arch easily. On the way back to the car park (its a loop) is not as clearly marked in my opinion but you will find your way.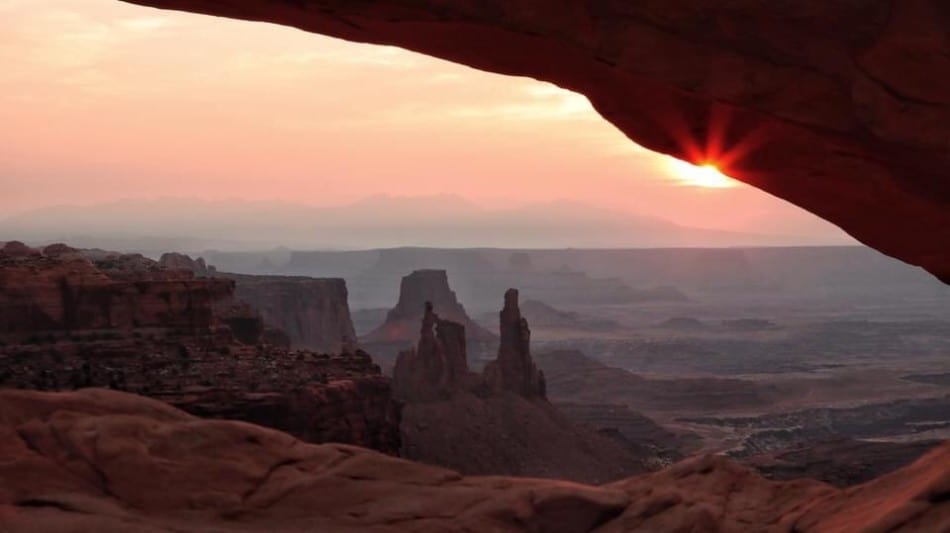 I first visited in the afternoon the day before so I was able to scope out how to get there and where I wanted to set up where to photograph the sunrise.
Be patient. Expect to spend about two hours here photographing the Mesa Arch Sunrise. You'll want to stay longer as you will notice quite a few people leaving just after sunrise once they get the shot.
The sunrise show keeps getting better and better so its worth it to wait it out and watch the show.
Mesa Arch sunrise photo tips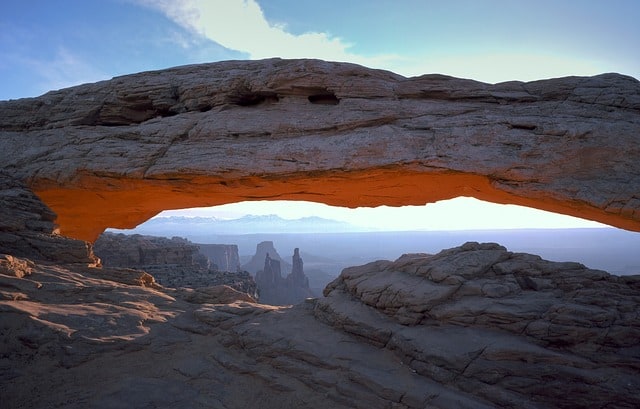 Bring a Tripod. You will see everyone there has a tripod set up. It reserves your spot to take the photograph.
Do you need a professional camera? Yes, it definitely does help but you can get a good camera for less than $300.
Arrive early. Claiming your spot in front of Mesa Arch isn't the only reason to arrive early. This also gives you time to think about the photographs that you'd like to take.
Be respectful. The arch is small so there's not a lot of room to set up. If other photographers have already claimed the best spots, shoot from the side for a different perspective.
Be careful. It will be dark and the rocks are uneven around the Arch. You will need to be careful not to bump or trip over tripods that are already set up. By setting up your tripod you are reserving your spot in front of the Arch to take photos.
Which season is best for taking photos of the Mesa Arch sunrise?
The Arch will definitely be more crowded in spring and summer and you'll also have to wake up earlier to photograph sunrise but it is the best time to capture sunrise at Mesa Arch.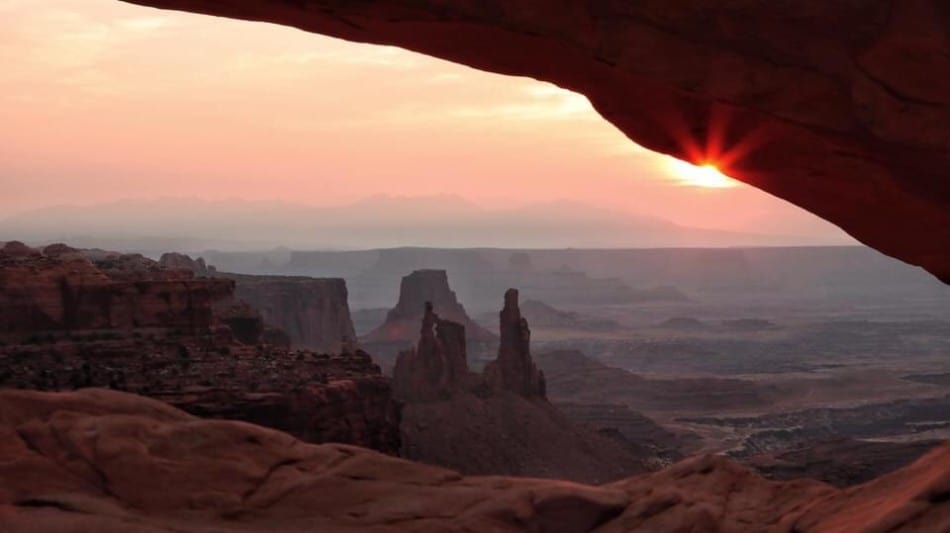 Winter would be interesting especially if there is snow on the ground to reflect the light.
Should I go to Mesa Arch sunrise even if I am not a photographer?
It is definitely worth it to wake up for sunrise and visit Mesa Arch. The colors are unbelievable and as I mentioned before the sunrise keeps getting better and better. I think everyone should experience seeing Mesa Arch lit up in bright orange.
Hands down one of our best experiences at Canyonlands National Park. What do you think? Is it worth the early wake up call?
Where to stay near Canyonlands National Park
Canyonlands makes for a great weekend escape. Fresh air, beautiful scenery, and being in nature does a world of good for the soul. I recommend staying as close to the park as possible and even treating yourself with a cabin with a spa pool to relax at night.
If you are taking a road trip remember to reserve a car in advance using Discover Cars .
Sharing is Caring! Pin this article to save for later.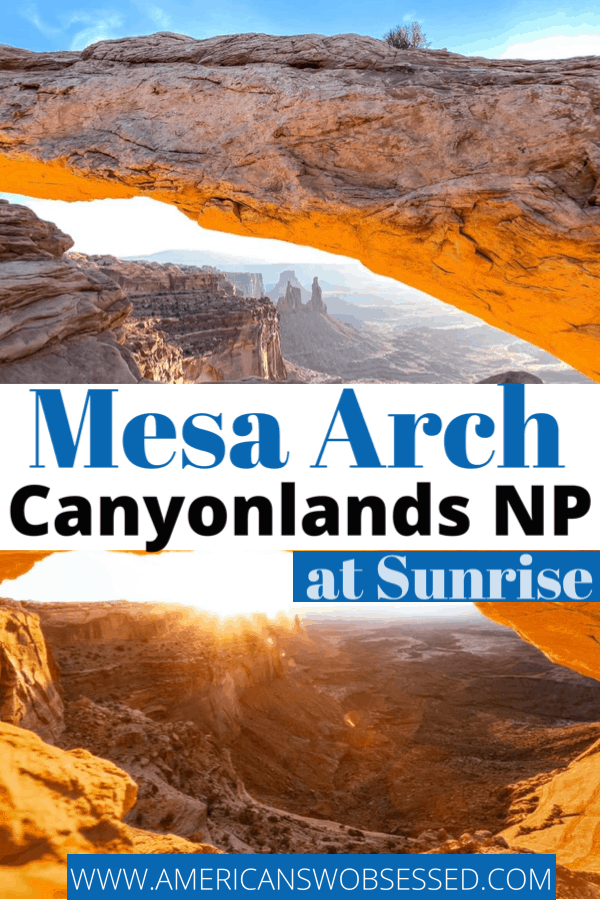 Continue Reading More on my website about Utah:
Amazing Waterfalls in Utah you can hike to
Recent Posts