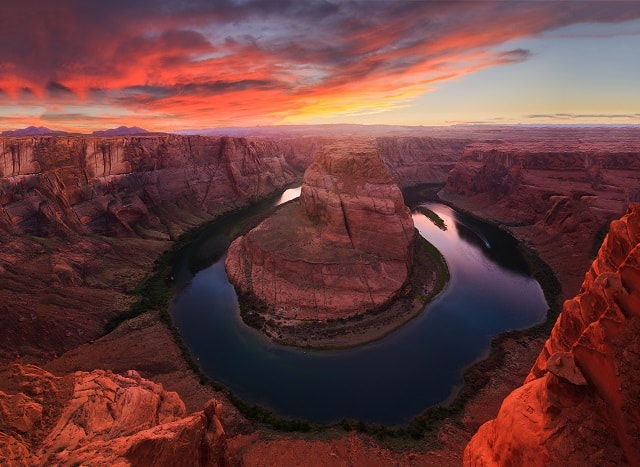 Horseshoe Bend Hike and Horseshoe Bend Trail
Horseshoe Bend is one of the most photogenic hot spots of the Colorado River and Grand Canyon. Located in Glen Canyon National Recreation Area just 5 miles from the Glen Canyon Dam, this iconic bend is easily accessible from U.S. Route 89.
How to get to Horseshoe Bend Overlook
Horseshoe Bend is very easy to get to from either the north or the south. Horseshoe Bend Overlook is located 5 minutes outside Page, Arizona.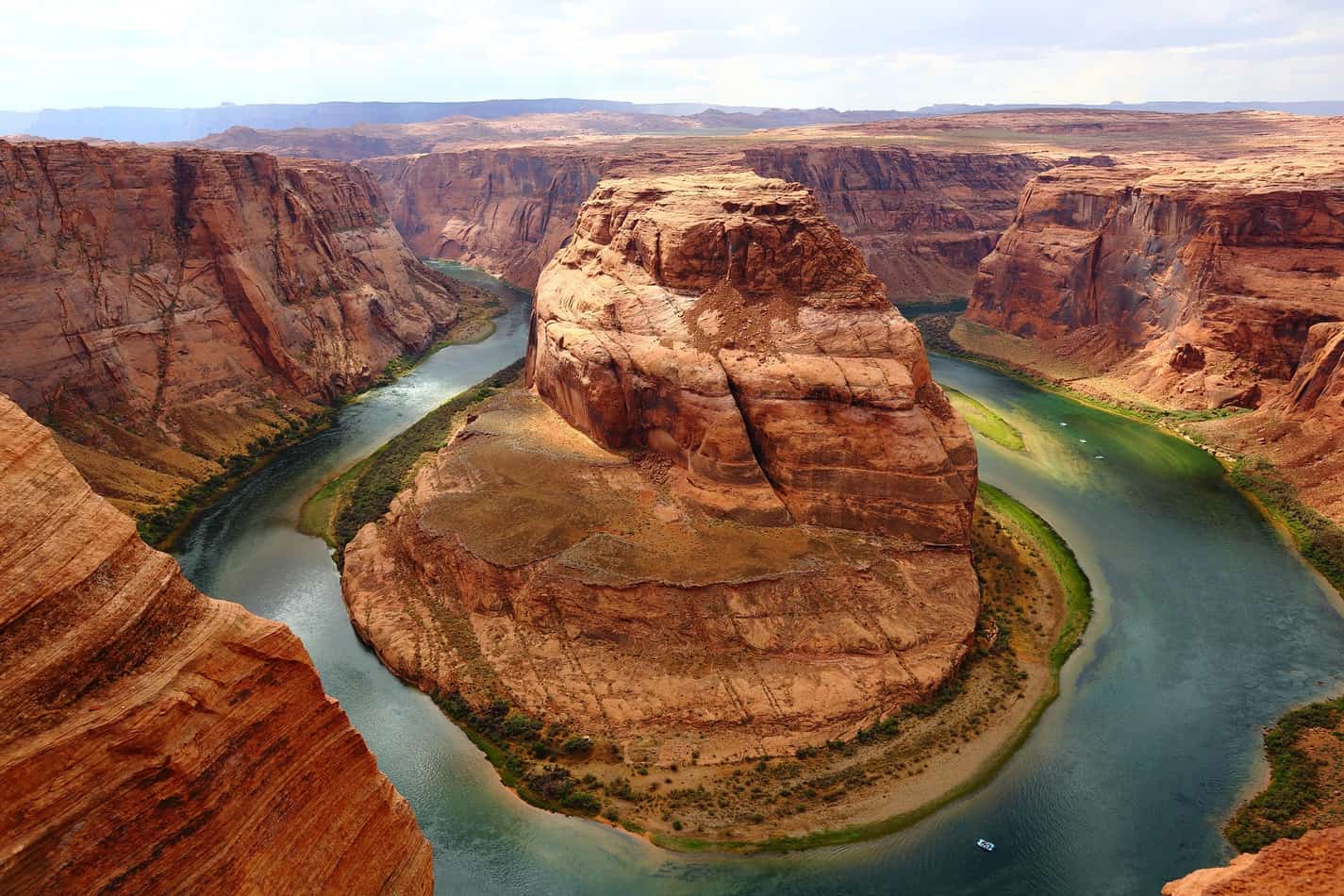 Getting to Page, Arizona
There are a few options that get you to Page, AZ. If you are flying into Phoenix or Mesa you then have a five hour drive north.
You will drive north on U.S. Route 89 for about 130 miles until you see the sign on your left prompting you to turn into the Horseshoe Bend scenic area. It is before you hit Page.
You can fly into Las Vegas, Nevada as well and its a five hour drive east to Page, Arizona.
If you are coming Utah you will head southeast into Page on U.S. 89.
Check out my post on things to do in Page, Arizona. Horseshoe Bend and Antelope Canyon are two of the best things to do in the area.
From Page to Horseshoe Bend
From Page, AZ you will head south on Route 89 for about 5 to 6 miles (between mile post marker 544 and 545). Look for the signs that say Horseshoe Bend and a prominent right turn lane headed toward a dirt road. Turn west (right if facing south) and you will see a parking area to your left.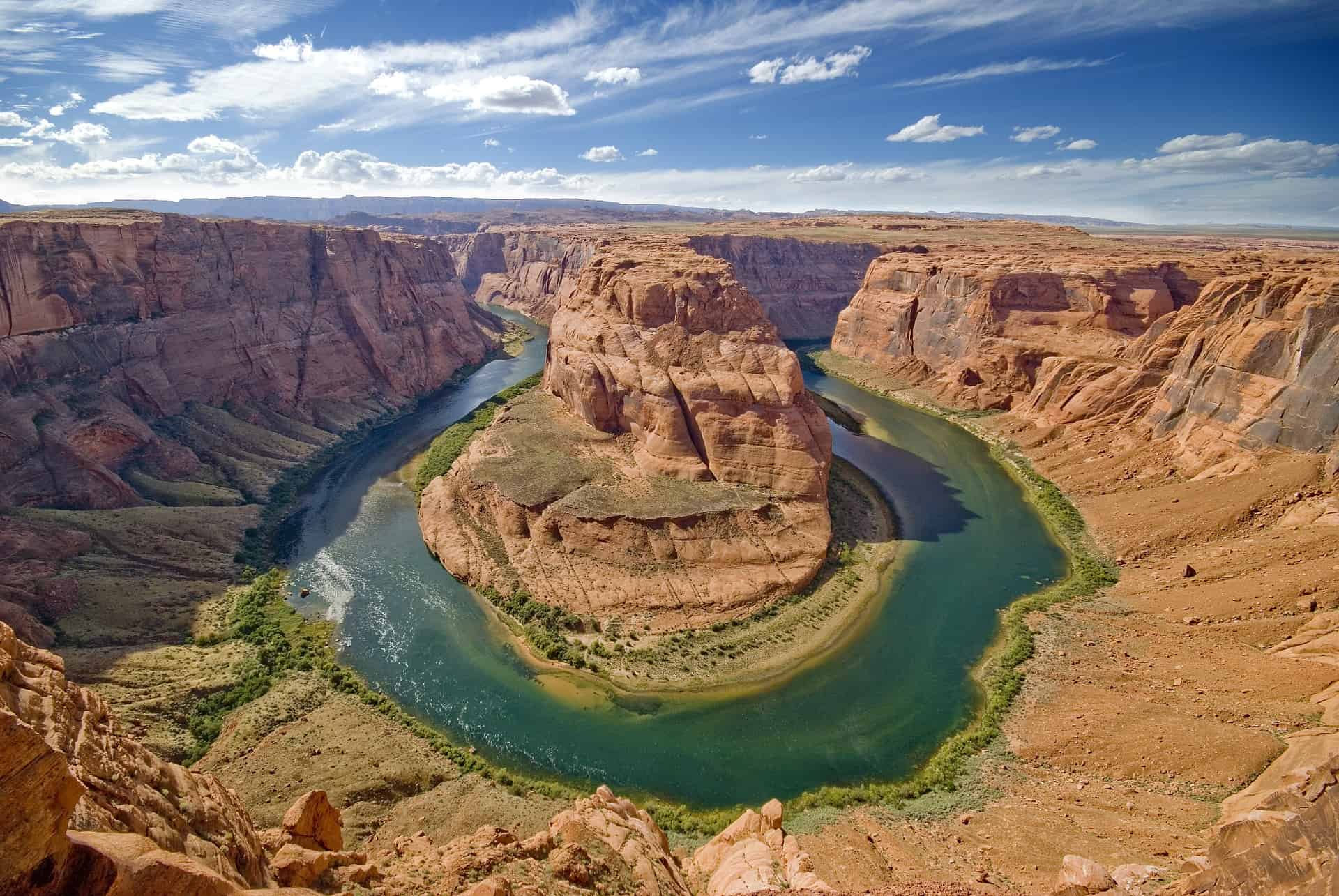 Tips for Hiking to Horseshoe Bend
Horseshoe Bend is perfect for outdoor enthusiasts. It is a 45 minute round trip hike but note that it is dry and hot (in the summer) and make sure you know what you are getting into before you start. Here are a few tips for Horseshoe Bend hiking:
Bring a reusable water bottle and lots of water! Remember you are in the sun and you will need to drink lots of water. I love my LifeStraw Filtered Water Bottle. I can refill this bottle anywhere and it comes with a carabiner to connect it to my daypack.
Check the Weather – days over 100 degrees are very common. Make sure to check. I spoke to the ranger at the entrance. He said he rescues several people per day from heat exhaustion. Go early!
Hiking boots or sandals that will protect your feet! I love good shoes. I need all the support and help I can get. I actually love these sandals for hiking and have a whole post on Merrell vs Keen shoes for hiking. I also love these hiking boots which I used for Hiking in the Grand Canyon.
Bring hiking poles for balance and to protect your knees. I know many experienced hikers (and even amateur ones) think that hiking poles are for old people who lose their balance. Actually, hiking poles can help when going down steep inclines or when scrambling over rocks. They are great to hike with even for the most experienced hiker.
Wear a sunhat. I feel like this whole post is about how high you are in the mountains and how much closer you are to the sun but it is so true. At elevation, you are closer to the sun and more likely to burn. Wear sun protection such as a sun hat and sunscreen.
Start Early – If you want to avoid the traffic and the heat you will need to start your hike early. That way it will be nice and cool and the smog will not affect you either.
Leave no trace. If you are new to the concept of Leave No Trace it is all about preserving the environment to ensure it is in the same or better condition when you leave it. This means that you should stick to the trails and carry out everything that you carried in. This is a great explanation of the Leave No Trace principles!
The Horseshoe Bend Hike – Hike to Horseshoe Bend
The hike itself is a 3/4 mile stroll from the parking lot to the edge of the cliff where photographers and tourists come from all over the world. Horseshoe Bend Hike is a 1.5 mile hike loop.
The hike itself is not hard, it is the heat that will kill you. From the car park you must first hike up a sandy hill and once you get to the top you will then hike down 200+ feet to the bottom where you can take photos of Horseshoe Bend.
Horseshoe Bend Trail is made up of sand, gravel, and a small portion o f paved pathway.
The sand gets incredibly hot on the Horseshoe Bend Trail. I was wearing Tevas and my feet were in pain as I sank into the hot sand while walking.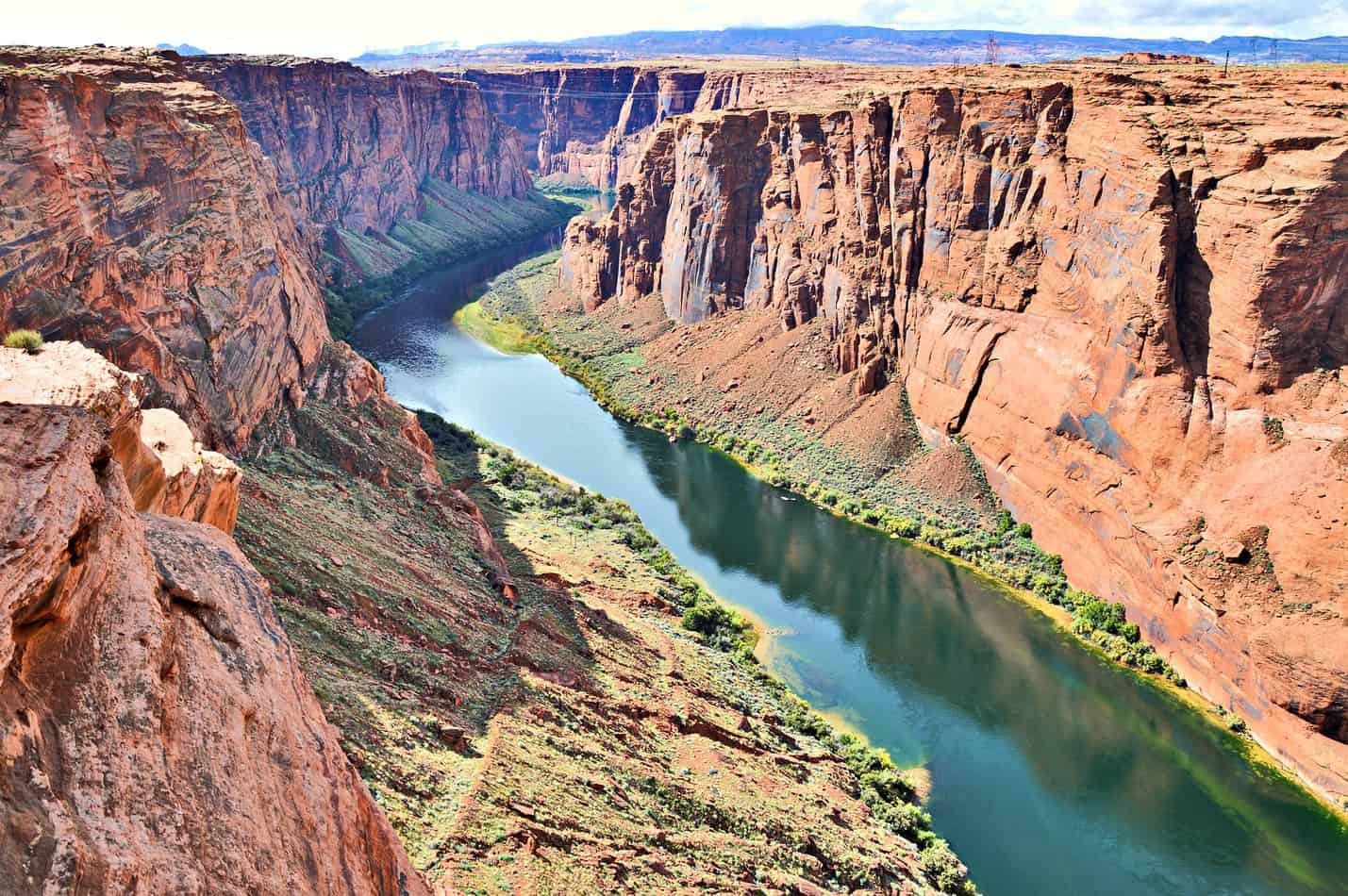 The hike itself is not that hard and shouldn't cause a problem for anyone as far as physical activity levels. Its really the heat you have to be conscientious of while visiting.
There is no shade along the way and I was really surprised about this. As I mentioned before you start in the car park and then climb up for about 5 minutes. At the top there is a small canopy that everyone is huddled under trying to get some shade. I really think the city of Page needs to improve this.
I did the entire hike in 45 minutes there and back with a couple of breaks because of the heat.
Once you get down to the viewing platform there is a part with railings and another part without railings.  Please be careful when viewing as there are a lot of people there and a lot of people trying to take photos. 
I preferred to stay in the part with the railing.
Dogs are also welcomed on Horseshoe Bend Trail as long as they are on a leash. Again, I would be careful at the edge as there is no railing.
Keep in mind, about once a week someone is sent to the hospital from this trail mostly because of the heat.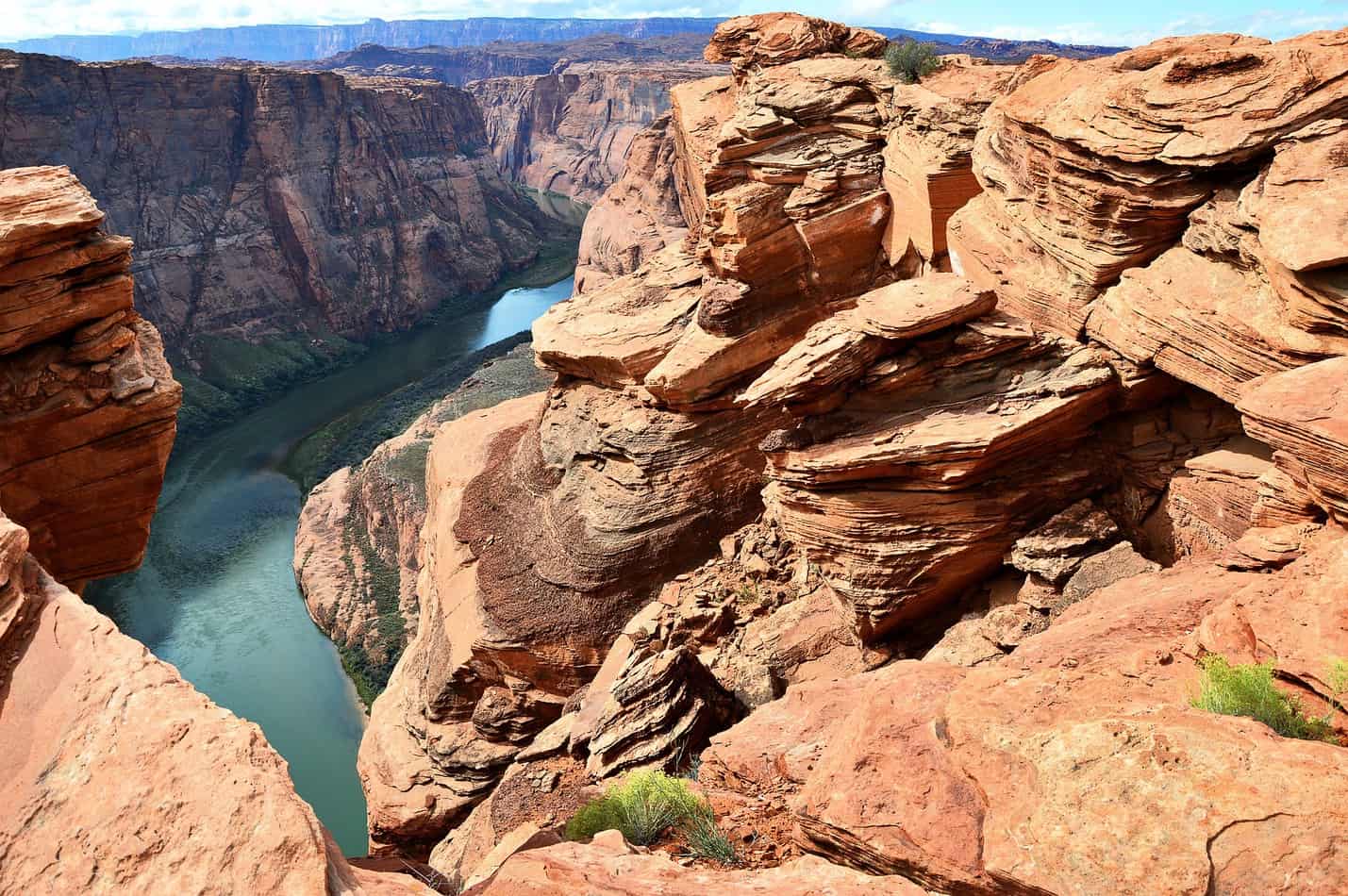 On the way in we were told to have at least a gallon of water between the 4 of us but yet they do not sell water at the site or in the parking lot.
This is a desert hike so make sure to bring plenty of water, sunglasses, sunscreen, adequate hiking shoes, and a hat.  
Even though this is a fairly short hike, without adequate water, you will find that the heat will take a lot out of you. Please, be prepared!
Practical Information for visiting Horseshoe Bend
I would visit as early as possible to avoid the heat of the day and the crowds. You also need to bring your own water as there is nowhere to buy water or to fill up your water bottle.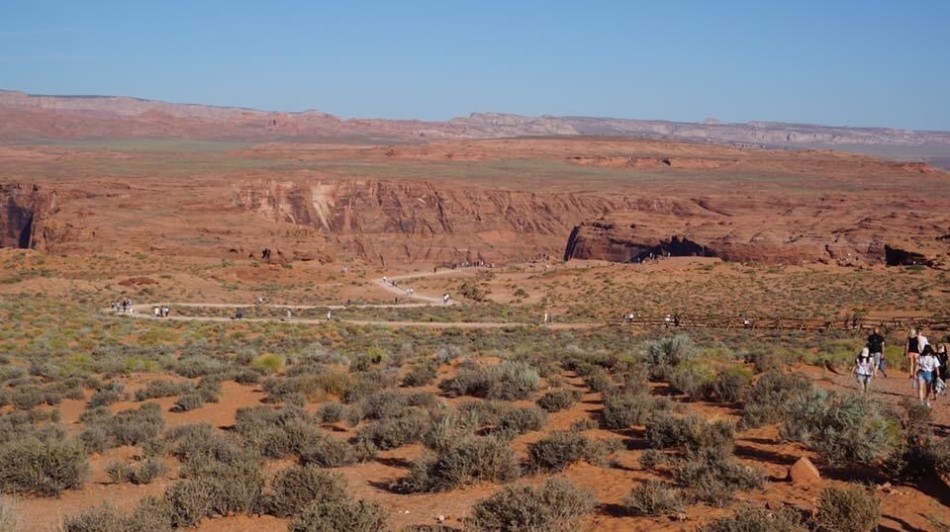 Visiting Horseshoe Bend is free but you need to pay $10 per car for parking and that is a one time fee so it is not valid for the entire day.
There are long drop toilets in the parking lot which are free to use.
Tips for photographing Horseshoe Bend
One of the attractions to Horseshoe Bend is how photogenic this place is. With the right lens, lighting, and equipment you can capture a truly amazing shot.
Camera and equipment: make sure you have a camera with a wide angle lens to capture all of horseshoe bend.
Time of year: I visited in July and it was packed there. I think the popularity of the site has increased a lot over the last few years thanks to Instagram
Things to do in Page, Arizona
If you are making the trip to Page, AZ to capture shots of the iconic Horseshoe Bend, you might as well stay a while longer and visit some of the other incredible outdoor activities this area has to offer.
Here are a few suggestions of things to do in Page, Arizona but I have a whole post on it.
1. Dam Overlook: Just 4 miles from the Horseshoe Bend parking lot
2. Lake Powell: An amazing lake with endless water activities to enjoy
3. Antelope Canyon or Canyon X which has a lot less crowds
4. Glen Canyon Recreation Area
5. Rainbow Bridge
You can also check out Antelope Canyon which is 15 minutes down the road or other things to do in Page, Arizona.
Where to stay near Horseshoe Bend
Horseshoe Bend makes for a great weekend escape. Fresh air, beautiful scenery and being in nature does a world of good for the soul. I recommend staying in Page and even treating yourself with a cabin with a spa pool to relax at night.
There are lots of fantastic Airbnbs in Page. There are many beautiful places to stay in Page and this allows you to spend most of your time experiencing the area instead of driving from another place.
I stayed at the Holiday Inn Express. This is one of the best Bryce Canyon Hotels and it has amazing amenities and is close to everything. Plus its reasonably priced.
If you are taking a road trip remember to reserve a car in advance using Discover Cars .
Sharing is Caring! Pin this article to save for later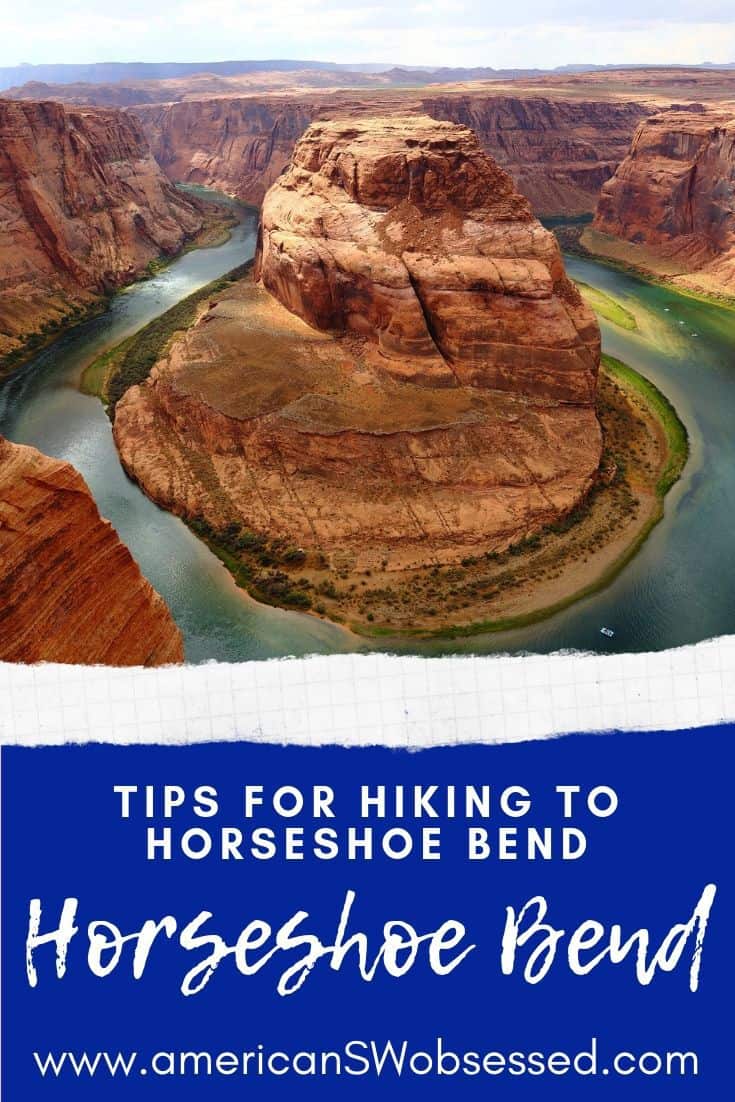 Continue Reading more on my website:
9 Amazing Slot Canyons in Arizona
The Best Lookout Points in the Grand Canyon
Arizona National Parks and Monuments
Recent Posts