The Best Hiking in Bryce Canyon – in one day
If you are short on time you can visit Bryce Canyon in one day and still hit all the major spots. Bryce Canyon National Park is one of the Mighty Five National Parks in Utah and offers some of the best hikes.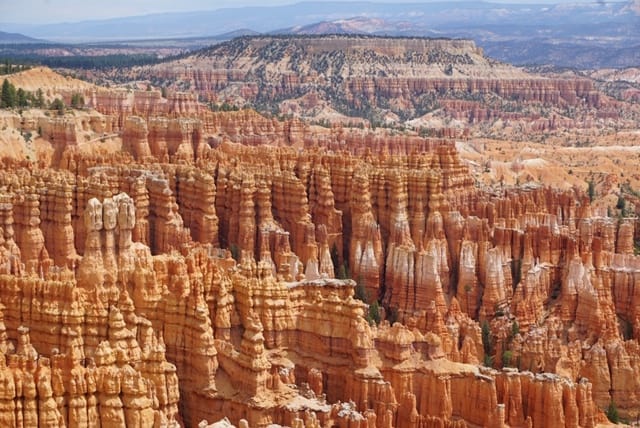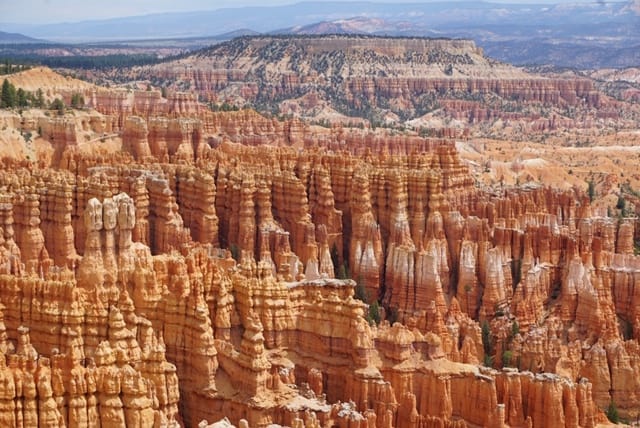 I have put together my favorite Bryce Canyon Hikes for all activity levels. There's nothing like seeing the hoodoos and sandstone pillars for yourself the first time or seeing the bizarre rock formations like Thor's Hammer to get you ready for a day in Bryce Canyon.
Bryce Canyon has a 38 mile round trip scenic drive which will take you to all the viewpoints. We arrived at the Visitors Centre at 9am and it was quite packed already.
Knowing how many people were in the park already we decided to drive to the end of the park and then make all of our stops on the way back out. That is the other thing about Bryce Canyon National Park, all of the viewpoints are on the left on your way out or on your right on the way back to the visitors centre.
At the visitors centre there is a souvenir shop, restrooms, and water fountains to fill up your reusable water bottle. It takes a minimum of 3 hours to drive the scenic drive and make a few stops along the way.
Bryce Canyon National Park is open 24 hours a day so I would get there as early as you can. If you arrive before 8am the booths will not be open yet for you to pay but you can pay on your way out. We had a National Park Pass which we showed on our way out.
To visit any of the National Parks in the USA, I recommend buying a National Park Pass. The America the Beautiful Pass is valid for one year and costs $80. Plus 10% of sale proceeds go to the National Park Foundation.
Tips for Hiking in Bryce Canyon National Park
Bryce Canyon is perfect for outdoor enthusiasts. There is a hike for everyone on this list and for different fitness levels. Also, note that it is dry and hot (in the summer) and make sure you know what you are getting into before you start. Here are a few tips for Bryce Canyon hiking:
Where to stay in the Bryce Canyon
The Bryce Canyon makes for a great weekend escape. Fresh air, beautiful scenery and being in nature does a world of good for the soul. I recommend staying in a resort and treating yourself with a spa pool to relax at night.
There are lots of fantastic Airbnbs near Bryce There are many beautiful places to stay and this allows you to spend most of your time experiencing Sedona.
You may also want to check out my post on Where to Stay near the Grand Canyon – which walks you through all the cities near the Grand Canyon
I stayed at the Best Western Plus. This is one of the best Grand Canyon Hotels and it has amazing amenities and is close to everything. Plus its reasonably priced.
If you are taking a road trip remember to reserve a car in advance using Discover Cars .
What is a hoodoo?
A hoodoo is a pinnacle, spire or odd-shaped rock left standing by the forces of erosion. There are thousands of hoodoos in Bryce Canyon and they can be seen from most viewpoints
The best viewpoint to see hoodoos is Bryce Point. This is the best views of the rock formations. You can visit the Utah National Parks on a Utah Road Trip.
Bryce Canyon Hikes and Trails
Sunset Point
Sunset Point – An ever popular hike in Bryce Canyon. Sunset Point is home to some of the most overwhelmingly beautiful limestone rock formations in the area. With red, yellow, and orange hues, the hike features Thor's Hammer, a longtime favorite rock formation amongst visitors.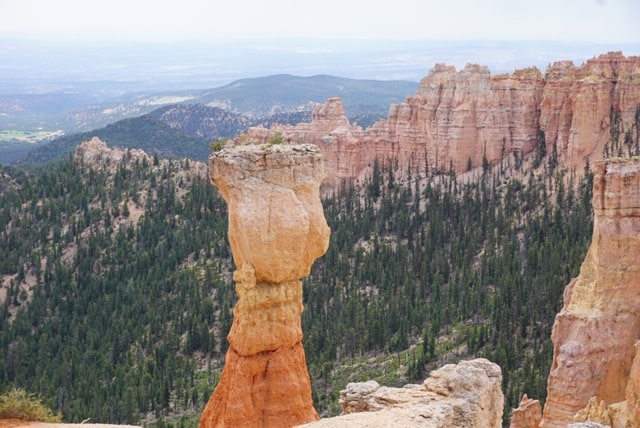 Sunset Point is also a great place for bird watching. Catch ravens and hawks as they soar throughout your hike, along with several different swallows and swifts for your viewing pleasure.
This hike runs 1.1 miles and isn't as heavily-trafficked as some. It is an out and back trail, meaning that once you get to the end of the trail you will need to return the same direction to get back to the starting point.
This trail is dog-friendly provided that they are leashed and is good for all skill levels.
Queens Garden
Queens Garden – Queens Garden is a trail within the Bryce Canyon National Park that is one of the two most popular routes within the park. This hike will lead you into a visually stunning descent down into the rock formations.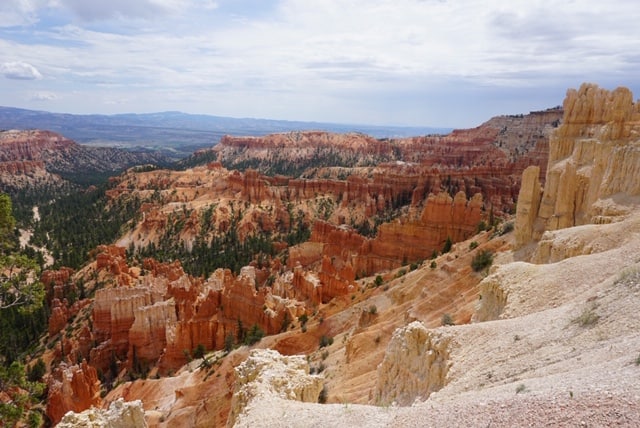 The trail will eventually continue to descend into a forest-like area, if you choose to continue on that far. Eventually the trail links up with the Navajo Loop to take you back to where you started.
Starting near Sunrise Point, this 1.8 mile trail is better accessed between the months of April and November and proves to be an easy walk for most. Along your path, you will eventually run into the Queens Garden itself, which features sundry rock formations in a variety of colors said to look like Queen Victoria, hence the name.
Navajo Loop
Navajo Loop – Navajo Loop, often combined with Queens Garden Trail, is a heavily-trafficked, moderate intensity hike within Bryce Canyon National Park. At approximately 1.3 miles, this trail is popular amongst visitors.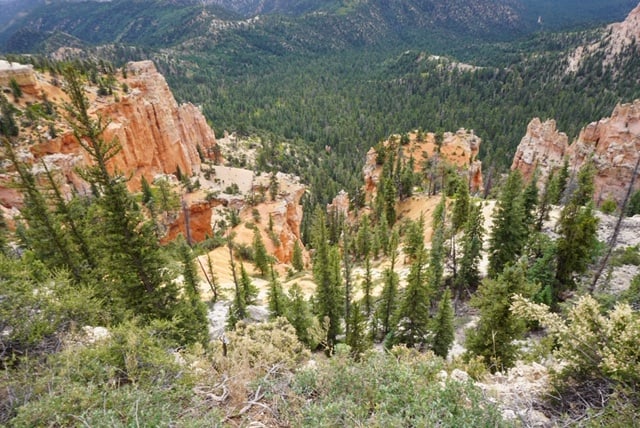 Littered with Douglas Fir trees, the Navajo Loop features "Thor's Hammer", the "Temple of Osiris" and scenic views of the "Silent City", named as such because of it's rock formations that resemble towers and buildings.
This trail can take as long as one or two hours and can take even longer if hiked in conjunction with the Queens Garden Trail or the Peek-a-Boo Loop.
Depending on the month and season you take this trail, you could end up either very hot or very cold because of it's setup. Therefore, it is important to plan ahead of time and dress appropriately.
Fairyland Loop
Fairyland Loop – Considered a difficult hike to some, this 7.6 mile looping trail might leave you gasping for breath. The long hike is well worth it though, as it features beautiful hoodoos, including the Pink Cliffs and Claron Formations, with the most scenic views being at the beginning and near end of the trail.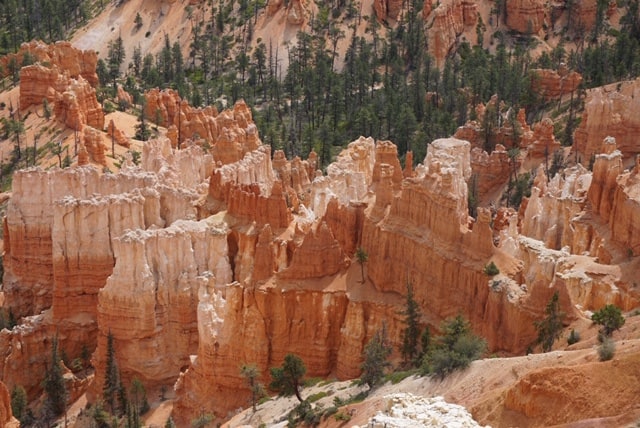 Because of it's length and varying elevation throughout, it is recommended that you slather on a thick layer of sunscreen and bring plenty of snacks and water. There is also a free shuttle bus that runs from the trail to Sunrise Point if, by chance, you get winded or have an emergency.
The nice thing is that, because of it's length and intensity, this path is less traveled by others, making for a much quieter experience than some.
Tower Bridge
Tower Bridge – A three mile hike, this out and back trail descends down for a scenic view of the Tower Bridge itself. It can take between two and three hours to complete and is littered with snakes and wildlife.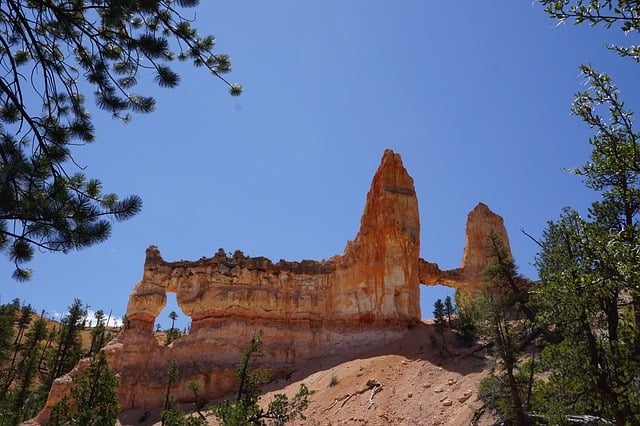 Among the many attraction amidst this less-traveled path are views of the "Sinking Ship" and "China Wall". Amazing rock formations start at about 0.75 miles into your hike, which include an amazing view of a large white wall with a tiny window.
As you head back the way you came, the rock formations and scenery may appear much different, making both the journey to the end and your return well-worth your time.
This hike is family-friendly and features fairly even terrain without too many rocks.
Sunrise Point
Sunrise Point- The hike at Sunrise Point is an overview of the park and gives stunning views of several landmarks scattered throughout Bryce Canyon National Park. Boat Mesa, the Pink Cliffs, the Sinking Ship, and the Aquarius Plateau are a few of the landmarks you can catch a glimpse of here.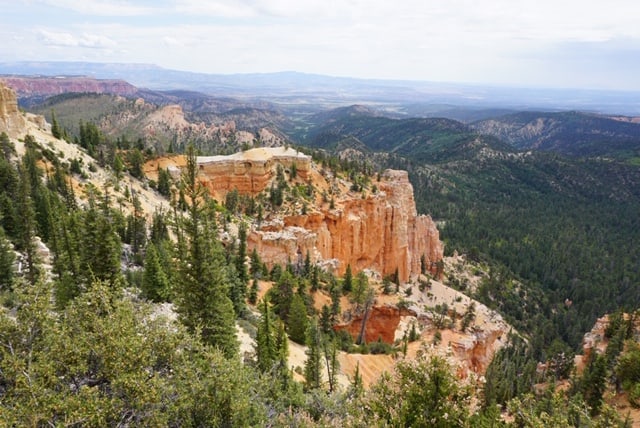 Given it's glorious view, this has been said to be a great place to camp out whether to watch the sun set or rise. The trailhead also features areas for buying snacks, using the restroom, doing laundry, grabbing water, and more.
Inspiration Point
Inspiration Point – From Inspiration Point can be seen a wide variety of hoodoos from a three-tiered perspective. Both Silent City, Boat Mesa, and the Claron Formation can be viewed from this location.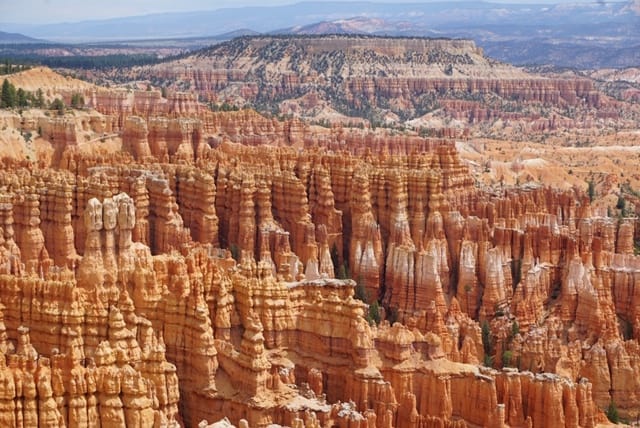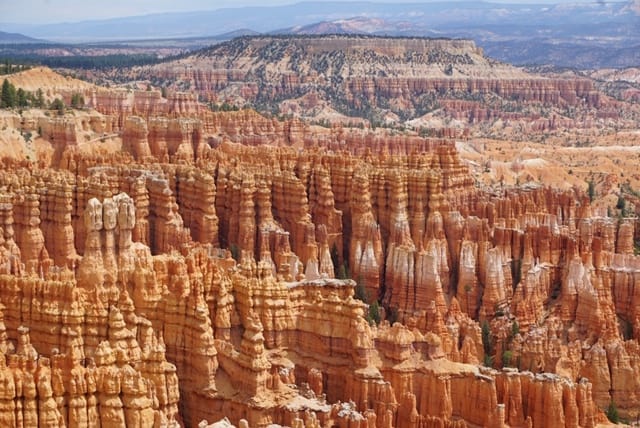 There are lower, mid, and upper points to the Inspiration Point hike that ranges about .6 miles. Despite its breath-taking scenic views, you must be careful. Inspiration Point features many cliffs and slopes made of unstable and crumbly rock. Remember to stay far back from cliff edges and keep yourself and children behind the rails.
Bryce Point
Bryce Point – One of the most popular points for viewing the amphitheater in full is Bryce Point. It's been said to be one of the best places in all of the park to watch the sun rise as the tops of the hoodoos come alive with the arrival of the sun, making it one of the most gorgeous sights in all of Bryce Canyon.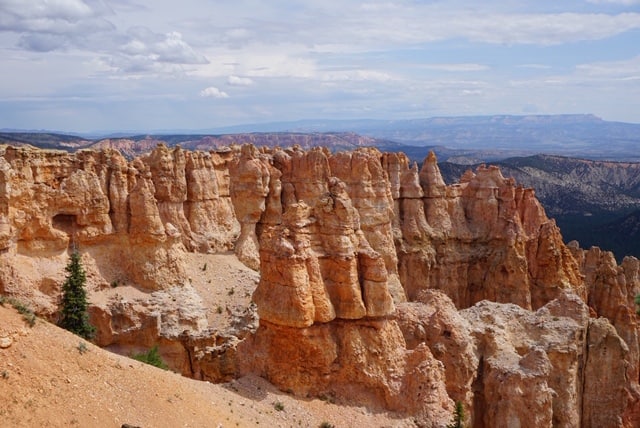 Both Boat Mesa and the Claron Formation can be viewed here. There are also ample opportunities to see plenty of wildlife among your path including the Uinta chipmunk, Golden-Mantled squirrels and other rodents.
As tempting as it might be, however, please be careful not to feed the animals you see on your hike. While you might think you are doing a kind thing, the truth is that feeding the animals along your hike can make them sick. Please keep this in mind and pass on the information to your children before you plan your visit.
Rainbow Point
Rainbow Point – One of the highest elevation points in the park, Rainbow Point stands at about 9,115 feet in the air and gives an overwhelming view of the park. It has been said that one can even view Arizona from this location on a clear day.
From this point you can also view the Grand Staircase, as well as the Pink and Red Vermillion Cliffs.
Rim Trail
Rim Trail – Best utilized in March through November, the Rim Trail runs about 10.7 miles round trip. You will gain elevation of about 1,587 feet, though the trail actually features two different routes.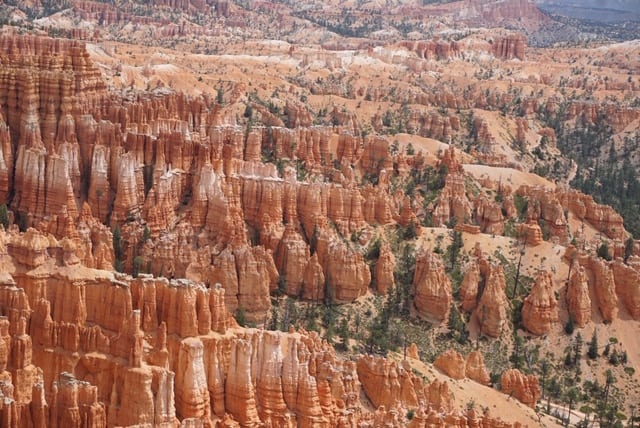 The first route spans about 0.9 miles and is suitable for all skill types. It is flat terrain, takes about 40 minutes, and lies just between Sunrise Point and Sunset Point.
The second route sits between Fairyland Point and Bryce Point and is for intermediate skilled hikers. It runs 5.5 miles one way. Be careful for elevation changes along this route.
Mossy Cave Trail
Mossy Cave Trail – One of the few trails not to descend into the amphitheater, the Mossy Cave Trail features two paths.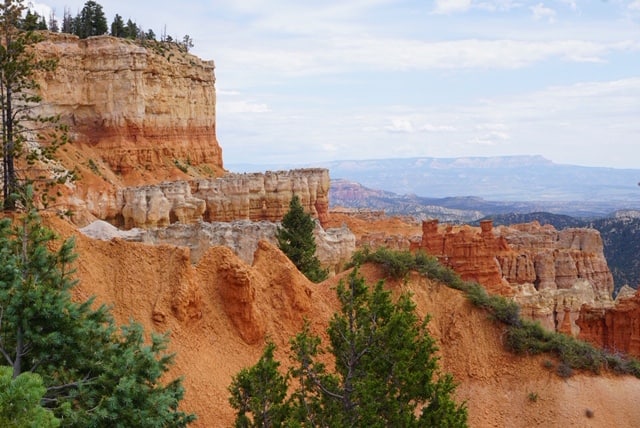 One path follows an artificial stream created by pioneers and ends at a waterfall. The other eventually leads to a grotto, otherwise known as Mossy Cave. In the winter, the moss is often replaced by icicles for a unique and equally "chilling" sight.
Conclusion – best hiking in Bryce Canyon
We spent around six hours in the park and we were happy with that amount of time. We were able to do a bunch of the Bryce Canyon Trails and see what we wanted to see.
The hoodoos are definitely the most unique thing about this National Park and amazing to look out at them from the viewpoints. You can definitely take a lot in during your time in Bryce Canyon in one day.
Over to you. Have you been to Byrce Canyon? What was your favorite spot there? Let me know in the comments.
Sharing is Caring! Pin this article to save for later.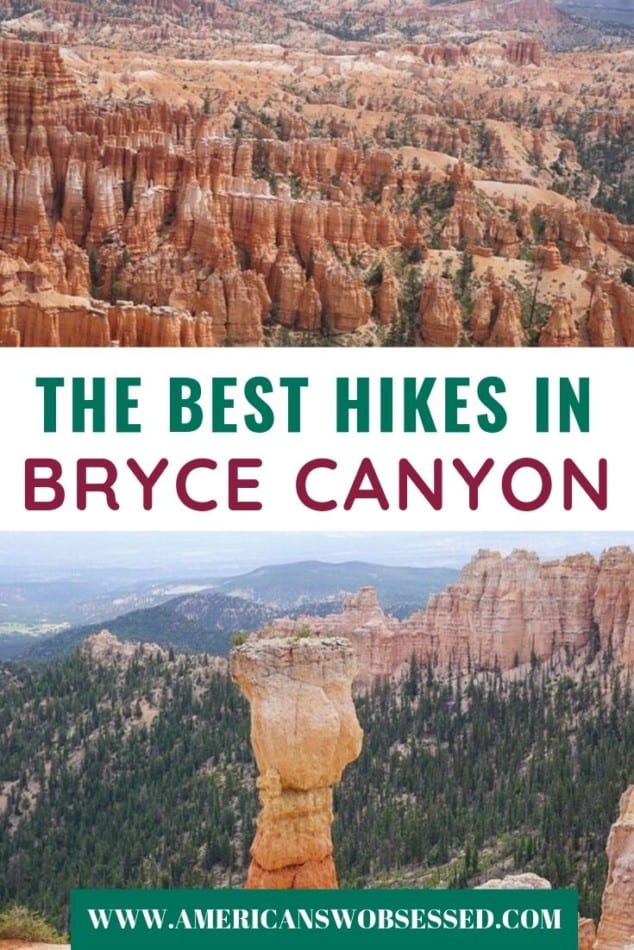 Continue Reading More Utah articles on my site:
Recent Posts