50+ Family travel quotes and Family Trip Quotes
This list is all the best family travel quotes and family trip quotes for your next trip.  If you are looking for travel quotes inspiration this is the list for you.

Family travel is all about creating moments together and making memories.  Its time to put down the phone and have some fun.
Some of these quotes are from famous people such as Oprah or good old classics like Dr. Suess or Winnie the Pooh.  Not matter, they are all great family travel quotes to inspire you.
So here we go with the best family travel quotes!
Family travel quotes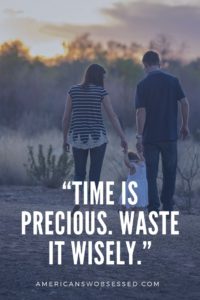 "Of All The Paths You Take In Life Make Sure A Few Of Them Are Sandy."
"Teaching kids to count is fine, but teaching them what counts is best."– Bob Talbert
"In the end, kids won't remember that fancy toy you bought them, they will remember the time you spent with them" – Kevin Heath
"Once the travel bug bites there is no known antidote, and I know that I shall be happily infected until the end of my life" ― Michael Palin
"Blessed Are The Curious For They Shall Have Adventures." – Lovelle Drachman.
"Oh The Places You'll Go." – Dr. Seuss.
Let's wander where the WiFi is weak
"Sometimes You Will Never Know The Value Of A Moment Until It Becomes Memory." – Dr. Seuss.
"As soon as I saw you, I knew an adventure was about to happen." – A.A. Milne, Winnie the Pooh
"Never Let Your Memories Be Greater Than Your Dreams." – Doug Ivester
"I haven't been everywhere. But it's on my list" – Susan Sontag
"The greatest legacy we can leave our children is happy memories" – Og Mandino
"Twenty years from now you will be more disappointed by the things you didn't do than by the ones you did do. So throw off the bowlines, sail away from the safe harbor. Catch the trade winds in your sails.Explore. Dream. Discover." – Mark Twain
Family Trip Quotes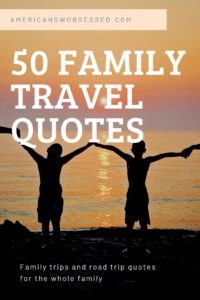 "Do More Things That Make You Forget To Check Your Phone."
"Not all classrooms have four walls" – Anon
"There are no perfect parents and there are no perfect children, but there are plenty of perfect moments along the way" – Dave Willis
"The Biggest Adventure You Can Ever Take Is To Live The Life Of Your Dreams." – Oprah Winfrey.
"Then I Realized Adventures Are The Best Way To Learn."
" A Family That Travels Together Stays Together."
"Travel Is Not Reward For Working, It's Education For Living." – Anthony Bourdain.
"It Is Never Too Early To Begin Exploring The World."
"Life is either a daring adventure or nothing." – Helen Keller
"Any day spent with you is my favorite day" – A.A. Milne
'To travel is to live' – Hans Christian Andersen
"As soon as I saw you, I knew adventure was going to happen." – Winnie the Pooh
"Always take the scenic route"
"Travel in the younger sort is a part of education; in the elder, a part of experience' – Francis Bacon
"There's no time to be bored in a world as beautiful as this"
"I'd rather have a passport full of stamps than a house full of stuff"
"I can always make more money; I cannot make more time"
"Time is precious. Waste it wisely."
"Life is better in flip flops"
Family Road Trip Quotes
"A road trip is a way for the whole family to spend time together and annoy each other in interesting new places."
"The road goes on forever and the party never ends."
"Life is like a road trip – enjoy each day and don't carry too much luggage."
"Road Trips Aren't Measured By Mile Markers, But By Moments."
"It Doesn't Matter Where You Are Going. It's Who You Have Beside You."
"Life Is Like A Road Trip – Enjoy Each Day And Don't Carry Too Much Luggage."
Conclusion: Best Family Travel Quotes
The journey of a thousands miles starts with the first step – Are you ready to plan your next trip now?
Tell me in the comments below which one is your favorite inspirational family travel quote!
I think mine is 'Oh the places you'll go'!  I got the book for my high school graduation and I haven't stopped travelin yet! Yay!
Recent Posts