15 Best day trips from Phoenix and Ideas for Arizona Day Trips
Phoenix is a great city to explore but if you have a few extra days these day trips from Phoenix are a great way to explore more of Arizona.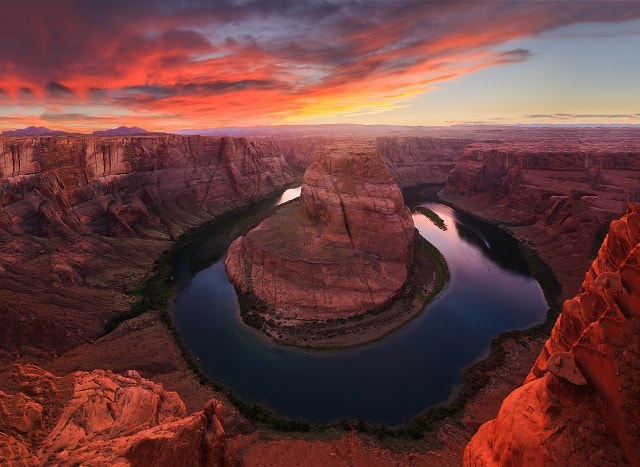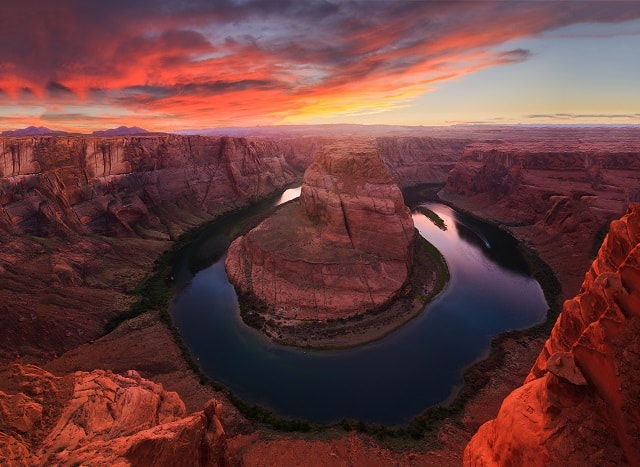 These Arizona day trips are the best day trips from Phoenix. I recommend going on an Arizona Road Trip if you have the time but these short trips from Phoenix are a great way to start.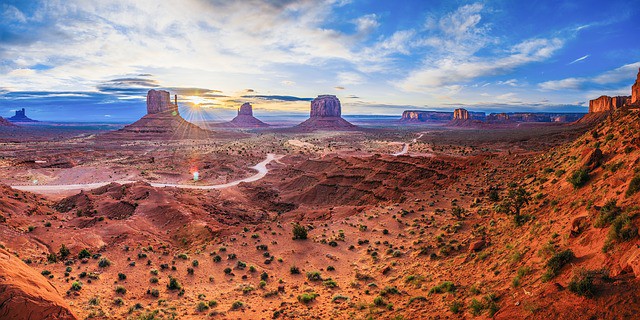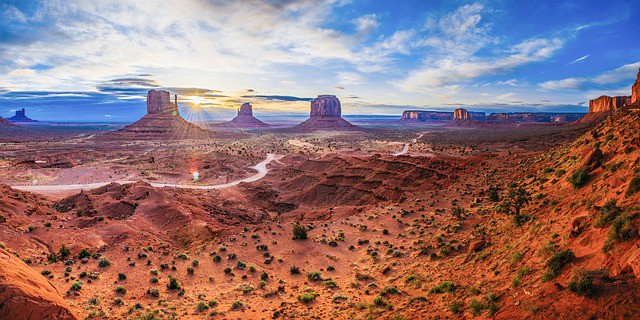 You can also use these ideas as weekend road trips from Phoenix. Whether you decide on a day trip or want to take one of these weekend trips from Phoenix there is plenty to choose from!
Phoenix Day Trips you won't want to miss!
Grand Canyon is one of the best Arizona Day Trips
Planning the drive from Phoenix to the Grand Canyon? This huge canyon is one of the top national treasures and wonders of America. It has hiking, rafting, helicopter tours, camping, and horseback trails.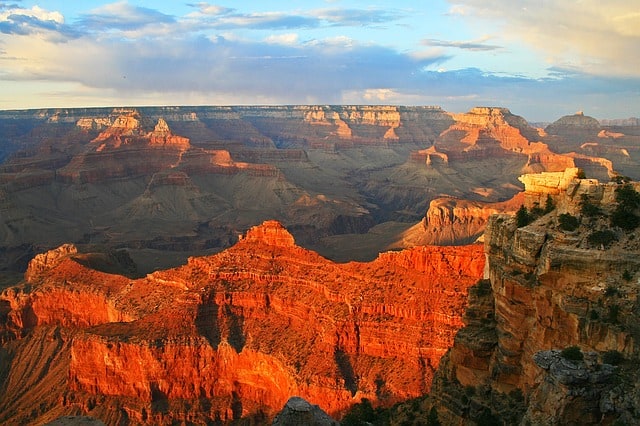 If you are just going to experience the beauty and wonder of the Grand Canyon this can be one of the best ideas for day trips from Phoenix.
The South Rim of the Canyon is open 24hrs and that is year round. It has multiple restaurants, places to get groceries (probably for those camping or in the lodging), you can rent a bike, there are several museums and visitors centers.
You can check out my post on one day in the Grand Canyon for the perfect itinerary.
The North Rim of the park is open from May 15th through October 15th of each year, the limited season is because the area is harder to get to and is a bit difficult to be traveled on.
It also has restaurants, shopping and lodging available. If you want to visit this part of the park definitely be prepared prior to going.
You have to remember that being able to go to the Grand Canyon is a huge experience for people all over the world, so don't be surprised if a lot of people are visiting when you go.
The best time to visit the Grand Canyon for milder weather and less tourist congestion is between March to May and September to November.
If you are looking for a place to stay check out my posts on Airbnbs near the Grand Canyon and the Best Hotels on the South Rim of the Grand Canyon.
The Grand Canyon is 3hrs and 24 minutes northeast of Phoenix
Driving Distance: 224 miles.
Las Vegas
Las Vegas is known as Sin City or the Wedding Capital of America.
Even though Vegas is known for being an adult playground, there are many things that can be enjoyed by the entire family like Red Rock Canyon, Fremont Street Experience, Seven Mountains Experience and Adventuredome Theme Park.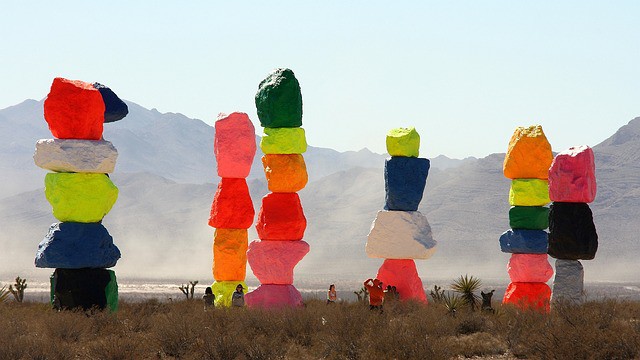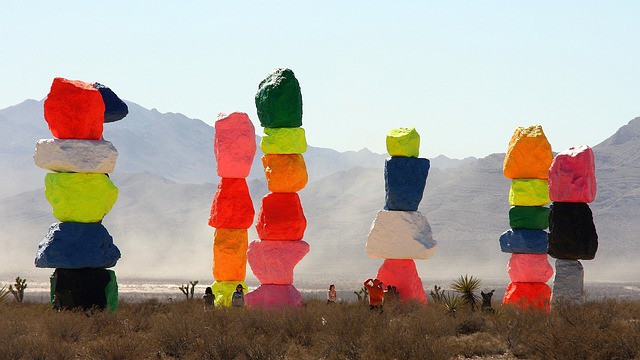 If you are looking for a weekend away from the people who are under 21 then Las Vegas has many world class casinos and clubs enjoy. Vegas also has world class entertainment like Fantasy at Luxor, Zumanity and Magic Mike Live.
Las Vegas is usually more than just a day trip from anywhere because there are nonstop things to do and it's a city that never sleeps.  You can check out my post on things to do in Vegas your first time. 
Whatever experience you are looking for be it relaxing, a bachelor/bachelorette party, a wedding, a family vacation or a friends trip Las Vegas has it for you.
Check out these awesome Day trips from Vegas or spend a day at the Valley of Fire. There are so many cool Airbnbs in Las Vegas (with no resort fees!).
Las Vegas, NV is 4hrs and 39 minutes northwest of Phoenix
Driving Distance: 300.9 miles.
Tuscon is a short day trip from Phoenix
With Tuscon being so close to Phoenix it makes it a great day trip. The great thing about Tuscan is even though it's a modern city it's still a great throwback to the history of Arizona.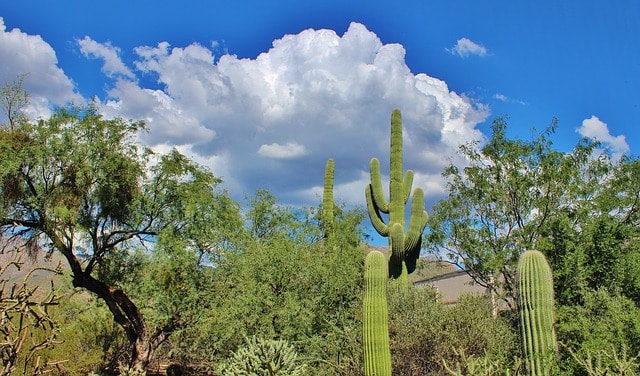 Tuscon is built within the Sonoran Desert and the landscape has many natural cacti, mountain ranges and hiking trails.
Tuscon has several national parks on the Eastside there is Under Canvas which can give people a glamping experience on 60,000 acres of ranch land.
There is Saguaro National Park on the Westside which gives you the chance to hike trails and see wild life like coyote, Gambel's quail, and desert tortoise.
Tuscon is also 60 miles from the U.S./Mexico border in Nogales, AZ. Tuscon has a bit of something for everyone. If you are looking for history there is the Historic Anza Trail, that the Spanish took to colonize California.
If you are looking for art, Tuscon has museums, performing arts and tons of local talented artists. If you are looking for a great place to stay I have all of the Best Airbnbs in Tucson article.
Tuscon is 1hr and 41 minutes southeast of Phoenix
Driving Distance: 113.2 miles.
Montezuma Castle
The Montezuma Castle is part of the national parks of America and has been since 1906. The structure is said to be over 800 years old and has 20 rooms that exist inside of it.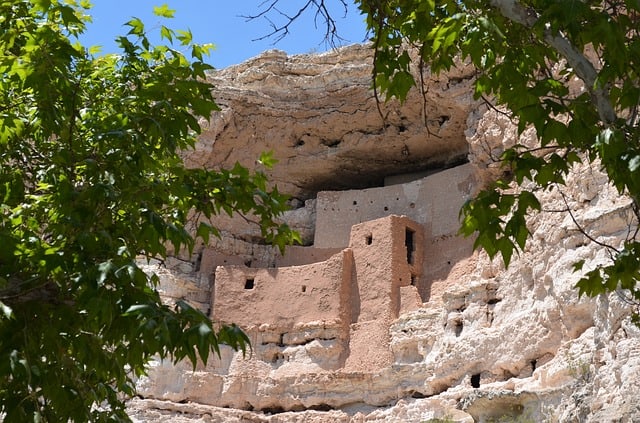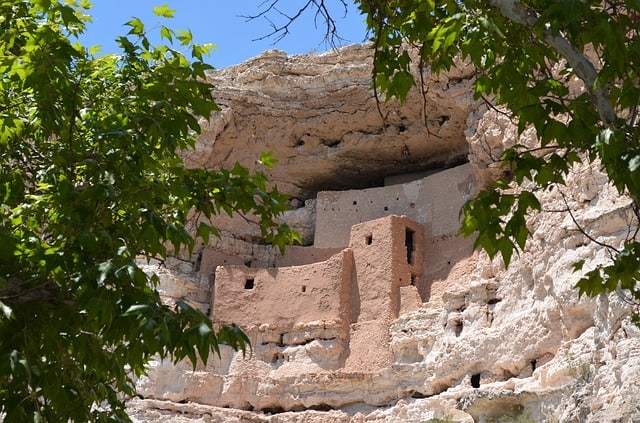 This national monument was once the home of the Sinagua tribe who lived in Arizona from around the year 500 to around 1425. They have many beautiful pueblo dwellings across the state of Arizona.
This is an experience that you could enjoy within an hour or so. There is a gift shop on site, trails to hike up to the castle and park staff to answer any questions that you may have.
Montezuma Castle could be the perfect place for a historic moment with the kids, a great set of selfies or nature pictures and definitely a peaceful place to just stop and be in awe.  You can read more about Native American Ruins in Arizona on my site.
Montezuma Castle is 1hr and 28 minutes northeast of Phoenix
Driving Distance: 94.4 miles.
Lake Powell is one of the best weekend trips from Phoenix
Lake Powell is in both Arizona and Utah, it covers around 2,000 miles of land between the two states. This is a beautiful place for boat tours, camping, hiking, fishing, jet skiing and so much more and one of the best lakes in Arizona.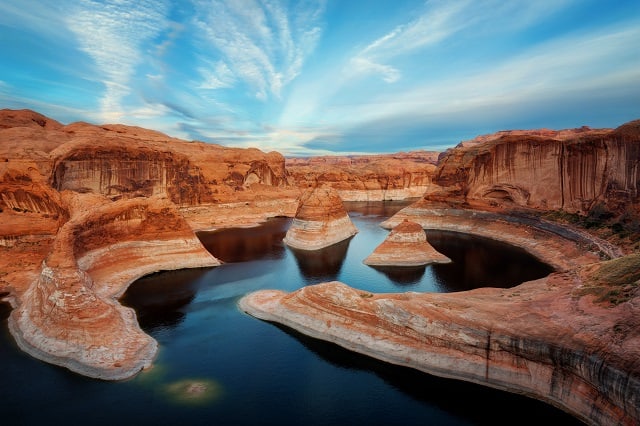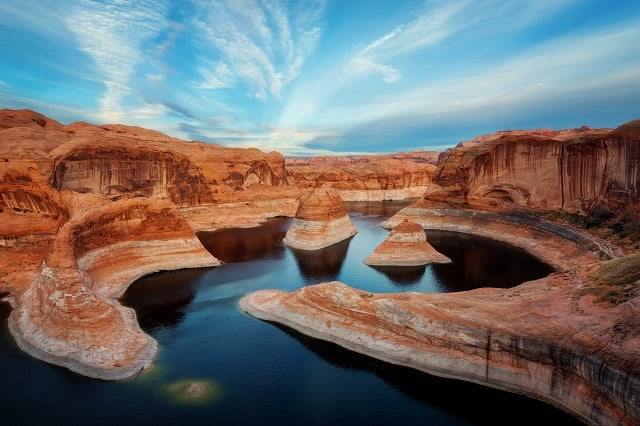 North Lake Powell is the portion that is in Utah and South Lake Powell is the part that is in Arizona.
Either part of Lake Powell that you are on you will get to enjoy beautiful marinas, canyons, and bays. You'll even find the Rainbow Bridge which is one of the world's largest natural bridges.
There are also plenty of places to shop, eat and of course swim. Lake Powell is a great place to enjoy a relaxing trip along the shore, to enjoy beautiful nature up close and personal and even get in some golfing at an 18-hole championship facility.
Lake Powell is located near Page, Arizona and there are so many fun things to do in Page. You can also read my article on the Best Airbnbs in Page.
Lake Powell is 7hrs and 48 minutes northeast of Phoenix
Driving Distance: 344.1 miles
Antelope Canyon
You will find Antelope Canyon in Page, AZ and you need to know that this is an experience that you can not just do alone or with your friends.
Antelope Canyon is only allowed to be visited when you are part of a guided tour with a professional guide.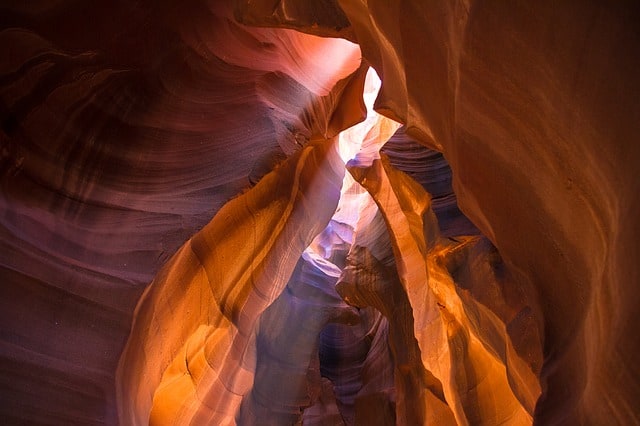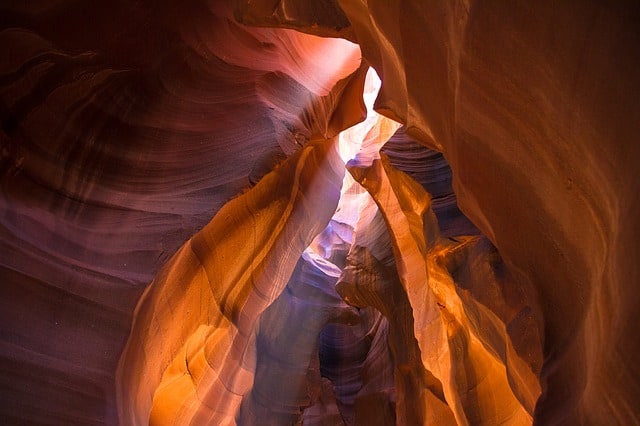 There is something that happens in this canyon that everyone wants to see which is the 'Beam of Light' which is a shaft of light that peaks through the canyon and they can be seen on the 11:30 tours which occur in April to September.
The beams of light are visible on clear, sunny days.
Be aware that if you are going to Antelope Canyon there are many tight spaces and you'll want to consult the Antelope Canyon website to find out what you can and can not bring for your tour.
You will need to decide whether you want to visit the Upper or Lower Antelope Canyon. This experience can all be done within 2 hours but you definitely need a reservation prior to going.
Antelope Canyon is 4hrs and 21 minutes northeast of Phoenix
Driving Distance: 276.7 miles.
Horseshoe Bend
In Page, AZ not far from Antelope Canyon. It is a horseshoe shaped bend in the Colorado River that is surrounded by a mountain range.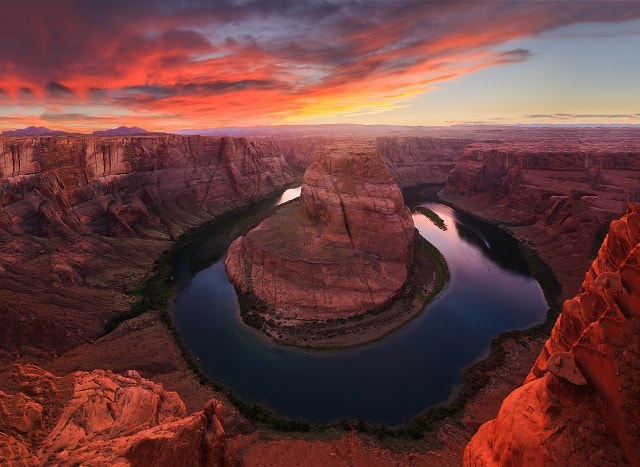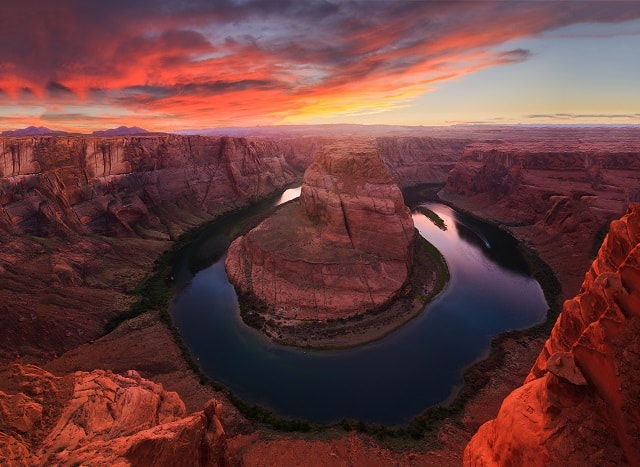 If you are visiting the Horseshoe Bend you don't need a guided tour but you will need hiking or very good walking shoes because it is at least a mile each way to and from the area. It is said the best time to view the bed is between 10am and noon.
If you want to experience the Horseshoe Bend from the river there are rafts and boat experiences that are possible along the Colorado River.
If you just want to have the from the top view of Horseshoe Bend then it may take you around a half an hour walk and whatever time you spend at the viewpoint. This is definitely a quick but beautiful experience.
Horseshoe Bend is 4hrs and 15 minutes northeast of Phoenix
Driving Distance: 273.8 miles.
Sedona is one of the best day trips in Arizona
Sedona is known as a very spiritual place with four different spiritual vortexes. Sedona is also known for being very peaceful which makes one of the worthwhile day trips from Phoenix.
You can check out my post on driving from Phoenix to Sedona and where to stop along the way.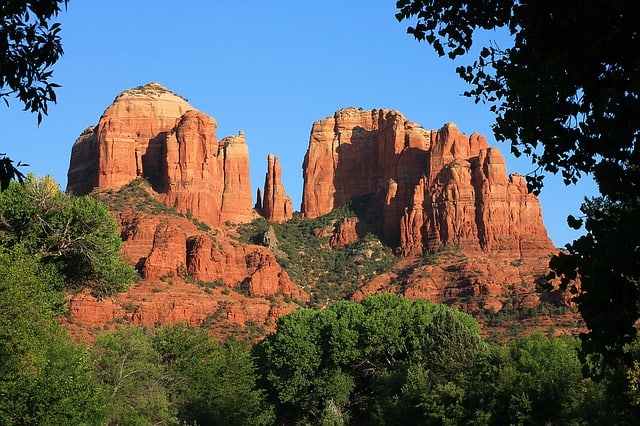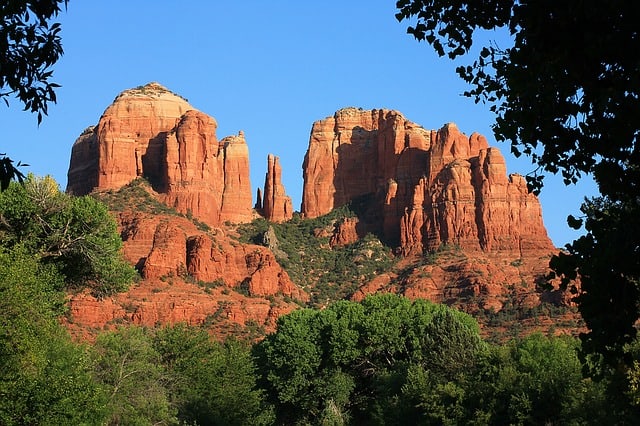 If you are looking for a great outdoor experience then the Red Rock State Park where you can hike or bike the 5 miles of trails. If you want a spiritual experience there are spiritual tours, retreats, spas, wellness and healers in the Sedona area.
There are also several different Arizona wineries to have another kind of relaxing experience. There are also some really cool Airbnbs in Sedona – think caves or amazing pools with beautiful views that are quite affordable.
Visit Sedona to have a spiritual, nature blessed, artistic, and just different than the usual opportunity. You can find easy hikes in Sedona and also some of the most popular hikes in Sedona.
Sedona is 1hr and 57 minutes northeast of Phoenix
Driving Distance: 115.9 miles
Flagstaff
There is more to do in Flagstaff, Arizona then just visiting the Grand Canyon.  Flagstaff also is known for the Walnut Canyon, Lowell Observatory, Sunset Crater, Museum of North Arizona, Arizona Snowbowl, Coconino National Forest and the Wupatki National Monument.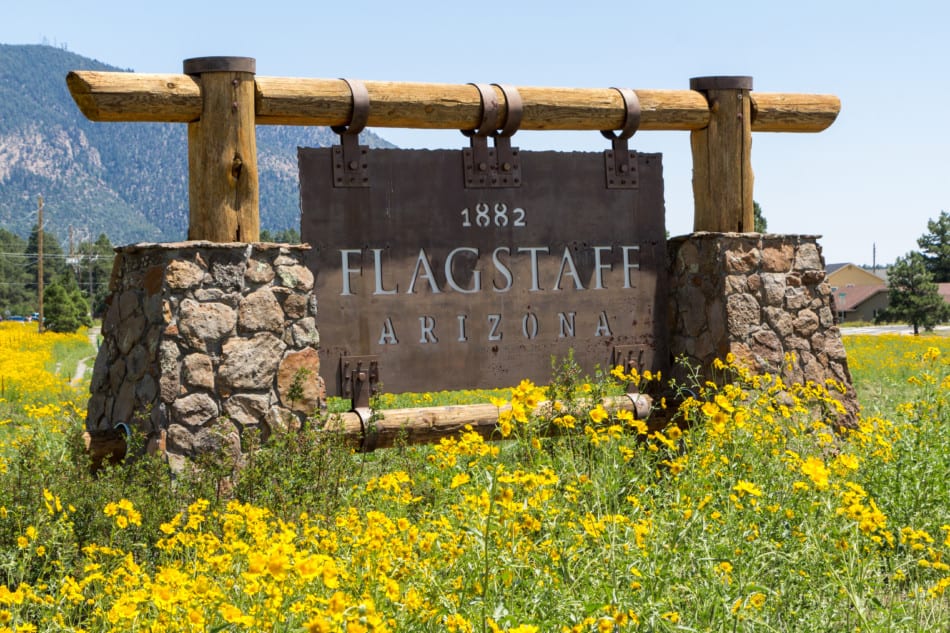 This is a city that is made up of mountain ranges, deserts and ponderosa pine forests.
People may come for the Canyon but discover things like the Alpine Peddler that gives you a cold beer as you and 14 other passengers peddle around the breweries, pubs and restaurants of Flagstaff. There is a walking Food Tour that allows you to learn about Flagstaff history as you taste the local and unique treats of the city.
No matter what brings you to Flagstaff there is a lot of camping, hiking, fishing, climbing, biking and sightseeing to do. There are also many fun places to shop and tons of great places to eat.
You can check out my post on the best hiking in Flagstaff and also if you are wondering Where to stay in Flagstaff, I recommend one of these awesome Airbnbs in Flagstaff.
Flagstaff is 2hrs and 15 minutes northeast of Phoenix
Driving Distance: 144.4 miles
Meteor Crater Arizona
Meteor Crater Arizona is the best preserved meteor impact site on Earth. It is located in Winslow, AZ and has complimentary big-rig and RV parking. It is open daily from 8am-5pm and prices range from $9 to $18.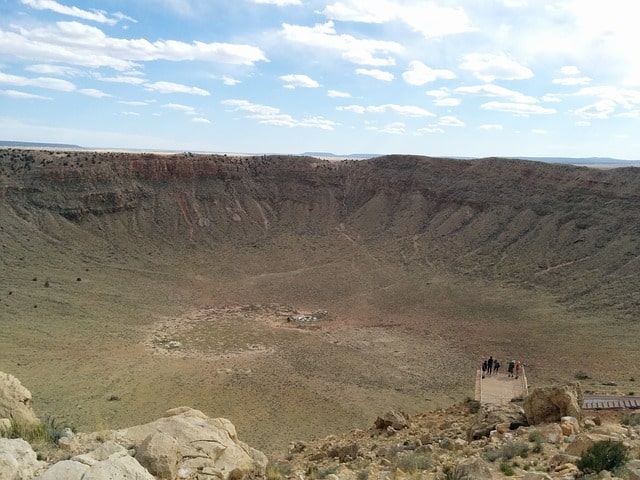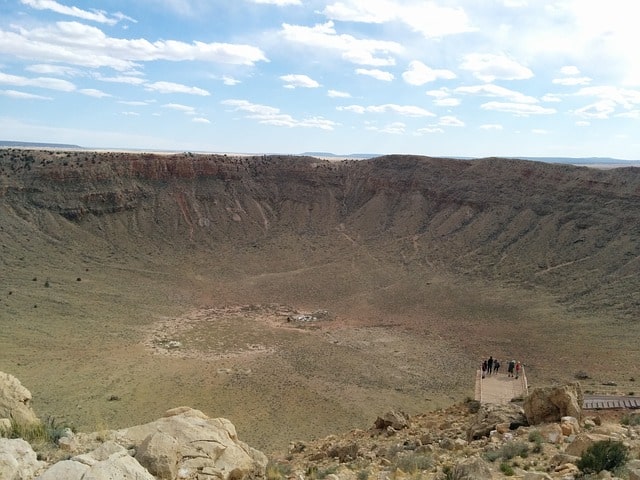 This place is cool for scientists, geologists, photographers, selfie lovers and creative people. No matter what walk of life you are involved in there is something that will interest you at this site.
There is a discover center that will help you to have a better understanding of asteroids and meteors. There is a movie that takes about the mystery behind the crater.
A 4D immersion ride is now available for fun for the entire family. There are guided tours along the rim of the crater to learn more about it and to get a nice workout.
There is a souvenir and mineral shop for any goodies you may want to take home from your visit. And if you are hungry, there is the Blasted Bistro inside the Visitor's Center.
The Meteor Crater is 2hrs and 46 minutes northeast of Phoenix
Driving Distance: 186.2 miles
Tombstone (183.9 miles from Phoenix via I-10 E)
Even though Tombstone is still quite a remote community, this place is still worth a visit. If you are a fan of western movies, surely you will recognize Tombstone and the infamous gunfight at the O.K Corral.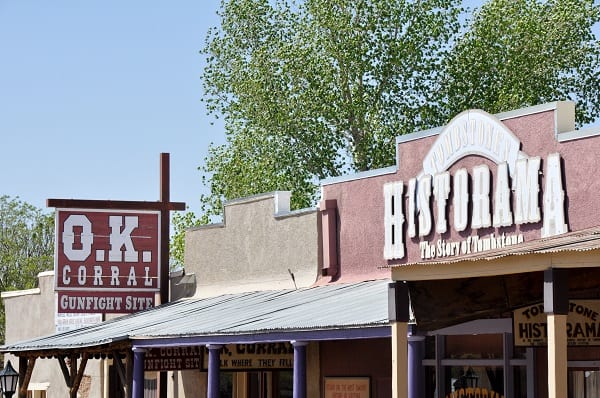 Tombstone is now a tourist hotspot even though it was first a mining camp back in 1879.
You can start your journey by going to the old Tombstone Courthouse, which is now a museum, and take part of the action with live reenactments of the shootouts at the iconic O.K Corral that made this town famous. 
If you are visiting Tombstone for the first time and can't decide where to eat, you can try Johnny Ringo's Saloon that claims to have the best pizza in the town that even locals go there.
They are open every day until 10 p.m and it is located on the 10th street. Between Allen and Fremont Streets. 
I recommend spending the night in Tombstone in one of these hotels in Tombstone. You can also check out my post on the Best Things to do in Tombstone, Arizona.
Lake Havasu City (192.8 miles from Phoenix via I-10 W)
Lake Havasu City is a city in Mohave County, Arizona and it was first established in 1963 as a self-sufficient and planned community.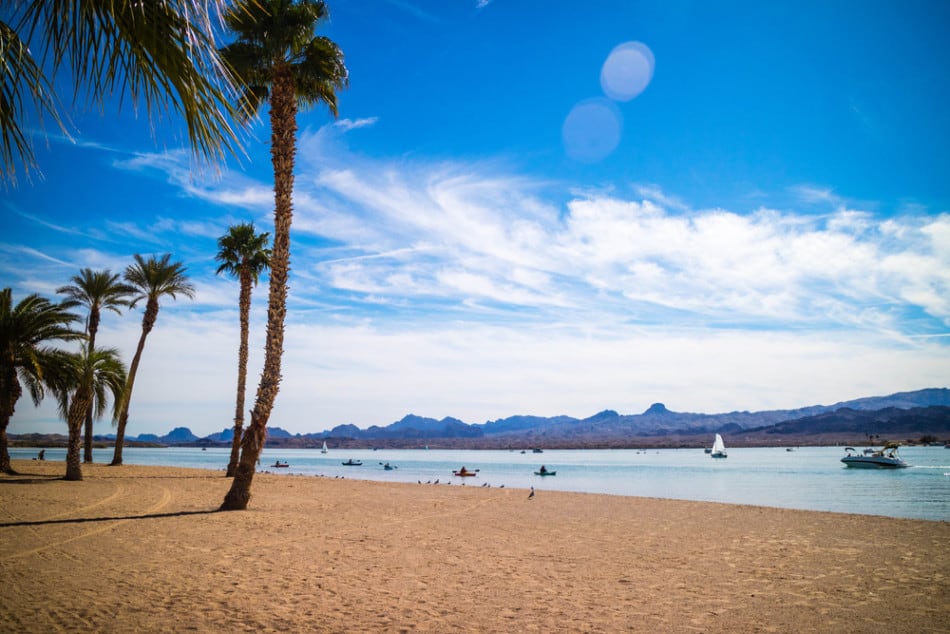 This city attracts more than 800,000 visitors yearly due to its historic London Bridge, most beautiful beaches in Arizona, a friendly community, ideal restaurants, and a wide range of restaurants and lodging.
Lake Havasu City is also known as Arizona's "West Coast" because of its warm, clear waters, and 60 continuous miles of lake and river waterways.
Its lakes are distinct from other places because Lake Havasu remains at a near constant water elevation which gives boaters with ideal conditions for boating adventures all year round. 
If you are fond of fishing, you will surely love Lake Havasu City. It is regarded as a top-rated fishing destination in the U.S. because it is abundant of many species of fish such as but not limited to largemouth bass, striped bass, bluegill, and flathead catfish.
Since we are talking about water and lakes here, Lake Havasu is also the mecca of watersports. You can either board a kayak, waterski, wakeboard, wakesurf board or paddleboard here. There are a lot of watersports rentals in this city that are awaiting you.
Check out the Best Airbnbs in Lake Havasu for accommodation options. Or you can read more Things to do in Lake Havasu
Prescott (99.5 miles from Phoenix via I-17 N and E State Route 69)
Prescott offers a lot of adventures to do and places to see for everyone. It is nestled in the Ponderosa Pines of Prescott National Forest. Your lungs will be filled with the amazing scent of pine, plus you will be pleased by the site of Prescott's natural surroundings.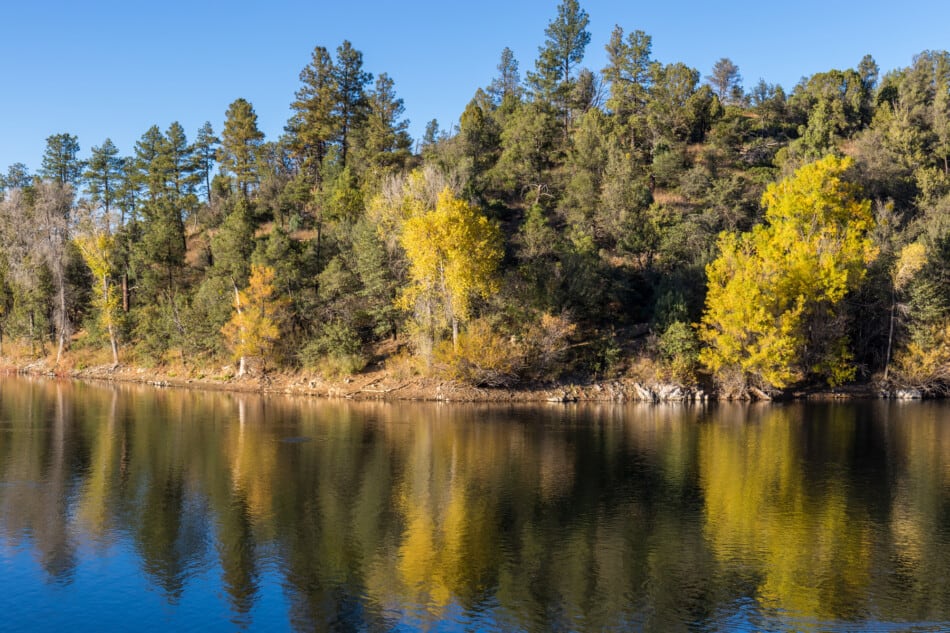 First stop is the Prescott National Prescott. It is composed of a massive tract of nearly pristine forest.
The park is marked with different campsites, some of it are accessible to people, and others aren't. Here, you can do hiking, fishing, and horseback riding. But you need to plan your visit here because the place may be inaccessible especially during harsh winter conditions. 
Prescott has plenty of historic home tours too. You can try Sharlot Hall Museum which is located on West Gurley Street. It is full of artifacts and exhibits and it centered on the history and heritage of the north and central regions of Arizona.
Another option is Tour Jerome, Arizona, situated in the Verde Valley. It is often referred to as the largest ghost town in America. You can take a guided tour so that you will learn more about the history of the town.
You can spend the night in Prescott at one of these Prescott Airbnbs. Or my post on Things to do in Prescott
Superior (57.43 miles from Phoenix)
The small town of Superior doesn't have much to offer as compared to other booming cities and towns in Arizona, still it is worthy to visit this area due to its rich western pioneer history.
The famous attraction in this town is the Boyce Thompson Arboretum. It is a premier destination in Arizona if you want to experience the astonishing variety of flora. It is situated on East Arboretum Way and it boasts of amazing non-native plants that you have probably not seen before. The admission fee is so cheap and you get to enjoy this beauty year-round.
Another premier attraction in Superior is the Bob Jones Museum. Here, you can get an insight of Superior's rich history, heritage, and economy. Back then, this museum was a former home of the governor of Arizona who lived an interesting life. Basically, this museum showcases the life on Bob Jones and his path to becoming the governor of Arizona.
Williams (3.8 miles from Phoenix via I-10 E)
Williams is a quaint mountain town and it is known as the gateway to the Grand Canyon. Just like its neighboring cities and towns in Arizona, Williams offers countless things to explore and see. Travelers from all walks of life find this place amusing- from fishing and hiking, to camping and horseback riding.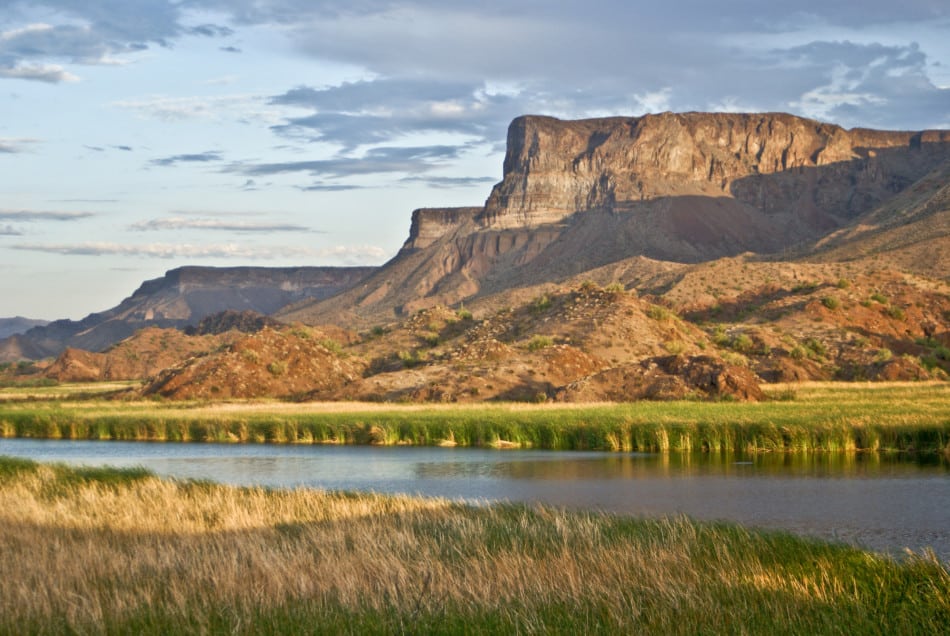 If you are fond of animals, you can visit Bearizona Wildlife Park. But wait, this isn't just your regular zoo, it's a large park where you can get a sight of wild animals in their natural habitat and interact with them. You will find many varieties of species here such as wolves, bears, pumas, bison, and more.
And after a whole day of walking and visiting Williams, you can relax at the Grand Canyon Brewing Company and enjoy a cold beer along with a sumptuous meal. This brewing company offers a wide variety of crafted beers at their very own distillery.
Williams is popular as it is only 30 minutes from the Grand Canyon and there are amazing places to stay in Williams. Or my post on Things to do in Williams
Bisbee (207 miles from Phoenix)
Bisbee is a hidden gem in Arizona and it is a popular artist community whose architectural and historic heritage has been preserved as seen on their narrow streets and alleys.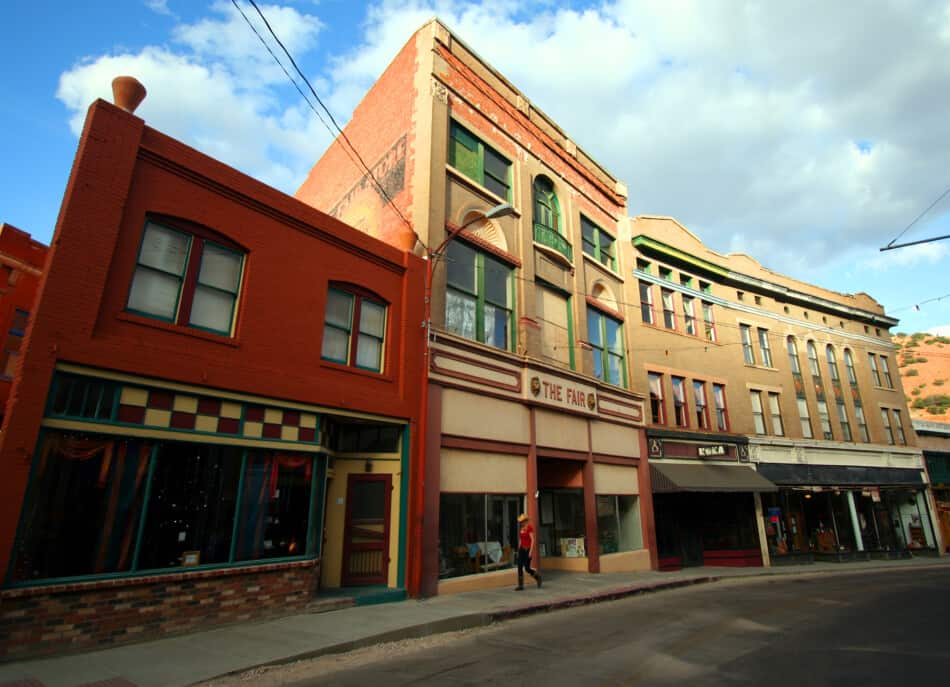 In fact, Bisbee is a mecca for whimsical arts. You will find a lot of art studios and shops scattered throughout the town. But if there's a one-stop shop art in Bisbee, that would be the Belleza Fine Art Gallery that showcases a couple of artists from around the world. 
There are a lot of dining options in Bisbee too. If you are looking for a fine-dining restaurant, you can head to Cafe Roka which is a great choice for a gastro experience. And for a tasty breakfast or lunch, you can try Bisbee Breakfast Club. 
Check out my posts on Things to do in Bisbee or Charming Small Towns in Arizona
Camp Verde (90.9 miles from Phoenix via I-17 N)
Camp Verde sits between the Sonora Desert and the Colorado Plateau in Arizona State and is surrounded by highlands that can reach as high as 7,000 feet with an altitude of 3,000 feet.
Some of its famous attractions are outdoor activities such as hiking, biking, or boating. Montezuma, for example, is one of the well-preserved ancient dwellings in Arizona. It is a 5-story structure built into a recess in a white limestone cliff about 70 feet above the ground and it consists of 20 rooms.
There is an entrance fee of $5.00 per person and you can also find a gift shop and interpretive center inside. Although visitors are not allowed anymore up inside the actual ruins, you can still do other things such as walk the loop trail and take a lot of good and worthy shots around the site. 
Conclusion – Day trips or weekend trips from Phoenix
I hope you have enjoyed these day trips in Arizona ideas. Taking a day trip from Phoenix to visit one of these amazing places is so worth it.
Let me know in the comments what your favorite Phoenix day trip is and if you recommend anywhere else to visit. Which ever you choose you are sure to enjoy your time in Arizona for sure.
Sharing is Caring! Pin this article to save for later.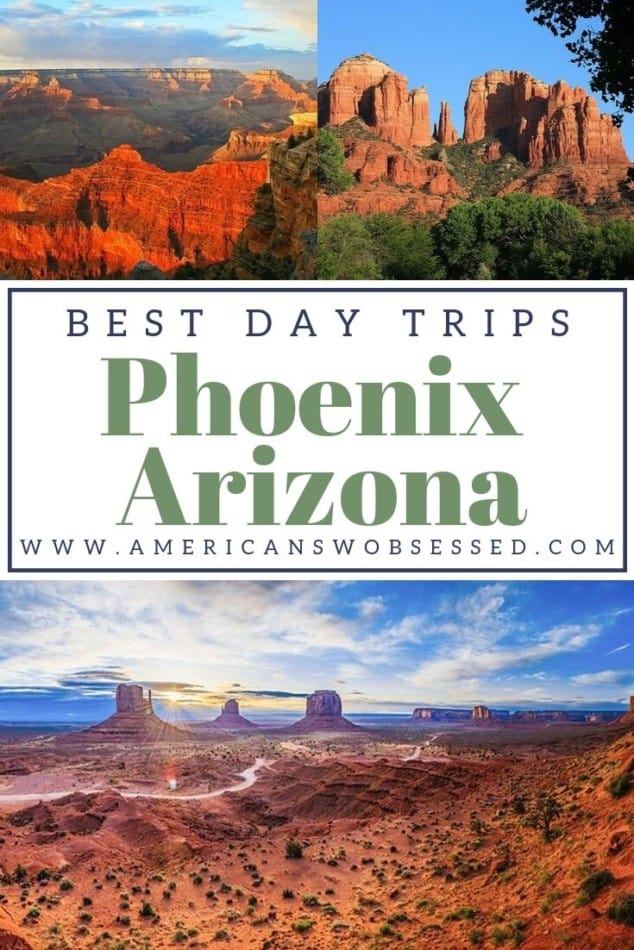 Continue Reading further about Arizona:
15 Best Airbnbs in Arizona – caves, airstreams, domes, yurts and spas!
30+ Best Gifts for Outdoorsy Women
Recent Posts