A Guide to the Best Hikes in Joshua Tree National Park
What to do in Joshua Tree – the best things to do in one day in Joshua Tree
If you only have one day in Joshua Tree you need to check out these Joshua Tree hikes. Hiking in Joshua Tree is epic and you won't want to miss it.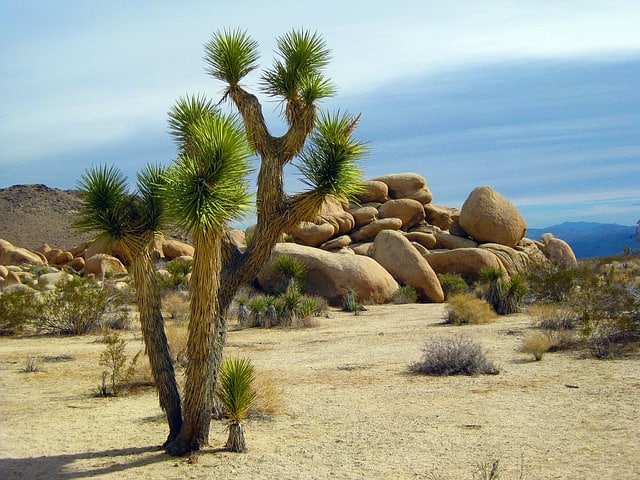 You will need at least four hours in the park to drive through the park and take a few short walks to see the Joshua Trees and some of the top things to do there.
Joshua Tree is a National Park located in southern California. Joshua Tree is a three hour drive from Phoenix or a two and a half hour drive from Los Angeles. You can easily visit if you want to spend one day in Joshua Tree.
What is a Joshua Tree?
The Joshua Tree is native to the American Southwest especially in California, Arizona, Nevada, and Utah.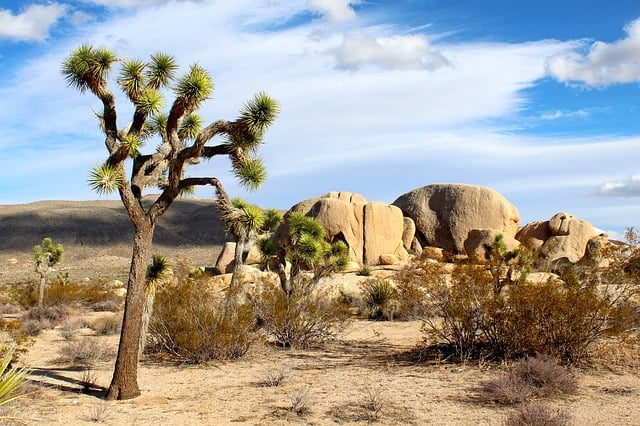 A Joshua Tree is a species of yucca and is known as izote de desierto in Spanish ( desert dagger).
Joshua Trees have spiky leaves and can be seen through out the park.
Tips for Hiking in Joshua Tree National Park
Joshua Tree is perfect for outdoor enthusiasts. There is a hike for everyone on this list and for different fitness levels. Also, note that it is dry and hot (in the summer) and make sure you know what you are getting into before you start. Here are a few tips for Joshua Tree hiking:
Bring a reusable water bottle and lots of water! Remember you are in the sun and you will need to drink lots of water. I love my LifeStraw Filtered Water Bottle. I can refill this bottle anywhere and it comes with a carabiner to connect it to my daypack.
Hiking boots or sandals that will protect your feet! I love good shoes. I need all the support and help I can get. I actually love these sandals for hiking and have a whole post on Merrell vs Keen shoes for hiking. I also love these hiking boots which I used for Hiking in the Grand Canyon.
Bring hiking poles for balance and to protect your knees. I know many experienced hikers (and even amateur ones) think that hiking poles are for old people who lose their balance. Actually, hiking poles can help when going down steep inclines or when scrambling over rocks. They are great to hike with even for the most experienced hiker.
Wear a sunhat. I feel like this whole post is about how high you are in the mountains and how much closer you are to the sun but it is so true. At elevation, you are closer to the sun and more likely to burn. Wear sun protection such as a sun hat and sunscreen.
Be aware of the wildlife. This is the Southwest and you will need to watch out for snakes and other wildlife. Please stay away from wildlife and do not feed them.
Leave no trace. If you are new to the concept of Leave No Trace it is all about preserving the environment to ensure it is in the same or better condition when you leave it. This means that you should stick to the trails and carry out everything that you carried in. This is a great explanation of the Leave No Trace principles!
Water shoes are great for the beach – along If you don't have a pair, I highly suggest it as they are affordable. I have an article on the pros and cons of several pairs of water shoes.
Bring Bug Spray and a snack: Be sure to bring everything you need including a snack like a protein bar plus BUG SPRAY.
10 Joshua Tree Hikes you won't want to miss on your one day in Joshua Tree
If you are short on time, or just want to know which trails to hike, the best hikes in Joshua Tree are:
Skull Rock Trail
Hidden Valley Trail
Cholla Cactus Garden Trail
Ryan Mountain Trail
Warren Peak Trail
Ryan Mountain Trail
The Ryan Mountain Trail is located near the center of Joshua Tree Park where the elevation change is 1050 feet. There is an entrance fee and it is open to all hikers.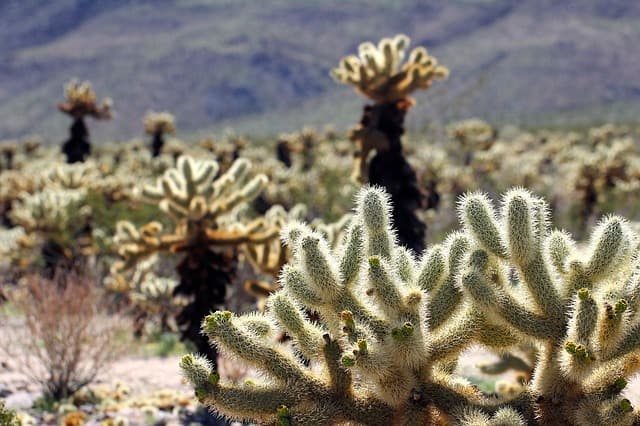 The hike is approximately 3 miles cumulative round trip, and about 1 hour and 45 minutes of hiking time. Ryan Mountain offers a view that is specifically top-down. This gives hikers and sight-seers the opportunity to see the full center of the park itself.
As hikers approach the west end of the mountain, beautiful rock formations can be found. When hikers are nearly at the top of the hike, there are a multitude of views overlooking the Pinto Basin. It is suggested that hikers hike back the same way up.
Warren Peak Trail
Warren Peak Trail is located in Yucca Valley, California where the elevation is 1000 feet. You can enter the Warren Peak Trail for a one time fee upon entering the park.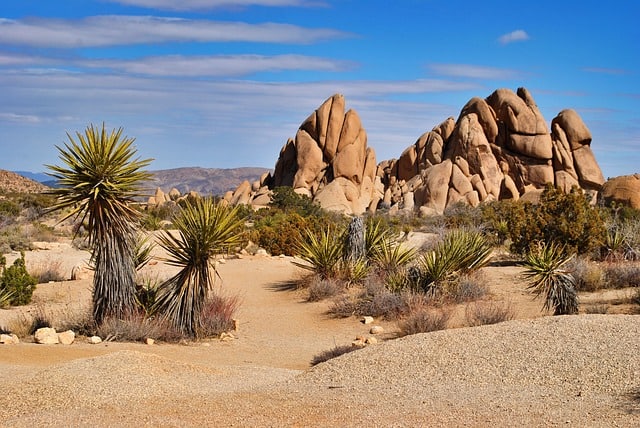 The overall distance of the hike is 5.5 miles, and approximately 3 hours total in hiking time. Hikers can find a various amount of Joshua trees as well as Pinyon pines as you hike further up. The trail overall is extremely peaceful and full of peculiar greenery.
It is encouraged to park at the campground visitor center, and walk 0.2 miles towards campsite 30. After keeping forward for another 0.4 miles, you will find the center of Black Rock Canyon to your right. There will be signs stamped with "WP" for Warren Peak Trail.
Hidden Valley Trail
Hidden Valley Trail is located at the Joshua Tree National Park in California. The hiking trail has a fee once entering the park, and it is open to all hikers.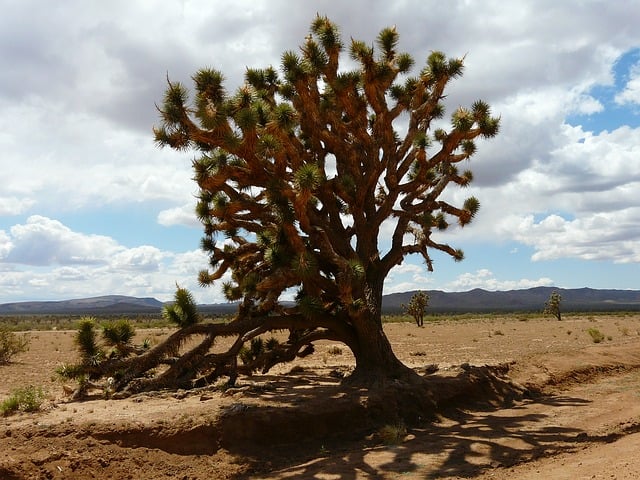 The overall distance is about 1 mile with a hiking time of approximately 30 minutes. The overall elation change is 75 feet total. Hidden Valley is essentially a start to wildlife and a variety of captivating plants.
There is absolutely no right or wrong way to explore the beauty that Hidden Valley has to offer. There are huge rock formations to see, and even a picnic area wrapped in rock formations. There are signs to indicate specific plants and animals to each hiker. Though the Hidden Valley is not very high up, it has a lot to see and explore.
Cholla Cactus Garden Trail
Cholla Cactus Garden Trail is truly unique. It is approximately 0.25 miles in total, and nearly 15 minutes long. There is an entrance fee to enter the trail, but it is open to everyone.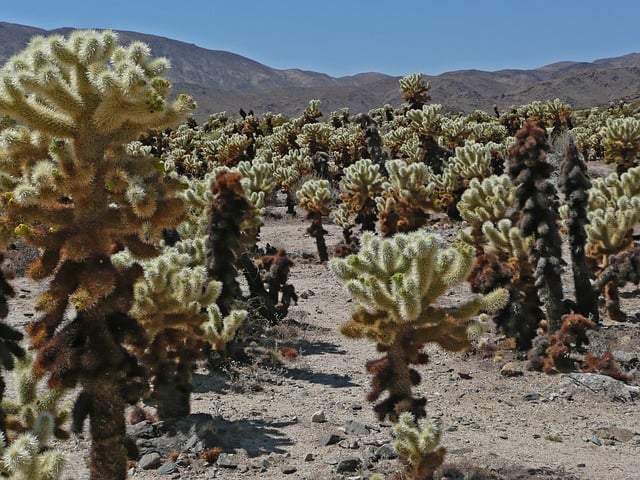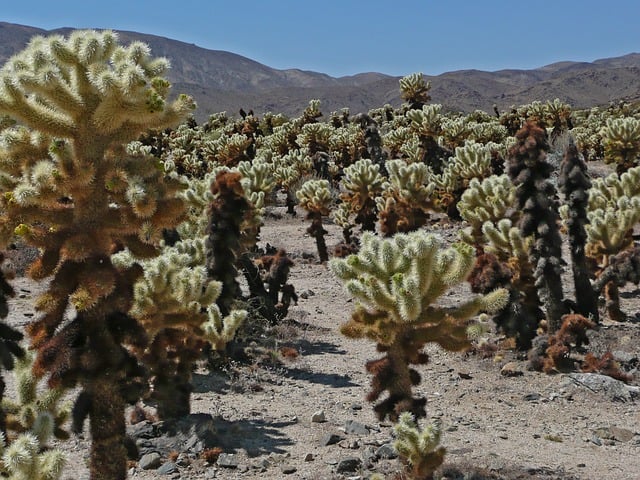 Cholla cacti is the primary focus and what hikers can expect to see. Interestingly enough the cactus is nicknamed "the teddy bear cactus" because of the plants' fluffy appearance. The spines that make up the plant are able to latch directly into the skin from the most gentle touch.
The overall experience can increase from hiker to hiker if each person stays on trail and are sure to be careful of the defensive mechanisms of nature. The Cholla Cactus Garden Trail is a beautiful attraction and can be used as an extremely educational tool to those who find interest in cactus plants.
Skull Rock Trail
Skull Rock Trail is an unique-looking hiking trail mainly because the rock formation is the face of a skull.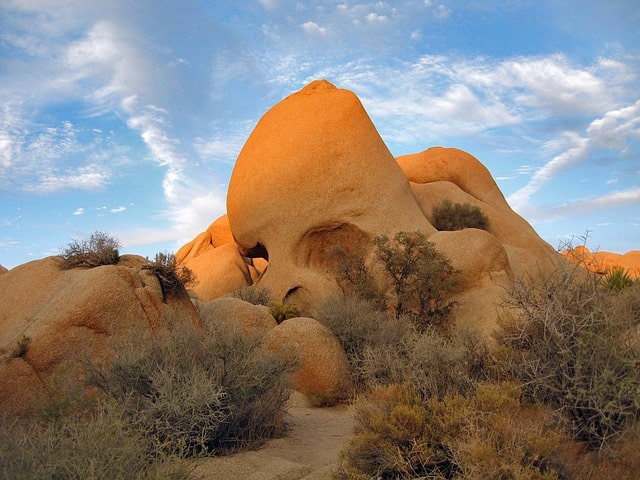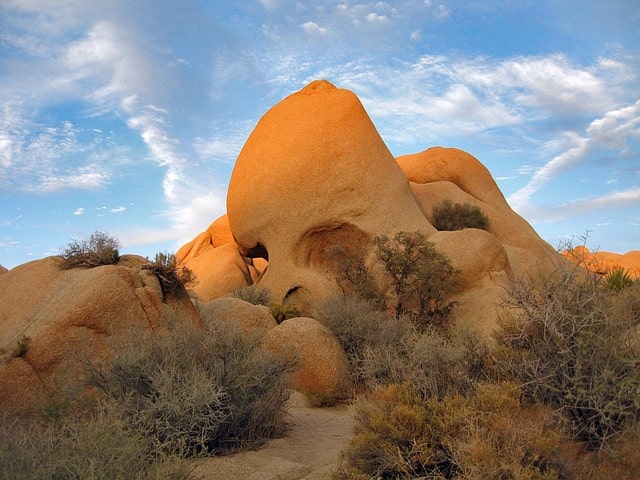 The cumulative hike round-trip is 1.8 miles, and there is no fee for hikers to enter the trail. Interestingly enough, all of the rock formations were once liquid molten. The Skull Rock Trail is beginner-friendly, and also features a variety of wild flowers.
The months of April to October are most commonly used for various outdoor activities outside of hiking such as camping. The Skull Rock Trail is also an opportunity for the perfect photo op!
Arch Rock Nature Trail
Arch Rock Nature Trail is open to everyone post the national park entrance fee. The approximate hiking time is 15 minutes with a distance of 0.3 miles.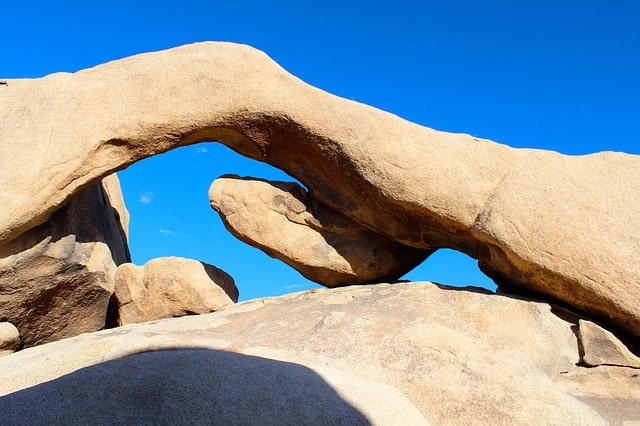 The elevation change peaks at about 30 feet in height. The Arch Rock stretches about 30 feet and there are signs around the arches where you can learn a little bit about mineralogy. The hike is beginner and family friendly and looks even more fascinating under the sunset.
Barker Dam Trail
Barker Dam Trail is approximately a 45 minute hike and the distance is about 1.5 miles. Anyone can enter the trail after the one-time entrance fee into the park. The elevation change is about 50 feet high, and the difficulty level is low.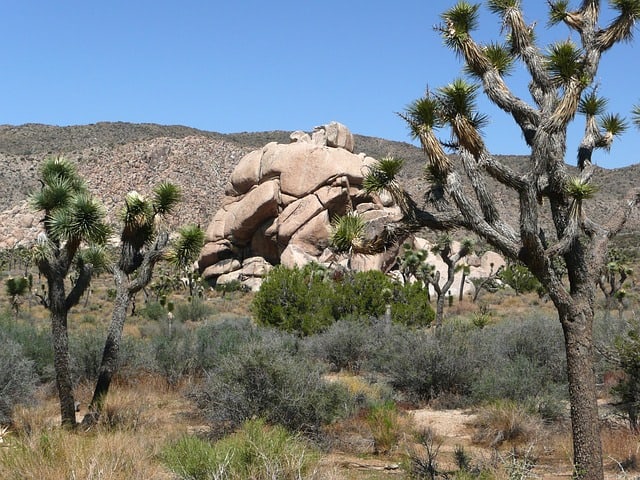 The Barker Dam has a very relaxing essence as it is surrounded by beautiful waters. It is encouraged to sight-see the Dam during the Spring and Winter months versus the dry season. The trail offers intricate rock formations, some greenery, and beautiful flowers throughout. The entire loop is stamped and extremely easy to follow upon arrival and is a great place to decompress.
Split Rock Loop Trail
Split Rock Loop Trail is known mostly for its beautiful range of wildflowers that bloom in the Spring. Individuals can enter after the entrance fee into the Joshua Tree park.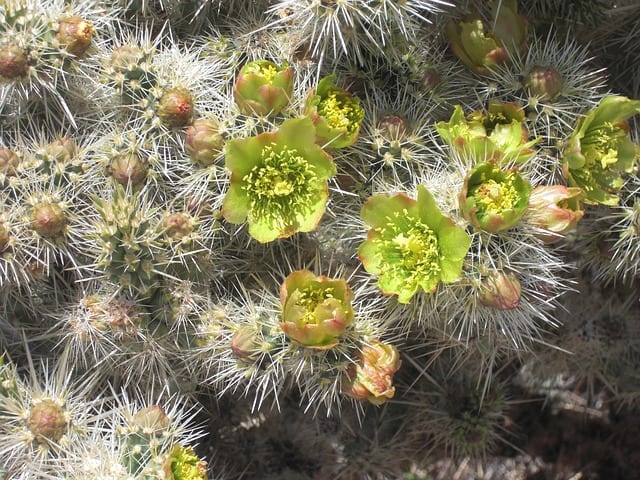 The variety of flowers add a colorful touch during the walk through of the trail. The trail's loop is approximately 2 miles with a .1 mile outside trip if hikers have any interest in viewing the Face Rock. Split Rock is rated number 3 overall in the Joshua Tree National Park. The trail is kid-friendly, and has a picnic area for families to sit under the shade or simply take a break. Split Rock is very popular among climbers. The trail has a distinctive look and an eccentric aura.
Wall Street Mill Hike
Wall Street Mill Hike in Joshua Tree National Park has a distance of 2.15 miles (out and back) with a hiking time of 1 hour. The elevation change goes up to about 115 feet, and all hikers can enter post the national park entrance fee.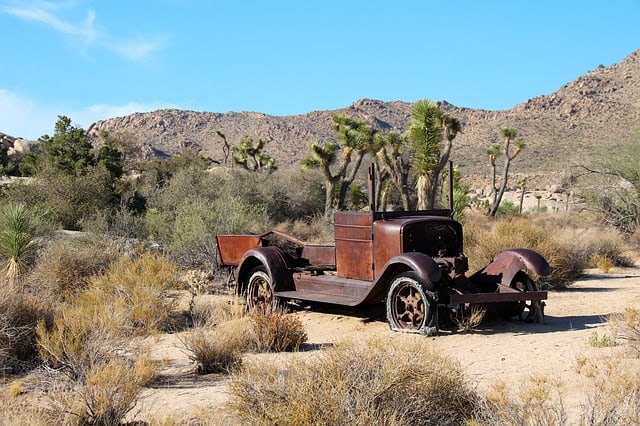 There is rich history within this special trail. Desert Queen Mine along with other mining operations have passed through leaving the trail the best-preserved gold mill. There are 2 trail-heads to the Wall Street Mill; one leading to the Wonderland of Rocks and a second parking area. There is not much greenery throughout this hike, as it is pretty much the desert but that never made anyone stop visiting. There is a lot to learn at the Wall Street Mill and can be an unique teaching-tool to those interested in its' history.
Ryan Ranch Trail Hike
Ryan Ranch Trail Hike has an elevation change of 85 feet. The distance is 1.2 miles (out and back) with a hiking time of about 30 minutes. This trail is open to all hikers after the national park entrance fee.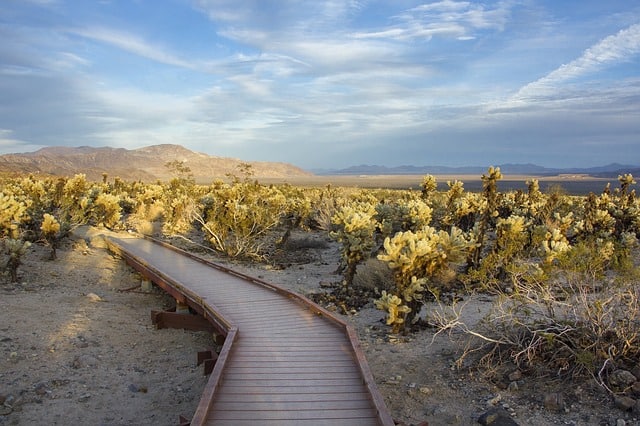 North of the trail hikers will find a beautiful rock formation called Headstone Rock. Headstone Rock is a classic location at Joshua Tree National Park. Climbers especially appreciate Headstone Rock because of the height. If hikers head upwards back onto the Ryan Ranch they will see that the walls are peach-colored because of the desert clay and appears more vibrant when the sun is at its highest.
There are impeccable photo and picnic opportunities along the trail. Some of the rock formations even act as shade if you need some time to relax. There are various artifacts that can be discovered at Ryan Ranch including, but not limited to, blades from windmills. Overall, the trail is immensely rich in adventure.
Where to stay near Joshua Tree
Joshua Tree makes for a great weekend escape. Fresh air, beautiful scenery and being in nature does a world of good for the soul. I recommend staying as close to the park as possible and even treating yourself with a cabin with a spa pool to relax at night.
If you are taking a road trip remember to reserve a car in advance using Discover Cars .
Conclusion – Joshua Tree Hikes
Are you planning to hike one of these hikes in Joshua Tree? Do remember to pack plenty of water and a hat while hiking in the desert.
Over to you. Have you been hiking in Joshua Tree? Which one do you think is the best hikes in Joshua Tree? Let me know in the comments below.
Sharing is Caring. Pin this article to save for later.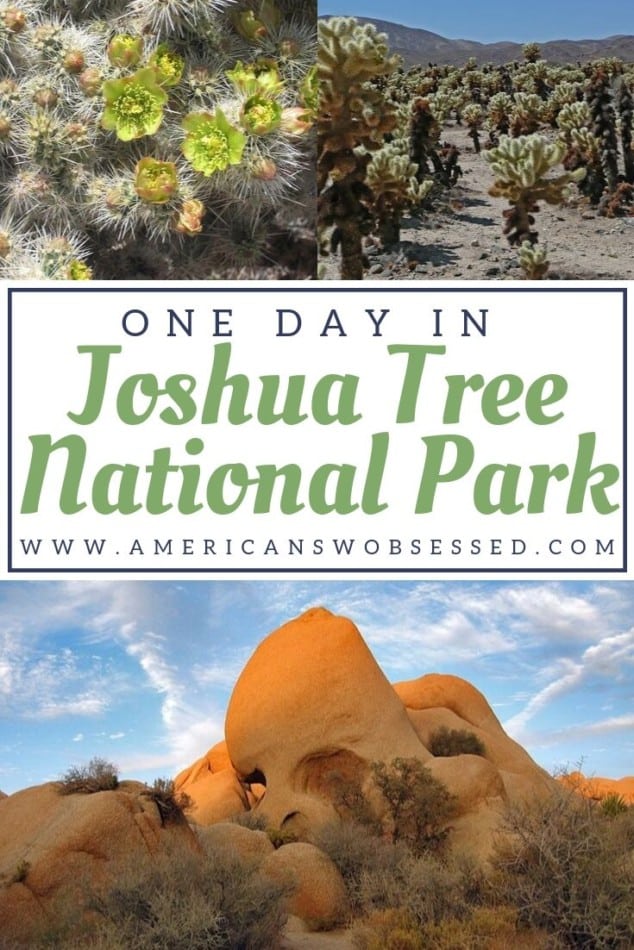 Continue Reading more on my site:
Recent Posts