The 13 Best Hikes in Arizona – Backpacking Arizona
Hiking in Arizona is one of the top activities to do while visiting the Grand Canyon State. Arizona is known for its diverse landscape of desert, sandstone, and mountains.
Arizona is one of those places I just keep coming back to over and over because there is so much to see there. Don't let the 100 degree heat put you off, its a dry heat and if you go hiking early it won't be too much of a problem.
From the Grand Canyon, Horseshoe Bend, Antelope Canyon to the Hikes in Phoenix; this guide to Hiking in Arizona will have you covered (and it includes some beautiful photos of gorgeous places).
Tips for Hiking in Arizona
Arizona is perfect for outdoor enthusiasts.  There is a hike for everyone on this list and for different fitness levels.  Also, note that it is dry and hot (in the summer) and make sure you know what you are getting into before you start. 
Here are a few tips for Arizona hiking:
Bring a reusable water bottle and lots of water! Remember you are in the sun and you will need to drink lots of water. I love my LifeStraw Filtered Water Bottle. I can refill this bottle anywhere and it comes with a carabiner to connect it to my daypack.
Check the Weather – days over 100 degrees are very common. On top of that there is quite a bit of air pollution in Phoenix which can make it suffocating. Make sure to check.
Hiking boots or sandals that will protect your feet! I love good shoes. I need all the support and help I can get. I actually love these sandals for hiking and have a whole post on Merrell vs Keen shoes for hiking. I also love these hiking boots which I used for Hiking in the Grand Canyon.
Bring hiking poles for balance and to protect your knees. I know many experienced hikers (and even amateur ones) think that hiking poles are for old people who lose their balance. Actually, hiking poles can help when going down steep inclines or when scrambling over rocks. They are great to hike with even for the most experienced hiker.
Wear a sunhat. I feel like this whole post is about how high you are in the mountains and how much closer you are to the sun but it is so true. At elevation, you are closer to the sun and more likely to burn. Wear sun protection such as a sun hat and sunscreen.
Be aware of the wildlife. This is the Southwest and you will need to watch out for snakes and other wildlife such as moose or a bear. Please stay away from wildlife and do not feed them. I recommend carrying bear spray as well.
Start Early – If you want to avoid the traffic and the heat you will need to start your hike early. That way it will be nice and cool and the smog will not affect you either.
Leave no trace. If you are new to the concept of Leave No Trace it is all about preserving the environment to ensure it is in the same or better condition when you leave it. This means that you should stick to the trails and carry out everything that you carried in. This is a great explanation of the Leave No Trace principles!
Water shoes are great for water hikes– If you don't have a pair, I highly suggest it as they are affordable. I have an article on the pros and cons of several pairs of water shoes.
Bring Bug Spray and a snack: Be sure to bring everything you need including a snack like a protein bar plus BUG SPRAY.
Backpacking Arizona – the Best Trails in Arizona
Havasu Falls
This is the number one hike in Arizona and there is a lot of competition to do this hike. Havasu Falls is located near the Grand Canyon.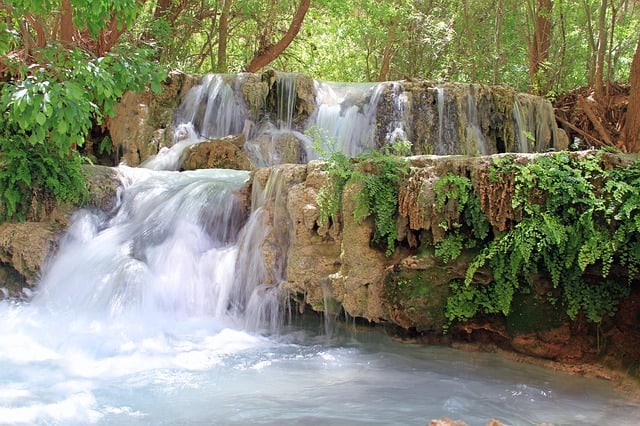 This hike can only be done by applying for a permit in advance. The permits for the year go on sale on 1 February and you can do the hike anytime from 1 February to 30 November. The hike is closed in December and January.
This hike is so popular now it costs $300 to do. This includes your permit and a three day reservation at the campground. Even if you decide to stay for only one night the price is the same. There are no day passes.
So when you arrive Havasupai Trailhead, you will need to hike 10 miles into the campground. This is mostly downhill, but you can hire a donkey to carry your stuff into the campground.
From the campground, you can either hike or take a helicopter to the falls. Both are great options. In total there are five waterfalls in this area that you can visit and all of them are worth visiting. Havasu Falls is the most popular of the falls there.
Check out my post on Hiking Havasu Falls
Antelope Canyon
Another famous landmark in Arizona is Antelope Canyon and well worth a visit. Located outside of Page, Arizona in the northwest of Arizona – further north from the Grand Canyon.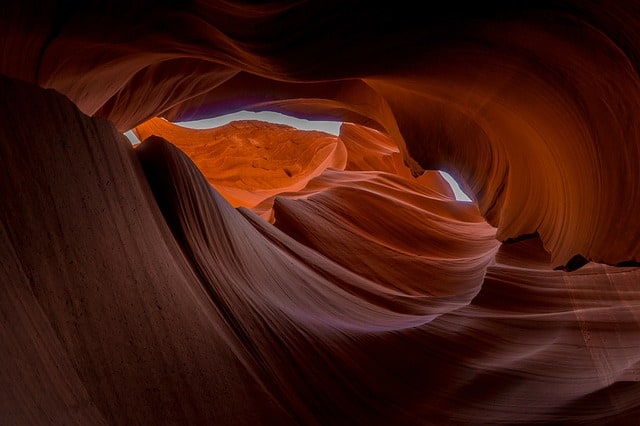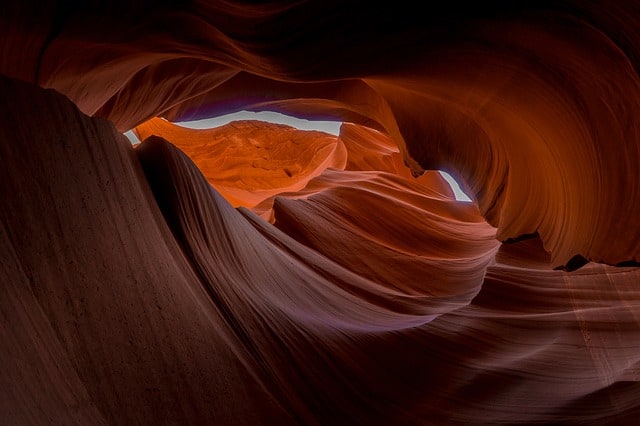 Again, do to its popularity you must buy your tickets ahead of time. You can buy tickets for either Upper Antelope Canyon or Lower Antelope Canyon plus you need to pay a Navajo Park permit fee as well. You can only enter the canyon with a guide.
Antelope Canyon is the product of millions of years of water erosion. Antelope Canyon is a slot canyon with tall winding walls, it's quite a site to see.
Upper Antelope Canyon is best known for its light beams. This is the part of the canyon that most photographers go to visit to photograph the light beams. It is also the most difficult part of the canyon to visit do to the stairs and ladders but if you are in good physical condition it should not be a problem.
Lower Antelope Canyon is easier to hike as there are no stairs or ladders. It is still just as beautiful as the Upper section. The Lower Antelope Canyon also has easier access to get to the canyon.
This is one of the amazing slot canyons in Arizona and you can read more about the slot canyons on my website. There are so many things to do in Page and some incredible Airbnbs in Page where you can stay.
Horseshoe Bend Hike
Horseshoe Bend has become popular in the last few years due to Instagram and the Horseshoe Bend Hike is definitely worth it.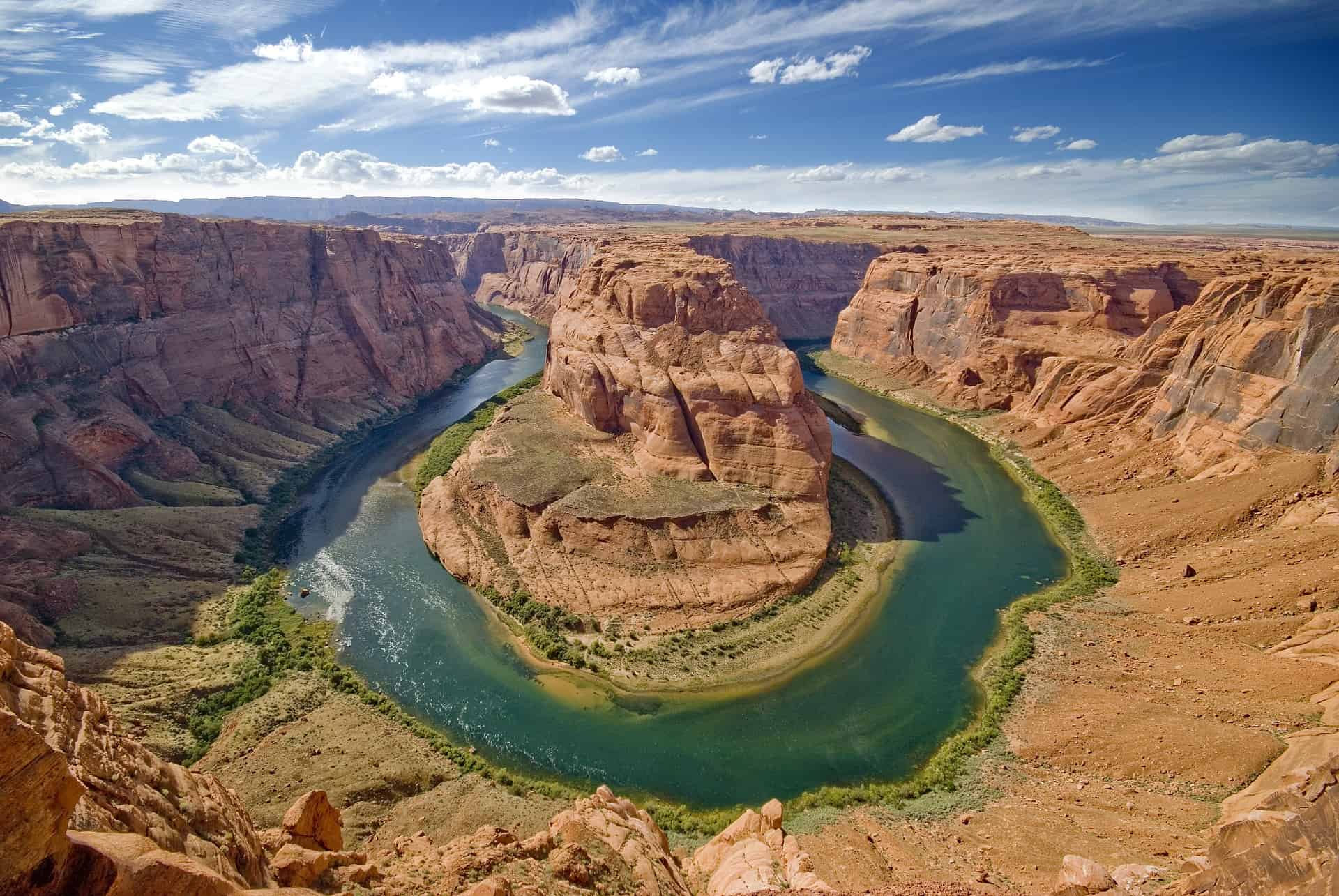 Horseshoe Bend is one of the most photogenic hot spots In Arizona of the Colorado River and Grand Canyon. Located near Page, Arizona, this iconic bend is easily accessible from U.S. Route 89.
The hike itself is a 3/4 mile walk from the parking lot to the edge of the cliff where you can take photos. In total, Horseshoe Bend Hike is a 1.5 mile hike loop.
From the car park you must first hike up a sandy hill and once you get to the top you will then hike down 200+ feet to the bottom where you can take photos of Horseshoe Bend. Horseshoe Bend Trail is made up of sand, gravel, and a small portion of paved pathway.
The hike itself is not hard, it is the heat that will kill you. Make sure you have plenty of water before you do this hike. On the way back to the parking lot it is all uphill which is the hard part and there is not any shade either. Do be careful with the heat and the sun.
You can read more about the Horseshoe Bend Hike on my website.
Coyote Buttes
Coyote Buttes is a section of the Paria Canyon of the Vermilion Cliffs Wilderness. This area is located in the north central part of Arizona near the Utah border.
There are several hikes you can do in this area – The Wave, Coyote Buttes South Trail, and White Pocket (the lesser known Wave).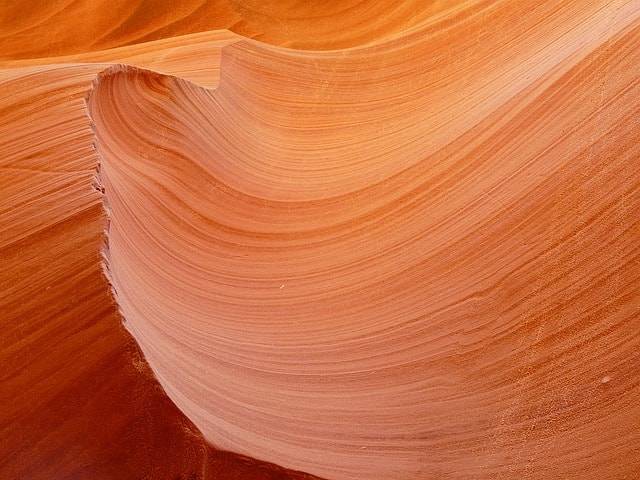 The Wave Coyote Buttes
The entire Coyote Buttes area is filled with swirling orange and white sandstone. It is incredibly beautiful and looks like another planet. The Wave is the most famous area of the north buttes as the swirls come together perfectly to resemble an ocean wave.
Only 20 people are allowed to go per day with 10 of the spots being reserved in an online lottery 4 months in advance, and 10 are handed out the day before through the in-person lottery.
White Pocket Coyote Buttes
This is the lesser know 'Wave' – a way to see the glorious waves and beautiful sandstone and white rock with ancient fossils and cool formations without a permit.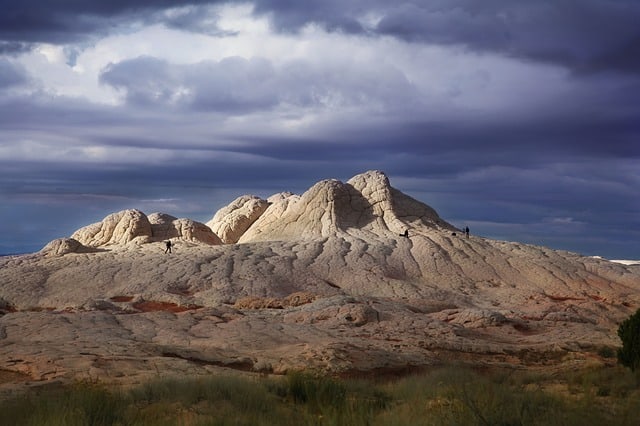 White Pocket is only accessible by four wheel drive and is east of Coyote Butte South and is a great alternative to the Wave.
Coyote Buttes South Trail
Coyote Buttes South Trail showcases the remarkable landscape of this protected area. This is another site that you must apply for a permit to visit.
There are no trails in Coyote Buttes or sign posting or cell reception. Make sure you tell someone where you are going before you visit this beautiful area of northern Arizona.
Grand Canyon National Park
There are several hikes in the Grand Canyon National Park that are amazing hikes with beautiful views. The best known are Grand Canyon Rim Trail, Bridal Angel Trail and Rainbow Rim Trail.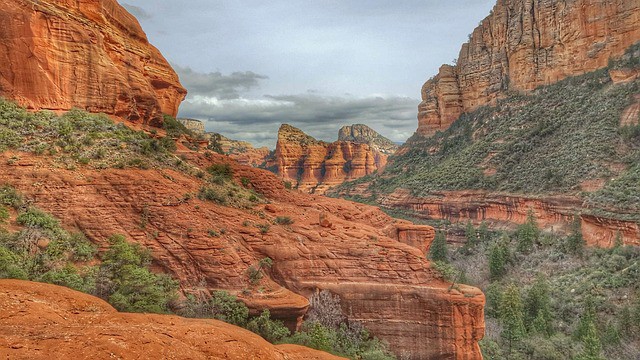 Grand Canyon Rim Trail
Grand Canyon Rim Trail is 13 mile hike in and out along the south rim of the Grand Canyon. This 13 mile hike is relatively easy and offers stunning views along the way.
Bright Angel Trail
One of the best hikes in the Grand Canyon is the Bright Angel Trail. Bright Angel Trail takes you from the South Rim of the Grand Canyon down into the canyon. If you decide to do the entire 12 mile hike it is very strenuous and steep along the trail.
This hike is worth the views and seeing the natural wonders along the way.
Find out the Best Places to Stay near the Grand Canyon or the Best Airbnbs near the Grand Canyon for all of your Grand Canyon accommodation.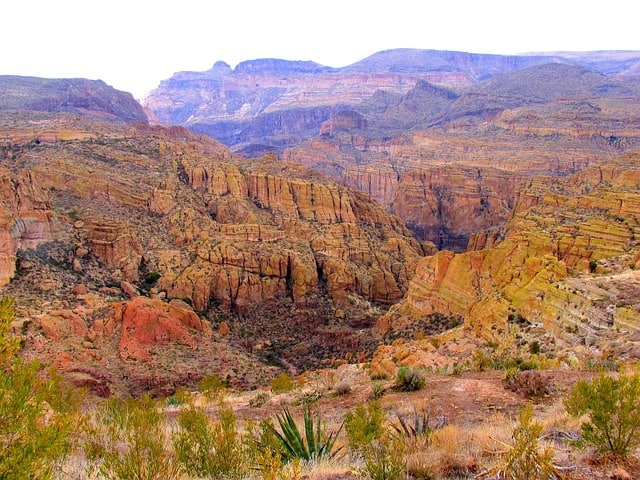 Rainbow Rim Trail
Rainbow Rim Trail is located on the north rim of the Grand Canyon and is only open in the summer months and is part of the Kaibab National Forest.
The trail is 6 miles round-trip from Timp Point to North Timp Point and is an easy hike. You will have views of Powell Plateau, Steamboat Mountain, and Great Thumb Mesas along the way.
You can read my most on how to spend one day at the Grand Canyon to make the most of your trip.
Cathedral Rock in Sedona
The Cathedral Rock Trailhead is about 10 minutes outside of Sedona. The hike starts off easy enough but then it gets a bit harder but this hike is so rewarding. Cathedral Rock is one of the best hikes in Sedona.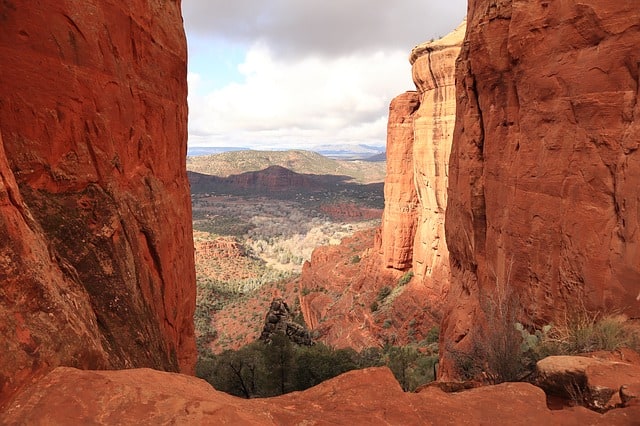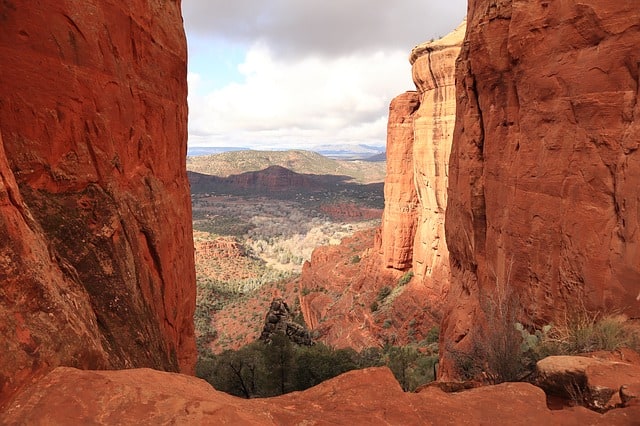 This hike is the perfect mix of stunning scenery and hidden spots it is worth the climb and also a place to stay for a while and take it all in.
The trail is 1.4 miles in and out and is classified as a moderate hike. This is one of the top sites in Sedona and if you can time it to see the sunset here it will be worth the wait!
Devil's Bridge in Sedona
Devil's Bridge is a wonderful hike in Sedona. It is classified as an easy hike and is the second most popular hike in Sedona.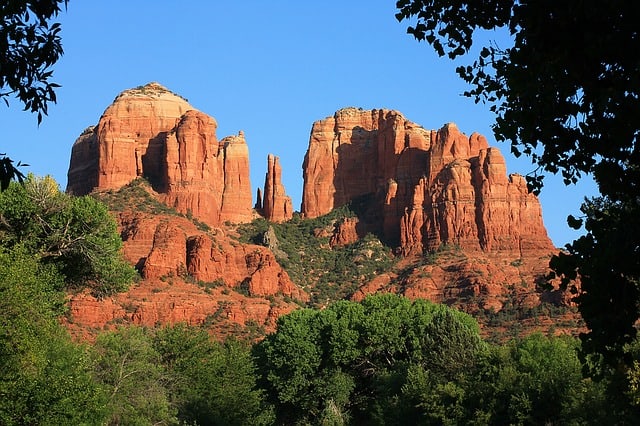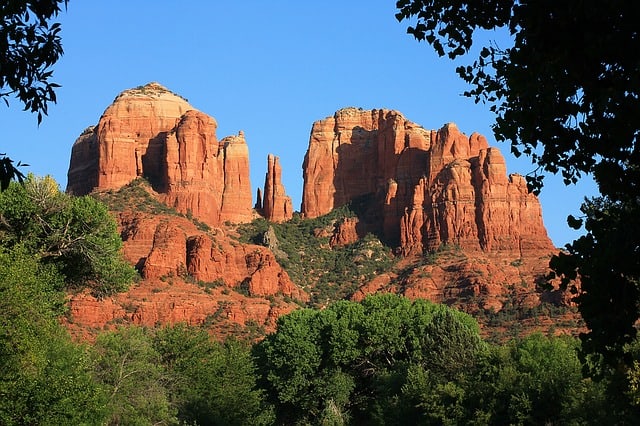 The beautiful red rock scenery is worth the cost. You will need to purchase a Red Rock Pass for this hike. The day pass costs $5.
This hike is quick and easy and the reward of seeing Devil's Bridge is amazing! Check out my post on other easy hikes in Sedona.
Sedona is a great weekend escape and the drive from Phoenix to Sedona is an easy one. You can check out my post on Unique Airbnbs in Sedona.
Camelback Mountain Echo Trail in Phoenix
Hiking in Phoenix is great! There are so many options and Echo Trail is one of the best hikes in Phoenix.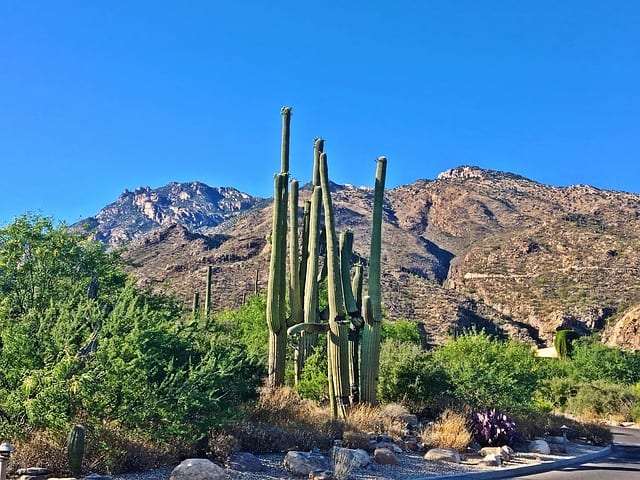 This is a heavily trafficked hiking trail leaving from Scottsdale. The hike is 2.4 miles long. This is a popular hike and rock climbing site.
The trail itself is beautiful but it is quite a workout. The views at the top are phenomenal. There are so many awesome hikes in Phoenix you really should check out.
Tom Thumb's Trail in Phoenix
Tom Thumb's Trail is a four mile trail in Scottsdale that is a strenuous hike. It's a great uphill workout.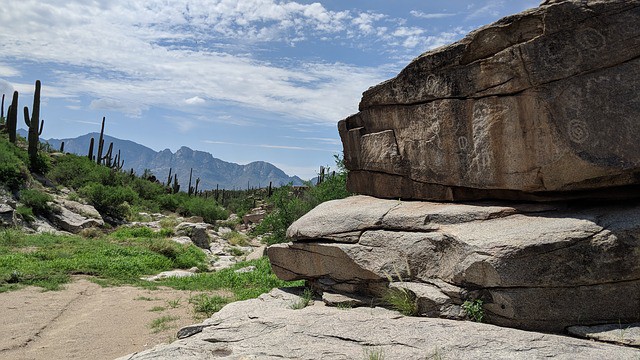 This hike is short switchback trail from Tom's Thumb trailhead up to Tom's Thumb spur at the intersection of the Windgate Trail.
The views from the top are awesome and you get a great view of Mcdowell Mountains.
Superstition Mountains in Phoenix
The Superstition Mountains are the largest mountains in the Phoenix area and have a ton of good hikes.
Apache Trail Canyon is a popular hike in one of the ravines of the Superstition Mountains.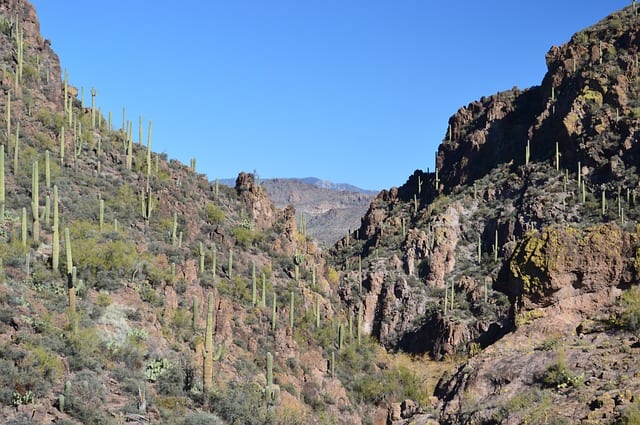 Check out my guide to the Best Airbnbs in Phoenix for your next trip.
South Mountain in Phoenix
South Mountain has trails for hiking, mountain biking and horseback riding.
The most popular route is National Trail which takes you to the Hidden Valley. Starting at Mormon Trailhead, walk to the end of the Mormon Trail, connect with National Trail West for about 0.1 miles until it reaches the Hidden Valley Loop. It is a 3.4 mile round trip hike to Hidden Valley.
Romero Pools in Tucson
Romero Canyon Trail to Romero Pools is a 5.5 mile back trail located near Tucson, Arizona. The hike is classified moderate to difficult.
To enter the Catalina State Park costs $7 per vehicle with up to four adults. The hike takes around 3 hours and it is 6.2 in and back out again.
This is the most popular hike in Catalina State Park. The pools are perfect for cooling off on a hot day.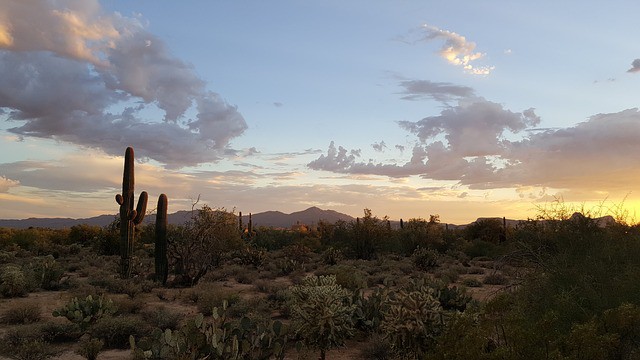 Bridal Wreath Falls in Tucson
Located in the Rincon Mountain District of Saguaro National Park outside of Tucson this is a popular hike.  The hike is a moderate hike that is 5.5 miles round trip.
To get to Bridal Wreath Falls you need to take the Douglas Spring Trail. The start of the trail is pretty flat, but soon it begins to descend into the mountains. From this point on it is a steep hike.
Seven Falls Trail in Tucson
The Seven Falls Trail is located near Tucson, Arizona, in the Sabino Canyon area. The Seven Falls Trail is 15 miles northwest of Tucson in the Coronado National Forest.
The Seven Falls Trail is 8.2 miles long and is rated medium due to the creek crossings. The first two miles of the trail is easy enough. Then the path goes up to an incline and crosses the creek seven times.
This is a popular hike and is really busy on the weekends. The waterfalls at the end is the highlight of this hike. Check out my guide to the best Airbnbs in Tucson.
Conclusion – Hiking in Arizona
There are so many hikes in Arizona but these have to be the best trails for hiking in Arizona.
The two not to be missed hikes are Havasu Falls and Antelope Canyon. Just make sure you plan in advance and get your permits to do these best hikes in Arizona.
Over to you. Which hike is your favorite? What one would you want to do when you visit Arizona?
Sharing is Caring! Pin this post to save for later.

Continue Reading more on this website:
15 Best Airbnbs in Arizona – caves, airstreams, domes, yurts and spas!
What to pack for the Grand Canyon
19 Best Luxury Resorts in Arizona
15 Awesome Weekend Getaways in Arizona
Recent Posts